Switch up your holiday Christmas ham staple with this chef's easy and sweet pork loin hamonado recipe!
For those already whipping up a special menu for Noche Buena, we're pretty sure your holiday spread will include one of the many non-negotiable Pinoy household staples – the Christmas ham.
Filipinos do love their meat, with some liking it more salty than sweet. For those who prefer the latter and want to elevate their decades-old ham family recipe (or want to use up and reinvent any ham leftovers), there's an easy and budget-friendly way to do so using a classic pork hamonado recipe, with its own twists.
Pork hamonado is a sweet pork dish typically made from pig's shoulders, pineapple, and sugar. However, cookbook author, TV chef, and host Sharwin Tee shares his own gourmet take on the meaty dish – the pork loin hamonado – which is perfect to serve as a centerpiece entrée for the holidays.
"I started this because there was one Christmas family dinner that no one gave us Christmas ham – or more likely, we finished them all before the 24th," Sharwin told Rappler. That was when he decided to cook hamonado on the fly, so they could have at least one "centerpiece dish."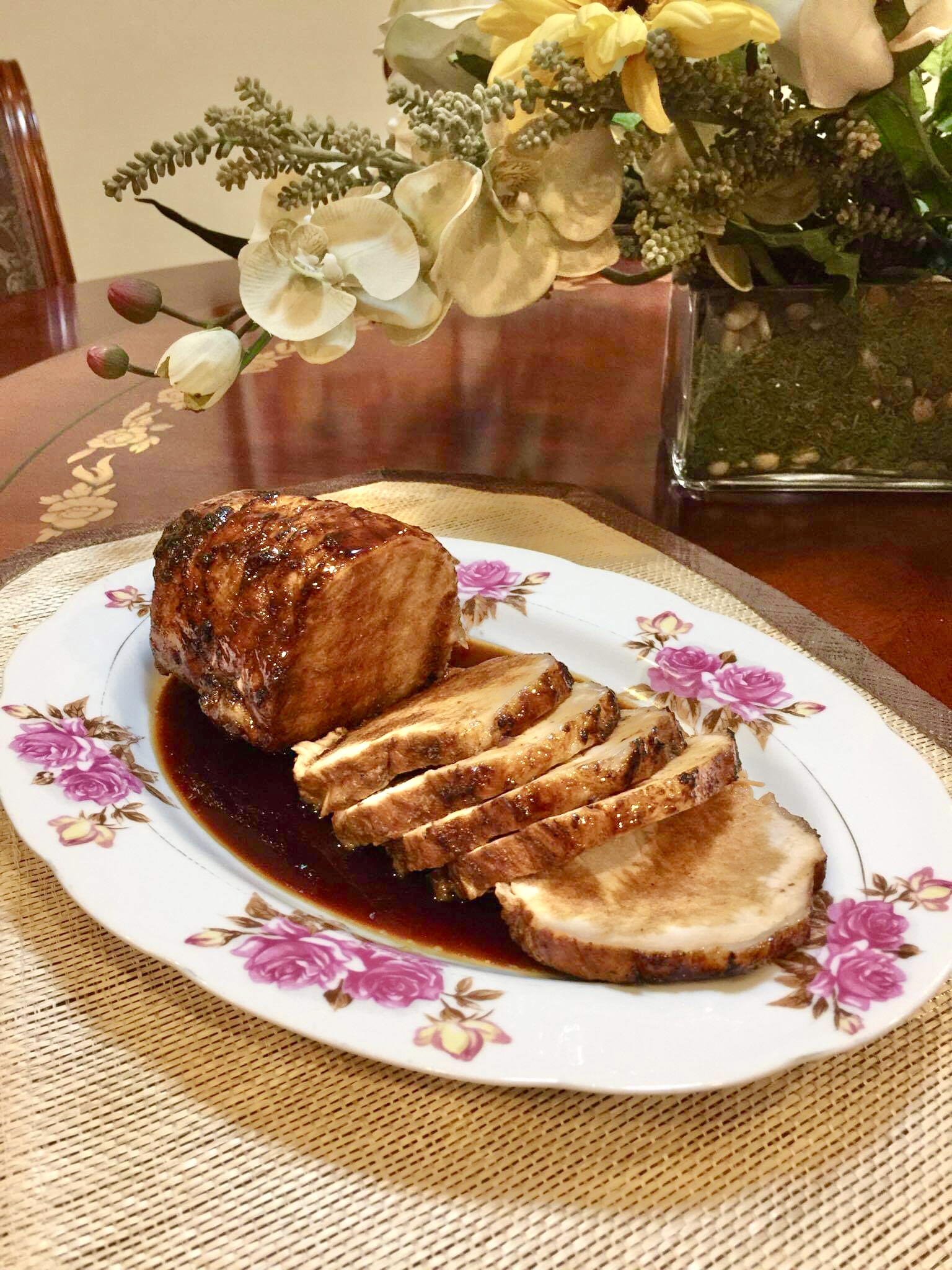 "Ham has always been a staple and the Noche Buena table seems empty without it," he said.
Sharwin's pork loin hamonado recipe may sound intimidating, but the ingredients and process are far from it – he made sure that his recipe would be a "great beginner's dish," since roasting a large piece of meat can be a bit tricky.
Even though he enjoys all kinds of ham, he decided to go the sweeter route this time, since people started coming to him with issues about their ham; it was either "too salty" or "too hard, texture-wise."
"This is the perfect recipe because essentially you're creating your own ham and you can control the level of salt and it'll be free of nitrites or preservatives," he said.
Stop, it's ham time
Ready to ham it up for the holidays? Here are the ingredients you'll need for Chef Sharwin's pork loin hamonado recipe:
2 lbs pork loin roast
1 tbsp salt
½ cup brown sugar
1 cup pineapple juice
1 bottle beer
Pinch of allspice
2 tsps dried sage
1/8 cup soy sauce
¼ cup pineapple juice
5 tbsps of brown sugar
Salt and black pepper
Here are the steps to follow:
Mix together salt, ½ cup brown sugar, allspice, and sage. Rub the mixture all over the pork loin.
Place the pork loin in a non-reactive container and pour in 1 cup pineapple juice and beer.
Marinade pork loin at least 1 hour or overnight.
Place pork loin and marinade into a sauce pan or dutch oven. Bring to a boil and simmer for 1 hour or until pork is tender.
In a small sauce pan, combine the soy sauce, remaining pineapple juice, and sugar and bring to boil.
Reduce the mixture until it becomes a syrup.
Brush syrup onto the pork loin and caramelize by using a torch or by placing it under the broiler for 10 minutes.
Slice and finish with salt, pepper, and the rest of the glaze.
Sharwin says that by braising the meat first, it'll be easier for you to know that it's already fully cooked. He also advises home cooks to ask the supermarket butcher to prepare the meat by asking for a pork loin roast, as they can already trim it for you.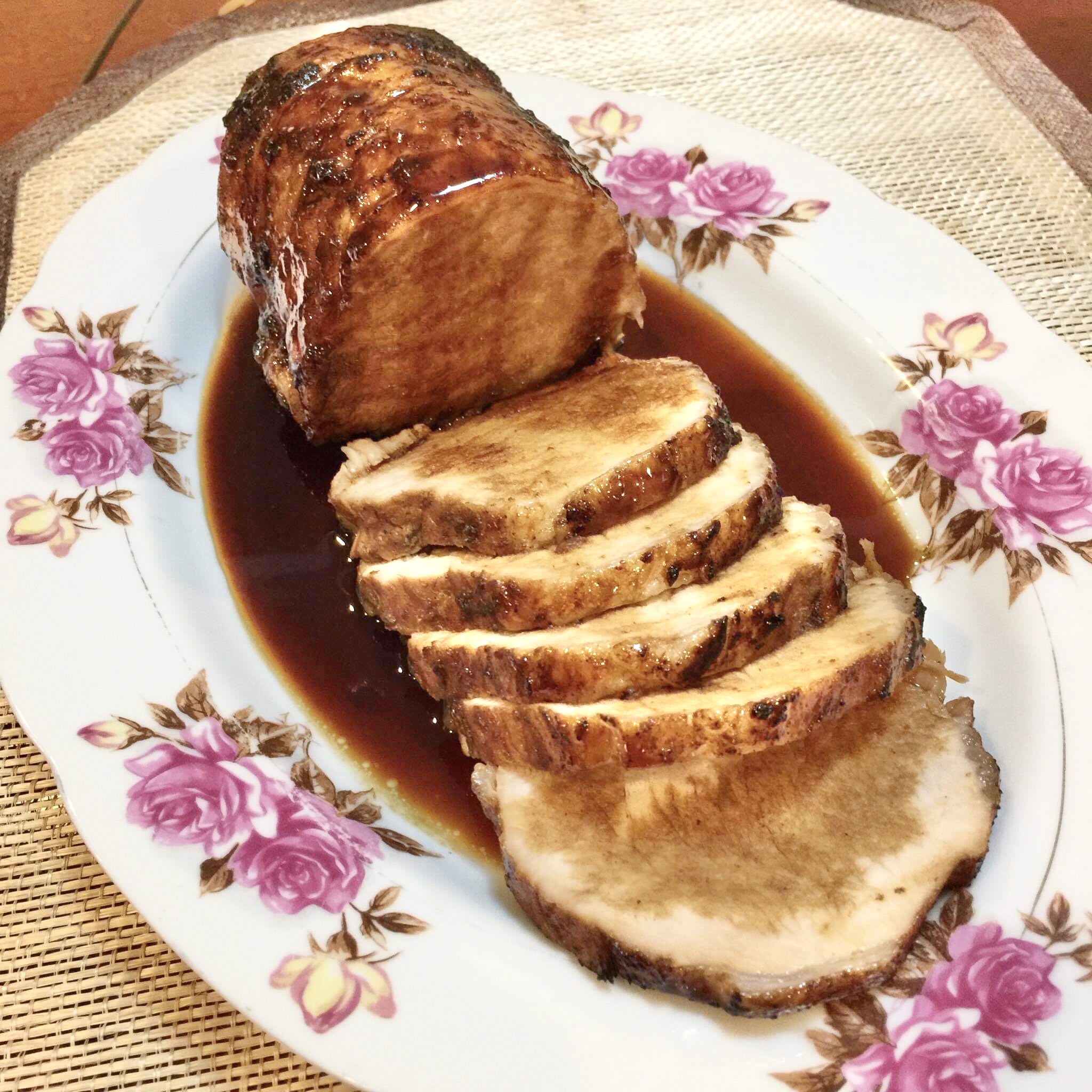 "Also, braise over low heat to make sure the meat is tender and the liquid won't burn. Lastly, slice at the table. That way, the presentation is great and the meat will stay juicy and warm," he added. (Expect a ham-some presentation!)
The braising cooking method is also what makes this recipe slightly different from the others. According to Sharwin, torching the outside of the hamonado after braising it gives it not only a better color, but a slight bittersweet caramel taste.
Tips to remember
As with most recipes, feel free to get creative and elevate the classic in your own ways! Like Sharwin, he decided to add other things that he personally likes, such as beer, certain herbs for "depth," and a fun excuse to bring out the blowtorch.
As for ingredient substitutions, almost everything in this recipe can be substituted. "Pineapple juice can be replaced by apple or grape juice, or even a mix of apple and mango. Beer can be replaced with some light wine, and you can use any of the herbs you like as most will work with pork," Sharwin said.
Just have fun with it, and enjoy a different spin on this classic holiday recipe! – Rappler.com
Buying cooked ham instead? Check out GrabFood and order using these coupon codes.