It's the perfect place to take in the rough beauty of the mountains, waterfalls, beaches, and rice terraces
Biliran. This island province of lush mountains, countless waterfalls, and pristine beaches in the east of Visayas does not often ring a bell. Often, it is even mistaken to be part of Leyte, and it was in fact part of Leyte until it became a separate province over 20 years ago. (READ: Hit the road: Cool off at these 5 PH waterfalls)
And it is not as remote as you might think. A flight to Tacloban and a two-and-a-half-hour van ride from Tacloban will take you to the port of Biliran's capital, Naval. From here you can ride a tricycle or habal-habal (motorbike) to explore the province and to check in in one of Naval's lodges and pension houses. 
And, as you ride away from the port with the sea behind you, expect to see the greens of mountains ahead on the road, to your left and your right. (READ: Perfect for summer: 8 cool-weather PH destinations)
Yes, mountains are all around in Biliran, which explains the province's abundant waterfalls, the number of which is not yet known. While there are over 10 waterfalls easily accessible to tourists, local mountaineers talk about more waterfalls that can be reached through longer treks, and even about unexplored ones.
From Biliran's mountains also flows what locals proudly call "the sweetest water," and indeed the tap water here is cold and refreshing with a distinct sweetness.
Biliran in a day or two: Waterfalls, springs, beaches, and terraces 
It can be daunting to choose which among Biliran's many waterfalls to explore if your time is limited.  If you only have a day, go to Ulan-Ulan Falls, one of the most beautiful falls in the province. About 90 feet high, it cascades through lush greenery and rocks, the latter separating the water into pockets of rain. (READ: Add these 4 stunning destinations to your PH travel bucket list) 
A trek of around 30 minutes will take you to Ulan-Ulan, and from the trail you can go farther up to Recoletos Falls, which is one simple cascade into a pool of water, not as picturesque as Ulan-Ulan but is perfect for swimming. (READ: IN PHOTOS: Visit these 10 magical, beautiful lagoons in the Philippines) 
Ulan-Ulan and Recoletos are both in the municipality of Almeria, which is just next to Naval.
Haggle with the habal-habal driver for a day tour. In Almeria you can also see the rice terraces.
As Biliran has much mountains and hills, it is not surprising that it also has rice planted along its slopes. 
After seeing the falls and the terraces, head to Agta Beach, perfect for watching the sunset. (READ: Unspoiled white beaches: Visayas)
If you arrive early, you might even want to go island hopping to nearby islands Capiñahan and Dalutan. Or just walk along Agta Beach and choose a spot to watch the sunset. (READ: Head to 'Borawan' and these 5 unspoiled PH beaches)
If you have another day to go around, head over to Tinago Falls, Biliran's most famous waterfalls, a powerful cascade flowing down to green pools. (READ: The enchanting blue river of Hinatuan, Surigao del Sur) 
Tinago Falls is in Caibiran, the municipality on the other side of Naval.
And, Biliran has hot springs too. Mainit Hot Springs is also in Caibiran, which you can go to before or after Tinago Falls.
Then, head south to Kasabangan Falls in the neighboring municipality of Cabucgayan.
Getting there to the falls can be quite an adventure, too, as you will walk on a wooden bridge while looking at the forest floor below and the stream to your right. Brace yourself when you dive into Kasabangan's pool as the waters can be ice-cold – in fact, don't be surprised to find cases of soft drinks there, as locals put them there to chill them. 
If you want to explore more, Kasabangan has more tiers of waterfalls on top which you can get to with the help of a guide.
After Kasabangan, go to the next municipality, Biliran, and get off at Biliran bridge, the bridge you passed by when commuting from Leyte to Biliran. It's a 150-meter bridge which connects Leyte to this island province. Walk along the bridge and savor the view of Biliran Strait. 
If you have more time: Higatangan Sandbar and Sambawan Island
More time in Biliran will allow you to explore its islands farther from the mainland. Higatangan Island, 45 minutes by boat, has a sandbar which changes shape and direction as the wind blows across it.
The sandbar also changes color according to the time of day and is beautiful to watch at sunrise and sunset. 
At night, the island's skies are one of the clearest and starriest, especially after 10:30 pm, when the electricity shuts down, as power in the island is limited.
You  can take the passenger boat to Higatangan which leaves Naval port between 11:30 am to 12 noon daily and returns to the mainland 7:30 or 8 am the next day, or you can rent a pumpboat to Higatangan for a quick day trip. 
There is a resort there, Higatangan Island Resort, with simple accommodations and on whose grounds you can also just pitch a tent. 
Sambawan Island, meanwhile, is arguably the most beautiful island in Biliran, with a scenic view of trees, grass, white sand, and blue seas, when you trek up its hill. It also has probably one of the quietest beaches you will find.
If you're a diver, the island also has several dive spots. There is also a dive shop there to assist you though you have to bring your own wetsuit, mask, fins, and booties. If you need more assistance, you can contact dive shops in neighboring Malapascua, Cebu, as Sambawan is part of their dive tours. (READ: Diving in Malapascua, searching for thresher sharks) 
It takes more time and steps to get to, though. You can either take the 10 am or 10:30 am passenger boat from Naval port to Maripipi Island (around two hours) then hire a boat to take you to Sambawan Island (around 30 minutes). 
Or, from Naval you can take a bus, jeep, or habal-habal to Kawayan, Biliran's northern municipality (around 45 minutes), and then you can hire a boat to Sambawan (around one hour). Facilities are limited in Sambawan. If you want to stay overnight, there is a resort but you can also just pitch a tent. You can also opt to just take a day trip in Sambawan and sleep at one of the lodges or homestays in Maripipi Island.
Spend at least 3 days in Biliran so you can experience both its waterfalls and at least one of its beautiful islands. – Rappler.com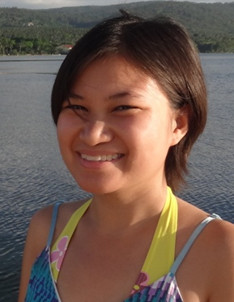 Claire Madarang is a writer, traveler and seeker. Her wanderlust takes her on adventures like backpacking for 7 weeks straight. Her seeking leads her to different wellness practices like meditation and healthy (mostly vegetarian) eating. Follow her adventures, tips and epiphanies at her blog, Traveling Light.