This is AI generated summarization, which may have errors. For context, always refer to the full article.
Filipinos themselves deliver what President Rodrigo Duterte's administration overlooked in its COVID-19 response
READ: PART ONE | Civic engagement at work: How communities joined hands in the face of crises during Duterte's 4th year
Even a pandemic won't stop the Filipinos' bayanihan spirit.
Despite the numerous threats posed by the coronavirus, Filipinos have gone above and beyond to respond to the needs of communities as many nearly crumbled under the weight of months-long lockdowns.
As President Rodrigo Duterte's administration arguably lagged behind in cushioning the blow to the economy and the spike in coronavirus cases, citizens banded together and looked for solutions – from conducting relief drives addressing various needs to leading online campaigns calling for mass testing.
Though well-intentioned, these initiatives were sometimes struck down by the very government whose efforts they were trying to augment.
Back in April, the Department of Social Welfare and Development (DSWD) urged those leading donation drives to apply for a permit and pay respective fees to the office after witnessing the rise of "unauthorized public solicitation activities" during the pandemic.
In the now-deleted posts of the advisory, they cited Presidential Decree (PD) 1564, which says soliciting donations is regulated by law.
The processing fees for the donation drive permits were P500 and P1,000 for regional and national fund drives respectively, as provided under DSWD Administrative Order No. 170 issued in 2012.
Many hit the move, with former DSWD secretary Judy Taguiwalo questioning the need for it in light of the "huge humanitarian demands to address the COVID-19 pandemic."
DSWD later took down the posts to review the guidelines on public solicitation and make the process "more responsive to the emergency situation."
Collaboration instead of restriction
The DSWD had earlier told Rappler that if fundraisers for donation drives are not regulated, government would struggle to track them.
Information hub Help from Home, however, had a different take on the problem and focused more on collaboration, rather than restriction.
Led by a group of volunteers, Help from Home is an information hub that compiles initiatives helping frontliners and communities, as well as collate data from hospitals and barangays about their needed supplies.
Julienne Joven of Help from Home shared how the initiative started when her friends noticed the different initiatives spiking during the 1st week of the community quarantine in March.
"There are already a lot of initiatives being started by the private sector and also by the civil society and we realized that there was no system that organized all of these that could help the public understand what the current landscape looks like," she said. "Hopefully, the public could make data-driven decisions based on the information that is put up on our site."
Starting out with only her group of friends, the initiative has grown to have more than 300 volunteers who focus on verifying initiatives, contacting barangays in Metro Manila for data on needs and supplies, calling hospitals nationwide that cater to COVID-19 cases to check their needs, and linking up partners and beneficiaries, among other tasks.
Joven said the hub can be especially helpful for the public to know where they can best direct their resources and donations.
"For us to be able to do the right decisions, for us to be able to move forward, we have to know what context we are facing. That means we don't blindly throw our resources and our efforts to the wind," Joven shared.
"Especially when we first started Help From Home, we realized that one flaw in the system is that there are people who are doing the same things and unknowingly addressing gaps that were already addressed because of how quickly changing the current landscape was," she added.
They are now working with more than 120 barangays out of the top 500 poorest barangays in Metro Manila. They've also mapped 679 hospitals nationwide, and featured more than 270 initiatives on their website.
At least 24,000 food packs were also delivered to people in need thanks to data they presented to partner organizations.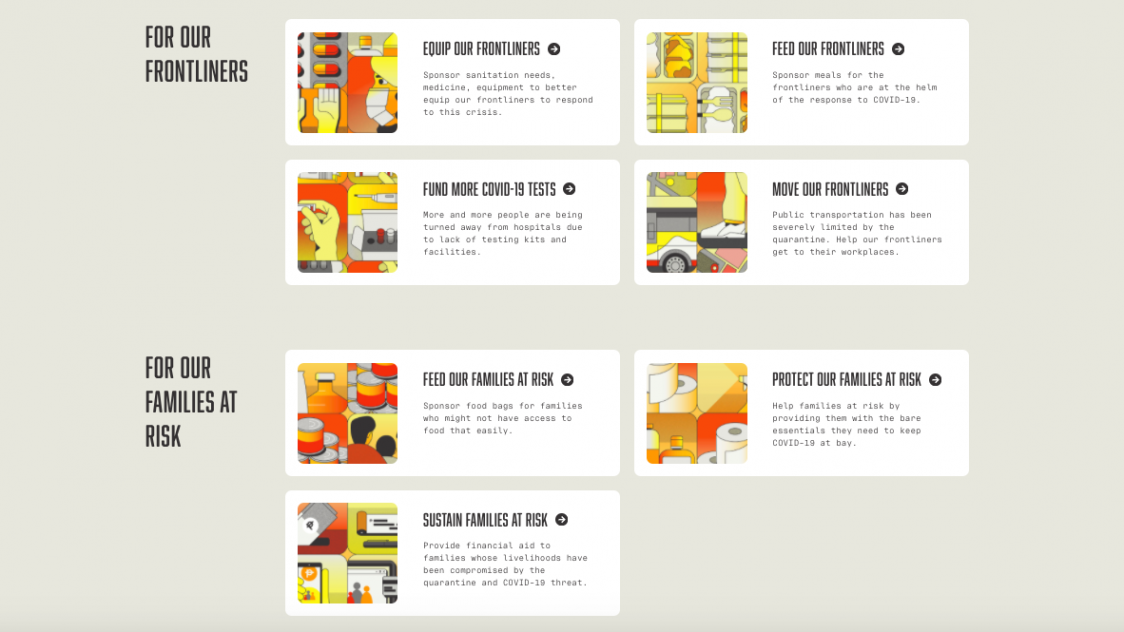 Help from Home is still in talks with the Department of Interior and Local Government and the DSWD as they hope to expand their coverage beyond Metro Manila and explore how the initiative can help programs of the national government.
This was their way of helping the community during times of crises.
Even a few months into lockdown, Joven shared how there's still a "constant stream of people who are creating initiatives," sometimes even led by just one individual.
Shunning citizen-led innovation
With many opting to bike to work due to limited public transportation, a group of advocates for bike-friendly cities have started setting up a pop-up bike lane along Commonwealth Avenue on June 1, the first day of Metro Manila's shift to general community quarantine.
Using bright orange 6-liter bottles to line the temporary bike lane, Bikers United Marshalls help ensure that bikers are protected from motorcycles, buses, and other four-wheeled vehicles.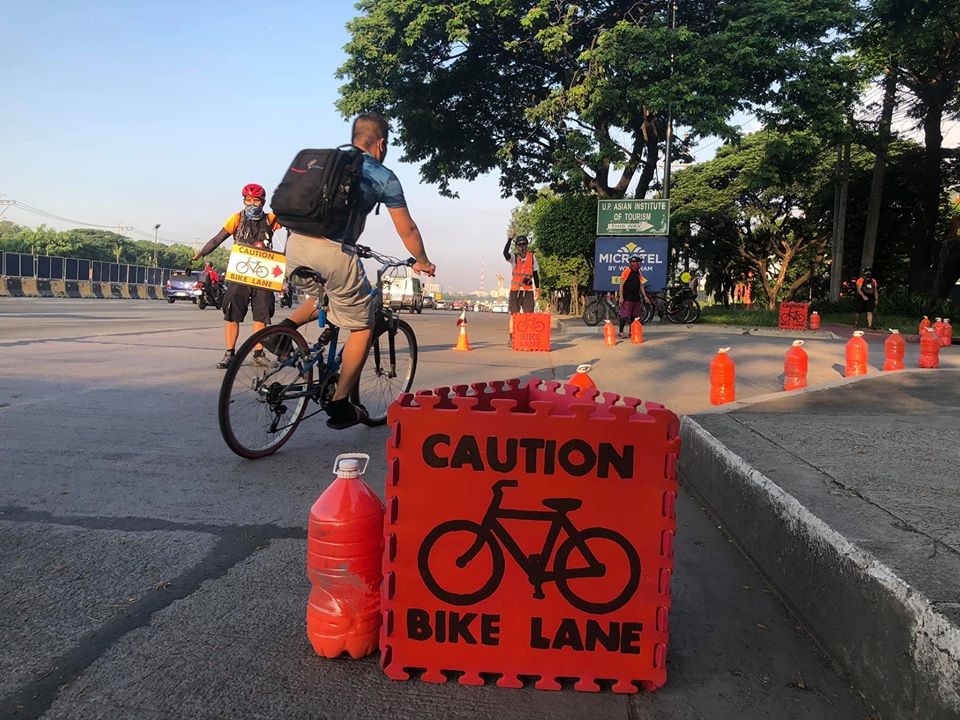 They also distributed reflectorized vests to ensure bikers' visibility on the road, give safety gears like helmets, do quick repairs for those who need them, and monitor the number of bike users on the road and the area's air quality.
Volunteer group Bikers United Marshalls typically man and set up the temporary lanes everyday from 6 am to 8:30 am.
Despite the well-meaning intentions of the group, the temporary bike lane hit a roadblock when Metropolitan Manila Development Authority (MMDA) Spokesperson Celine Pialago criticized the initiative as unsafe for other bikers.
Apart from that, Pialago said the members of Bikers United Marshalls could be charged with obstruction and be fined P1,000 each. She added how the MMDA was consulting with the police for other charges that could be filed against the group.
Although the group knew there were certain protocols in putting up something in public, the Bikers United Marshalls stood their ground.
"We'd much rather do something radical and help thousands of people than stick to the protocol of waiting for these cyclists to come about and we will see accidents on the road," said Angala.
Following a massive backlash from netizens, the MMDA back-pedalled from its stance on bike lanes and led a road-sharing exercise along Commonwealth Avenue with Bikers United Marshalls.
Until now, Bikers United Marshalls is still able to set up their improvised bike lanes. Their end goal is to eventually push government to put up protected bike lanes in major highways.
Bikers United Marshalls assert that even the makeshift bike lanes that they've made could be proof that these are possible to be set up across the Philippines.
"One of the things that we want to show everyone is that it can be done. We're a small group. We're not rich and we're just using recycled materials. It doesn't have to be expensive. It can be planned perfectly, even if you give a short period of time, as long as you focus on what you're doing and you know that this is needed," said Angala in a mix of Filipino and English.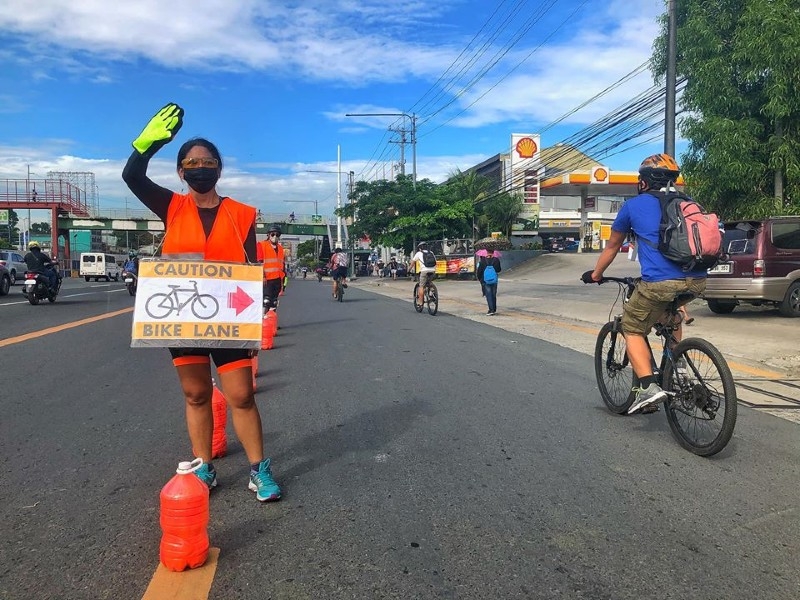 Angala added that government must also learn to immerse in the issues they seek to solve, and help citizen initiatives like Bikers United Marshall flourish, especially during the pandemic.
"I appreciate and I think citizens' initiatives should not end. Once citizens' initiatives ends, it means you already have a government that is fully efficient," added Angala.
Misplaced priorities
Back in March, an alliance of scientists, organizations, and other Filipinos banded together to echo calls to expand testing efforts at the regional and local levels, and build the country's COVID-19 testing capacity.
Named the Scientists Unite Against COVID-19, they turned to Filipinos to crowdsource a database of laboratories equipped with PCR machines and volunteers who are trained to handle these. These were then forwarded to the Department of Health.
Scientists Unite Against COVID-19 convener Joshua Danac is a science research specialist at the UP National Institute of Molecular Biology and Biotechnology. He knows that the cornerstone of the COVID-19 response is testing.
With the database, the group sought to complement the Department of Health's efforts by helping map potential extension labs for COVID-19 testing across the nation.
Aside from collating the database, the group has also released informative videos explaining mass testing, and policy briefs and recommendations. They've also reached out to local governments who are interested in setting up their own laboratories in their locality.
While there are more testing laboratories, the country's actual coronavirus tests are still behind the target testing capacity of 30,000 a day.
Experts working with the DOH earlier warned that the supply of testing equipment and materials needed by laboratories is dwindling due to increasing market demand and the increasing number of samples collected daily.
"I think that's one thing that the government needs to work on, scaling up the testing and the logistics of the testing," said Danac.
Danac added how apart from scaling up the country's testing capacity, there should be efforts to make these tests accessible and free to everyone.
Danac believes that the push for mass testing has fallen by the wayside, buried by issues that cropped up during the pandemic including the signing of the anti-terror law and the rejection of ABS-CBN's franchise renewal.
"As a citizen, I do wonder how come these are the things that have to be done?" Danac said.
"The fact that [testing] is so delayed tells me it's not a priority. The initial target hasn't been reached… I wouldn't know if [government] prioritizes it or not but it doesn't look like it from what we have seen. Hopefully, this is something that would change soon or it is something they are already trying to change," said Danac in a mix of Filipino and English.
Need for transparency, opportunities for feedback
Seeing a gap in the organization of the nation's spending for COVID-19, a group of volunteers is collating data for a tracker of the Philippines' budget allocation and spending for the country's response.
Named the Citizens' Budget Tracker, the Google sheet of data later evolved into a website that compiled the country's budget and spending, as well as a brief analysis to help readers make sense of it, with over 60 volunteers keeping the effort running and cleaning up the data from government agencies.
The Citizens' Budget Tracker hopes to laymanize to the public the technical details of government spending, so Filipinos will know the government's response.
Beyond that, they hope to make the "data more machine-readable and opening up the data so that anyone who has an interest in trying to understand the data our government produces can make their own analysis and look at it from different angles," said Jahleel-an Burao, the communications lead of Citizens' Budget Tracker.
Burao said that although the Bayanihan Act has lapsed, the government must still continue to report what has been done with the allocated budget.
"We believe that until all the money has not been spent, they should still report…We need to have more transparency in spending for help and we need to spend faster for testing…I don't think that has necessarily happened fast enough for us today," said Burao. "I feel like it's the government's duty to share to the public how they plan to spend the remaining [budget]."
Burao said the reporting of the budget could be better, adding how details of the spending are distributed in different paragraphs in the President's report instead of a tabular form that lays out the allocated budget, how much cash is available, and how much was spent.
"Every time you see the President's report, we're treasure hunting for figures of spending. I hope they make it easier to go through," said Burao.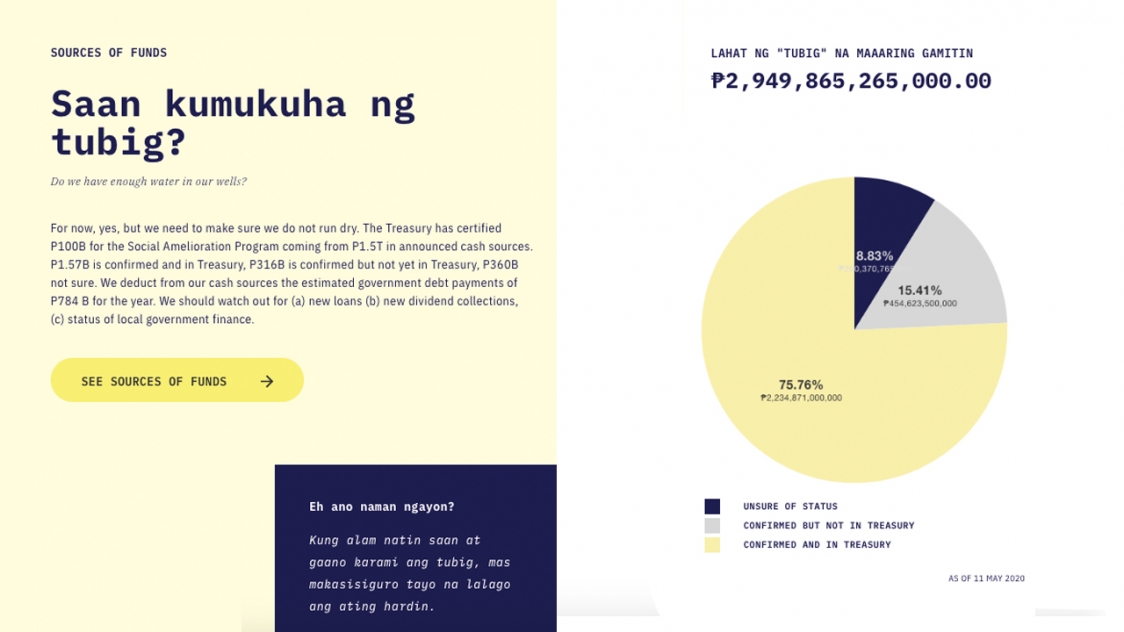 Despite their efforts, Burao believes it is government that should be the one explaining the budget to the public clearly for transparency.
"Still, in terms of efforts, our belief is government should really take the helm on these things because it's part of their mandate. We will support that, we give feedback, and engage the citizens in that process…but we're also happy if government really takes that on and makes it part of their culture of data transparency, which I think right now, is not the case," she said in a mix of Filipino and English.
The Citizens' Budget Tracker team is mulling on making a manual that lists the road map of how citizens can relay their concerns.
Burao shared how government must be more intentional in providing spaces for citizens to engage in dialogue.
"This pandemic has surfaced the cracks of our institution where we are weak, where we need support, and in those cracks, volunteering efforts come in and supplement it. My personal hope is that government attunes itself to the cracks in the system and listen to these volunteer efforts that are filling in the gaps so [they become] sustainable and there will be a process to institutionalize the swelling of efforts that citizens are pioneering and innovating," said Burao.
'Government has enough to work with'
With this outpouring of initiatives and ideas, the ball is now in government's hands, said Czarina Medina-Guce, a faculty member of Ateneo de Manila University Development Studies program who specializes in citizen participation and democratic innovation.
"We can always say that citizen participation is the strength of the Filipino society but it also merits some thought: How open and how responsive would government be to adapt and implement all of these things that have indications that are working?" said Medina-Guce. "I think we're at a point that there is enough for government to work with in terms of ideas, suggestions, samples even from innovative groups."
The countless initiatives by Filipinos exhibit the public's eagerness to come in and help government direct resources to issues the citizens believe in. Medina-Guce said it's now a matter of government being ready, open, and responsive to hearing the needs of the people.
"Government as a bureaucracy, its default response is the routine of the institution…When you have innovations and suggestions from civic groups, we don't have the mechanisms to immediately adapt to it. That's the challenge: How responsive are the national and local governments to pick up these suggestions and innovations coming from civil society?" Medina-Guce said.
Without openness and responsiveness from government, Filipinos will have to continue stepping up and filling in the roles of the state during crisis situations. While bayanihan efforts are commendable, Medina-Guce said these also lead to discussions how governments and their systems will not improve since they always have civil society as a fallback.
"We always challenge citizens and civil society to be better at their capacity to engage government, to be more technically proficient. If you really think about it, the responsibility to listen and the responsibility to respond is always on the government's side of the game," added Medina-Guce.
While there are many opportunities to reach out to government, Medina-Guce underscored how these avenues will be useless if government will not listen.
"Our hope, in deep participative governance set-ups, government would listen and give sufficient and safe spaces for these civil society groups to come in, suggest alternatives and innovations that may actually work," she said. – Rappler.com