In the days leading up to the SONA 2020, Rappler, through its #StoryOfTheNation campaign, captured the different experiences of the common Filipino and how their lives have been changed by the pandemic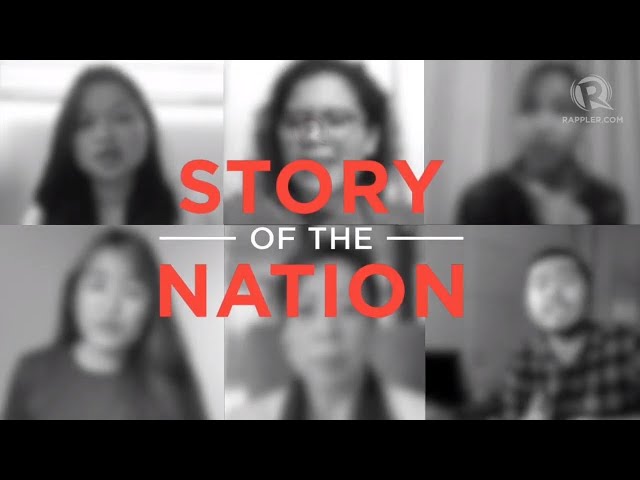 How are Filipinos affected by the coronavirus pandemic?
When President Rodrigo Duterte delivers his 5th State of the Nation Address on Monday, July 27, he is expected to cite not only his administrations' achievements but also the state of the government's pandemic response.
His 4th year in power arguably marked his most controversial year yet and the toughest for the country in recent memory.
In the days leading up to the SONA 2020, Rappler, through its #StoryOfTheNation campaign, captured the different experiences of the common Filipino and how their lives have been changed by the pandemic.
'Harder' to make ends meet
Filipinos took the brunt of the unprecedented pandemic as they struggled to cope with the impact of the COVID-19 crisis, especially for the family of Jhen Navarez, a manicurist.
"Sa totoo lang, malaking epekto talaga sa amin ang pandemic na ito lalo na sa klase ng trabaho ng aking asawa na isang magtataho. Halos doon lang kaming pamilya niya naitataguyod sa pang araw araw. Sobrang laking pagbabago halos maging sa pagkain ay limitado na din," Navarez said.
(The truth is, the pandemic has greatly affected us especially with the kind of work that my husband does which is selling taho. It's his only way of making our ends meet. There's a lot of changes especially with food, it has become limited for us.)
To contain the spread of the coronavirus, President Duterte implemented a nationwide lockdown that restricted movement, halted business activity, and resulted in many, particularly daily wage earners, to lose their livelihood.
Humanitarian worker Hya Bendaña, whose father worked as a jeepney driver, lamented the government's response to the pandemic.
"Dignidad. Ito ang tinanggal ng pamahalaan sa mga jeepney driver gaya ng tatay ko. Hindi sila nanghihingi ng ayuda; gusto lamang nilang makapag hanap-buhay muli. Tatlong buwan mula ng ideklara ang quarantine, pero karamihan pa rin sa kanila ay di pa nakakabalik-pasada," Bendaña said.
(The government took away the dignity of jeepney drivers like my father. They are not asking for handouts, they just want to make a living again. It's been 3 months since the community quarantine started but most of them weren't able to go back to their jobs yet.)
Jeepney drivers in Metro Manila, who have had no income since the start of the lockdown, are among those affected by the pandemic.
When the strict quarantine measures were eased, 6 drivers from transport group Piston took to the streets urging the government to allow jeepneys to resume operations. Their calls remained unheeded and were arrested for alleged violation of quarantine protocols.
'Further helplessness and desperation'
The Philippine economy took a downturn for the first time in 22 years during the first quarter of 2020 due to the pandemic and unemployment shoot up to an all-time high of 17.7% in April.
"Ang katotohanan ay sobrang hirap ang karanasang ito dala ng COVID-19. Una, walang trabaho kaya walang panggastos sa mga pangangailangan lalo na sa pagkain. Sobrang gutom na ang inabot namin. Sabi nga ng matatanda na nabuhay noong World War 2 ay mas mahirap pa ngayon kaysa panahong gera kasi ngayon, napakahirap maghanap ng trabaho. 'Yun ang nararanasan ko ngayon," Ernani Largosa, a carpenter said.
(The truth is that we are experiencing a lot of difficulty because of COVID-19. First, I don't have a job, that's why I don't have money to spend for my needs especially food. We are experiencing hunger. The older generation would tell us that this COVID-19 pandemic is worse than what they encountered during World War II. It's very difficult to look for a job.)
This was echoed by Zena Bernardo, a co-initiator of #BabaeAko movement and Bayanihang Marikenyo at Marikenya. She said that for the poor and marginalized, the pandemic pushed them to "further helplessness and desperation."
"Having to lose their source of livelihood is already bad enough but to be slapped with government insensitivity and callousness, driven with their incompetence and self-serving greed is adding more to their day-to-day struggle," she said.
Bernardo also pointed out that the "new normal" should not be romanticized into thinking that it's just about changing ways, lifestyles and social patterns. She also cited how the responses to the pandemic have been used by those in power to instill fear and abuse, especially to its critics.
"The truth is that the new normal is starving, begging, grieving, and being helplessly angry in knowing that they are at the mercy of people who do not care about them. The most infuriating part of this is how the government has used this pandemic to sow terror, abuse people's rights and liberties in the guise of protecting our safety," Bernardo continued.
During the pandemic, the government railroaded the passage of the anti-terrorism bill which was then signed into law by President Duterte despite the widespread opposition from the public.
Revealed government's true colors
For teachers like Neil Bartolay, the pandemic showed the true colors of those in power making Filipinos reassess the leaders they have voted for.
"This crisis made us see that, aside from our fight against the virus, the Philippines is in a constant struggle to fight poverty, corruption, and abuse of authority," Bartolay said.
Strict quarantine protocols were also observed to prevent the spread of the coronavirus which includes prohibition of mass gatherings during the lockdown. Filipinos who are caught violating health protocols were sanctioned but Bartolay pointed out that it isn't always the case for everyone.
"Sanctions due to breaches of quarantine protocols were only for those who take no positions in the government. Those obvious violations committed by people in power were neglected. A lot of subpoenas were sent to the critics of the government for voicing out their opinions. Not to mention, the passing and implementation of anti-terror law," he continued.
According to private university teacher Rome Voltaire Gomez, the pandemic exposed malpractices, broken systems, and misplaced priorities of the government in leading our country's battle against COVID-19.

"This resulted in a lot of dissent from different groups and sectors towards the government, especially that they are giving more attention to militarization rather than support on the medical frontlines. The government is silencing those who criticize them and press freedom," he said.
Education affected
As an educator, he added that the pandemic has also affected his profession.
"I have to re-assess my strategies and teaching methods that will fit the new normal and online classes without compromising quality and accessible education, and mental health of our students. The new normal means adjusting to the way of living and changing most of the Filipino hospitality and socialization culture," Gomez shared.
The pandemic didn't only reshape the educational system but also affected their livelihood.
"This pandemic made us teachers go back to square one. It felt like I was in my first year of teaching once again as we all see ourselves adapting to online learning. While there's fear and uncertainty in the changing of gears department, we put our brave faces on for our students," Dar Murillo said.
Murillo also emphasized the importance of being wise in choosing the right leaders to govern the country.
"That being a registered voter and actually voting during elections aren't simply acts of availing a right but carrying out a very vital duty to boot," he continued.
The shift to distance learning to facilitate classes has been a struggle for families who can't afford gadgets and who live in areas with no steady internet connection.
Although there have been obvious gaps in the past, the pandemic highlighted the stark divide on the access to education for those who can afford it and those who can't.
"The state of the nation continues to worsen, not only in terms of public health, but also in talks of inclusivity in education, employment, and transportation as well as threats on press freedom and human rights, leaving the Filipinos with nothing but a visionless new normal and huge amounts to pay in the future," Elaissa Bautista, a college student remarked.
But in the face of a health crisis, Filipinos were quick to help frontliners and vulnerable communities by organizing group initiatives, raising funds, and improvising protective gears.
Grade 9 Muntinlupa student Jarred Gaviola was one of them. The 15-year old scholar set aside part of his scholarship allowance to buy relief goods for families affected by the coronavirus pandemic.
"I [extended help] to those in need by organizing a personal donation drive dubbed Tara, tulong tayo. The crisis has likewise given me the opportunity to have a closer and better relationship with my family," Gaviola said.
Despite the unprecedented times with no end in sight, student Jeanill Migraso remains hopeful.
"COVID-19 made us see what is truly essential and on which and whom we should truly be grateful for – our loved ones, our jobs, and the people behind the services that we have always taken for granted," Migraso shared.
With 2 years left in Duterte's term, we have yet to know how he will deal with the problems brought by the pandemic and address the nation's concerns that affected Filipinos. – Rappler.com