Interested participants may submit a video entry amplifying an already published fact check or sharing ways on how people can be more responsible online
MANILA, Philippines – How can we put facts front and center at a time when disinformation is rampant on social media, and algorithms continue to amplify lies and hate? How can understanding media help in fighting disinformation?
As part of its initiatives to promote media and information literacy, the #FactsFirstPH initiative, through Rappler's civic engagement arm MovePH, will be leading an online video contest for college students and professionals.
Through this competition, we aim at amplifying verified sources of information and promoting ways for people to help curb the spread of false information online. This is also where attendees of the webinar series on media and information literacy can apply what they have learned.
The 2023 #FactsFirstPH video contest accepts one- to two-minute creative videos that do any of the following:
Promote ways people can help combat disinformation by answering the question: "Why is it important to stop the spread of false information? What can we do about this?"
The contest is open to college students and professionals in the Philippines who are at least 18 years old.
Submission of entries is until March 31, 2023, at 11:59 pm.
Guidelines
Categories
Student – Any undergraduate student who is enrolled in a college or university in the Philippines and is at least 18 years old
Professional – Any Filipino professional or individual who is at least 23 years of age and is not an undergraduate student
Rules
The video must be original, in English or Filipino, and in vertical format.
An interested participant may only submit one entry.
More than one student or professional can work on an entry. However, the final output will be considered as one entry and should be submitted by a representative of the team.
The video entry must be posted on a public account on Facebook, Twitter, or Tiktok. The entry must include the hashtag #FactsFirstPH in the caption. An entry that does not follow these mechanics will be automatically disqualified.
If the participant is promoting a fact check, they are encouraged to include the link to that article in their caption.
Once the video is published, the participant must submit a link to their entry to this online form: rplr.co/FFPH2023Entries
The contest starts on January 27, 2023. Submission of entries is extended until March 31, 2023, 11:59 pm.
Winners will be announced on Rappler's page in April 2023.
Prizes
Student
1st place – P5,000
2nd place – P3,000
3rd place – P2,000
Professional
1st place – P10,000
2nd place – P7,000
3rd place – P5,000
Winning entries will be reposted and featured on Rappler. These may also be shared by #FactsFirstPH member-organizations.
Criteria
Factual accuracy and content – 50%
Creativity and originality – 25%
Relevance – 25%
Don't know where to start? Here are some videos that creatively promoted fact checks, which might give you ideas for your entry: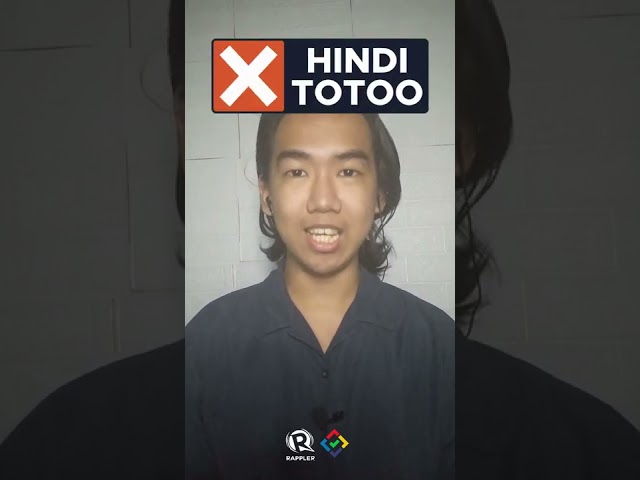 Should you have any questions about the contest, please email move.ph@rappler.com. – Rappler.com