This is AI generated summarization, which may have errors. For context, always refer to the full article.
The red-tagging comes after the Maginhawa Community Pantry is replicated spontaneously in different parts of the country
The Maginhawa Community Pantry has temporarily halted operations on Tuesday, April 20 because of red-tagging from the government, forcing residents dependent on the pantry to go home empty-handed.
The recent red-tagging by the Quezon City Police District and the National Task Force to End Local Communist Armed Conflict caused an uproar among Filipino users, who called the move "sickening."
Many were angered by the "misguided priorities" of the government, as it countered an initiative that emerged from people's need for aid during the pandemic.
For Twitter user @bampdnim, the attacks and profiling of pantry organizers only shows "how anti-poor the government really is."
In the Pandacan Community Pantry, police required pantry organizers to fill out a form detailing personal information and organizations they are affiliated with.
User @igracebiyaya says, "To hide their incompetence, they resort to red-tagging."
Consequently, #OustDuterteNow topped Philippine Twitter trends on Tuesday.
Alternatives
In light of the temporary closure of the Maginhawa pantry, netizens have compiled a list of nearby pantries where people can visit and drop off contributions.
In the Matatag Community Pantry also in Quezon City, a commotion had even started between one of the organizers and a barangay official due to the sudden influx of people lining up.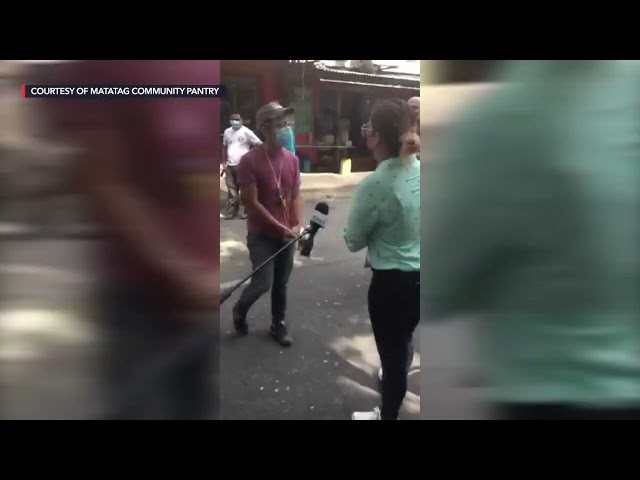 In a statement posted in their individual social media accounts, the Matatag organizers said, "We – and so many other people – are organizing these pantries for one simple reason: because the Duterte administration has proven to be utterly incapable of guaranteeing our survival."
They also said that the red-tagging of the Maginhawa pantry was an accusation that "does not even deserve to be refuted."
Sparking action
The community pantry in Maginhawa started by Patreng Non inspired others to make their own pantries in their areas, inciting a spontaneous pantry movement with no single organization at the helm.
Non has always reiterated that she does not take full credit for her pantry, because it is a "whole community effort."
Here's what more netizens have to say about the current developments:
Community Pantry – Curated tweets by rapplerdotcom