Killings point to a culture where life comes cheap and the 'quickest way to end a dispute and settle a grievance is to kill.' How do we address this?
The killings in the country didn't stop even as Filipinos braced for the holidays.
Days before Christmas, Police Senior Master Sergeant Jonel Nuezca killed two unarmed civilians – his neighbors – in Paniqui, Tarlac.
Sonya Gregorio, 52, and her son Frank, 25, were shot in the head by Nuezca. The incident was captured on video and triggered mass outrage online, with netizens calling to stop killings and police brutality in the country.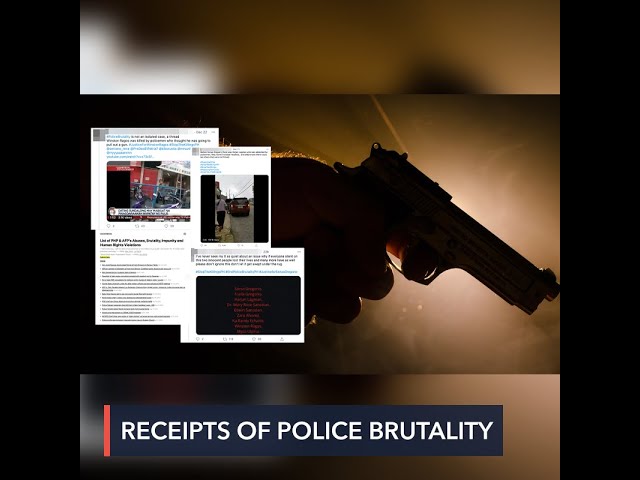 The incident is not the first in the Philippines, and Filipinos fear it may not be the last unless the root causes of the killings are addressed. This is why advocacy groups are pushing for initiatives directed toward the bigger problem of extrajudicial killings in the country.
"The public outrage over these killings is a long time coming," National Peoples' Union Lawyer spokesperson and lawyer Josalee Deinla said. "I would describe it as a brewing storm. And we want justice to be translated into an effective and efficient prosecution of perpetrators like Nuezca."
Human rights lawyer Theodore Te also said now is the perfect time to channel the public outrage.
"'Yung anger humuhupa 'yan," Te said. "Kapag bumaba na 'yan, e 'di balik na uli tayo (Our anger dies down. When it does, we go back and wait for the next thing that ignites our passion and anger again) and we wait for the next thing that ignites passion and anger again. This particular outrage should be channeled into a particular process and perspective."
Cristina Palabay of human rights group Karapatan echoed this and said that "there's power in the public outrage being expressed online."
"But these online voices also need to be translated into tangible kung baga warm bodies," Palabay added.
Where do we begin addressing this problem that has, in a lot of ways, evolved into a culture and system of violence? Human rights lawyers and advocate groups offer some advice.
Acknowledge the problem, agree on facts
To be able to address this problem of the killings, Te stressed that the government should first recognize that there is a problem and agree on the facts surrounding it.
"As in any problem, it starts with awareness that there is a problem, recognition, and maybe even an agreement. Because if we cannot agree that the numbers of killings, the increasing impunity with which the killings are being committed are a problem, if that we cannot even agree on, then there we have a problem as well," Te said.
Interior Secretary Eduardo Año downplayed the Tarlac killing by calling it an "isolated case." President Rodrigo Duterte also distanced himself from the incident and claimed that his love for the military and the police does not include those whom he described as "gagong pulis, gagong military (abusive cops and military)."
"The tendency of the government – and I don't single out this government, even previous administrations – if something like this happens, immediately they turn defensive," Te said.
Figures from the Philippine National Police (PNP) show there have been 7,884 deaths during police operations from July 1, 2016 to August 31, 2020. Independent groups, however, provide a much larger estimate, pegging the total number of fatalities in the drug war at 27,000 to include victims of vigilante-style killings.
The Duterte government also has a history of underreporting killings in its brutal anti-drug campaign when it enacted policies that prevent independent groups from keeping up with the numbers.
The extrajudicial killings have also targeted at least 54 individuals from the legal profession since Duterte took office in 2016. Because of the alarming rise in the number of killings, several law school deans, former lawmakers, and other legal experts submitted a letter to the Supreme Court asking Chief Justice Diosdado Peralta to ask Malacañang to protect legal practitioners.
According to Te, at the minimum for example, they are requesting the Supreme Court to acknowledge that there is a problem by taking action, either through a "new rule, maybe some measure or some structure."
"Most of the time, lawyers provide legal first aid. We are the first to respond when someone gets arrested or detained. But if, for example, somebody disagrees with what we do or with the person we represent and they can just shoot lawyers with impunity, then we really are in a bad state," Te said in a mix Filipino and English.
He added that the Supreme Court, as the body that oversees the legal profession, should step in and protect lawyers.
Address the root cause of impunity
Aside from acknowledging the problem, Te said the roots of impunity should also be traced. Over time, the number of killings points to a culture where life comes cheap and that the "quickest way to end a dispute and settle a grievance is to kill."
"This is where culture change needs to happen. Included there is education, rights awareness, and for some of institutions in the government, retooling, retraining and support systems to address that culture change," Te said.
To make this happen, Deinla emphasized that while the judicial branch plays a critical role in solving this problem, the other two branches also have important roles in order to achieve justice. The case of Nuezca, for instance, brought a sharp focus on the long standing problem of police atrocities under the Duterte administration.
"The impunity that is being afforded or ensured the police force of [is a problem] because the President has made so many pronouncements goading and encouraging or emboldening the police officers to commit human rights violations against the citizens," Deinla said.
For example, President Rodrigo Duterte in the past issued shoot-to-kill orders with a promised protection from himself and allowed cops to carry firearms even while off-duty. These have only led the PNP to become notorious for its abuses and brutality during his presidency, Deinla argued.
"The chief executive should command the police force, the PNP, to stop this practice [of police brutality and police violence]. The PNP must ensure that there will be no whitewashing… The message should be [that] the police cannot be unaccountable bullies with guns, they should pay for their crimes," Deinla added.
Deinla also lamented other extrajudicial killings cases that have been dismissed because those weren't caught on video like the Tarlac incident.
She also added that the legislative branch can help hold the police accountable for their actions by looking into investigating and determining the gaps in the enforcement of laws.
"When or involving crimes perpetrated by police officers like this, like the Gregorios-Nuezca case, they should address the matter of allowing police officers to bear arms even if they're off-duty, I think the parameters should be clear, well-demarcated, and defined. They should also look into how the funds and resources of the PNP are being used to arm these police officers," she stressed.
Deinla also reiterated that the Congress should consider requiring police to wear body cams during operations.
In 2017, PNP drug enforcement chief Joseph Adnol argued that cops don't need body cameras – they only need God watching over them. This was his sentiment reacting to uproar that cops should use body cameras on their 3rd try in the drug war.
Three years later, although the PNP is set to distribute over 2,000 body cameras, the policy of using this is still criticized for not requiring their use in anti-drug operations but are instead only encouraged.
"Thinking of the many other cases that were not caught on camera, what the police want is that God would be the witness of those incidents. Unfortunately, we cannot subpoena God to appear in court and to testify," Deinla said in a mix of English and Filipino.
Mainstreaming human rights
"This matter concerns us all and nobody is safe…. We are all vulnerable to attacks like what happened to the Gregorios," Deinla emphasized. She also reminded that the resources the police use for their everyday operations come from taxpayers' money.
Public pressure is key to holding the different government branches to account over the culture of impunity and violence in the Philippines. This is why advocates agree that it is important to also make the public care about this issue and mainstream the topic of human rights. (READ: Hate human rights? They protect freedoms you enjoy)
"If people are not aware of their rights, then they tend to give it up. They tend to look at it as a concession. They'll think: 'Sige, I'll give up my right to complain so I can have something to eat.' Hindi dapat siya trade-off," Te explained.
According to the human rights lawyer, mainstreaming human rights won't be simple. It includes "training, education and rights awareness even to those who don't have access to education." Te added that ordinary citizens and civil society "writing to the SC may not be a farfetched possibility" as means to channel the outrage directly to the courts.
Palabay of the human rights group Karapatan added that aside from joining protests movements to demand accountability, ordinary citizens can also provide support for the victims of extrajudicial killings and their families through financial assistance or taking part in volunteer groups supporting the cause.
In the end, no matter how long and ardent the road is, these human rights advocates remain hopeful institutions and the public will work together to ensure that justice will always prevail in the end.
"It's important to always remain hopeful, no matter how dire the circumstances we find ourselves in… The question always has been, are you confident that the Ombudsman will finally press charges against these erring police officers? And my answer was always perhaps not confident, but hopeful, so yes, we will not stop for as long as there are violations against human rights," Deinla said. – Rappler.com