This is AI generated summarization, which may have errors. For context, always refer to the full article.
(1st UPDATE) The complaint against SMNI hosts Lorraine Badoy and Jeffrey Celiz seeks to 'highlight how red-tagging foments hate, abuse, and violence against journalists and truth-tellers'
MANILA, Philippines – Broadcast journalist Atom Araullo filed a P2 million damage suit on Monday, September 11, against Sonshine Media Network International (SMNI) hosts Lorraine Badoy and Jeffrey Celiz, seeking redress for "damages and injuries suffered due to defamatory statements maliciously disseminated."
"Today, I have filed a civil complaint for damages against former Undersecretary Lorraine Badoy-Partosa and Jeffrey Celiz," said Araullo in Filipino in a press briefing.
"This is in connection with a series of unsubstantiated accusations and personal attacks the pair have made against me and my family through their programming on SMNI and on various social media platforms."
Araullo said red-tagging had been affecting his work as well as putting him and his family under emotional duress. Aside from its personal effect, he said red-tagging is part of a bigger campaign to suppress the press.
The complaint was filed electronically on Sunday, September 10. Araullo, together with his counsels from the Movement Against Disinformation (MAD), filed the case physically at the Office of the Prosecutor in Quezon City the next day.
The legal action was sought to "hold accountable the two SMNI hosts for their wrongful acts and to highlight how red-tagging foments hate, abuse, and violence against journalists and truth-tellers," the MAD said.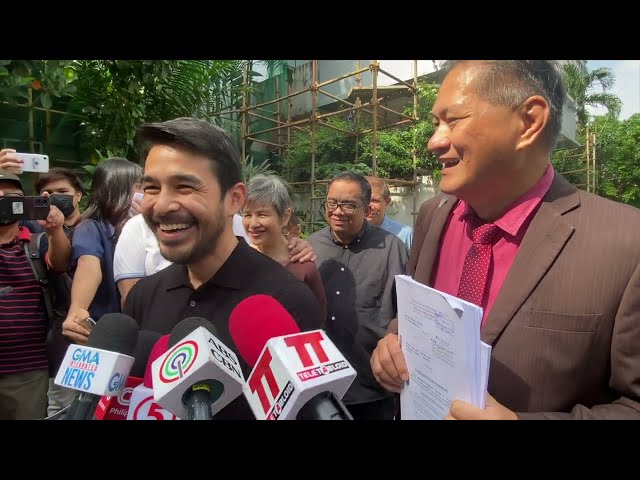 Badoy was a former communications undersecretary during the Duterte administration, as well as the former spokesperson for the National Task Force to End Local Communist Armed Conflict (NTF-ELCAC). She has a history of alleging that personalities, including opposition figures, are part of the local communist movement. Badoy is now one of the hosts of SMNI show Laban Kasama Ng Bayan together with Celiz. (READ: Gov't platforms being used to attack, red-tag media)
SMNI is the media network of preacher and US fugitive Apollo Quiboloy.
Red-tagging Carol
The 47-page complaint cited several episodes of Laban Kasama ang Bayan, where Badoy and Celiz repeatedly linked Araullo and his mother Carol to the Communist Party of the Philippines (CPP), its armed wing New People's Army (NPA), and the National Democratic Front (NDF).
In an episode aired on July 20, Badoy told Mary Therese Frances Meriveles, a member of the Hands Off Our Children Movement: "Itong si Carol Araullo…anak mo na-recruit dahil sa Bayan, chair emeritus siya [Carol]. Pero 'yung anak niya, si Atom Araullo, napakagwapo, napaka-komportable ng buhay. Bakit hindi mo ipa-NPA [New People's Army] 'yan, Carol?"
(Your kid was recruited because of Bayan. She was the chair emeritus. But her handsome son, Atom Araullo, is living a comfortable life. Why don't you recruit him in the NPA, Carol?)
Badoy and Celiz also referred to Araullo as a "spawn" of an "active CPP central committee leader," and a communist party member when he was a student at the University of the Philippines Diliman.
They also called Carol an "urban infiltrator" and one of the individuals "in charge of recruitment for the CPP-NPA-NDF."
The hosts, however, did not present proof to support their allegations.
"There is no doubt that Defendants maliciously used their very public program as a vehicle, not to present a purportedly fair and unbiased report but rather, to launch their 'personal attacks' against the Plaintiff and his mother, in utter contempt and in wilful disregard of their rights…without an iota of unverifiable proof,'" the complaint read.
Araullo was alleged by the hosts to have created documentaries "that are really very faithful" to the narrative of the CPP-NPA-NDF.
In response to this claim, Araullo said on Monday that "red-tagging is just a specific form of intimidating members of the media whose reporting does not fit their particular agenda."
In 2020, Araullo was also red-tagged for his documentary about a Lumad school.
Why a civil case?
The plaintiff emphasized that he filed a civil instead of a criminal complaint because he doesn't believe in criminalizing libel.
This is a "unique challenge" for many journalists nowadays, said Araullo.
"I am against the criminalization of libel and would prefer not to invoke it because it also endangers legitimate journalism," he said. "Still, malicious perpetrators of disinformation must be stopped and held accountable."
Won't this serve as a precedent wherein civil cases are filed against journalists?
Tony La Viña, founding president of MAD, said a civil case takes time to build. In Araullo's case, they worked on it for three months, gathering evidence of red-tagging from YouTube and other social media platforms.
Because it takes time and resources, La Viña said he doubts state forces will employ the same tack to intimidate the press.
Araullo's complaint is just one of several attempts to hold red-taggers accountable, he said.
"The Civil Code says, you cannot maltreat another person, you cannot start a fight with another person without any reason. You cannot speak ill of another person," La Viña said.
Araullo said he filed the case for the safety of his family, but also hopes that the case contributes to press freedom in general.
"Mr. Araullo's resolve to file this case is in support of a broader push-back against red-tagging and the spread of disinformation that suppresses democratic discourse and the rule of law," the MAD said.
Last July, Carol also filed a complaint against Badoy over red-tagging. Several complaints against Badoy have been filed since last year by medical practitioners, Rappler CEO Maria Ressa, activists, and other organizations. – Rappler.com