For 2019, the solicitor general earns a total of P16.9 million mostly from additional compensation and honorarium. He is the first solicitor general in years to be in the top list.
Solicitor General Jose Calida is now the 2nd highest paid government official, earning a total of P16.9 million from 2019, according to the Commission on Audit (COA) 2019 Report on Salaries and Allowances (ROSA).
The top earner for 2019 is former United Coconut Planters Bank (UCPB) president Higinio Macadaeg Jr, who resigned in July 2019. Despite resigning mid-year, the Duterte-nominated Macadaeg still earned P20.47 million.
The UCPB Corporate Communication unit later clarified that Macadaeg was on hold-over capacity until his resignation was accepted, and his replacement took office in July 2020.
Calida is the first solicitor general in years to get to the top 10 of government earners, usually occupied by officials from the banking and financial sectors. In 2017, Calida was top 4; in 2018, he was top 6.
Since 2009 – which is as far back as ROSAs go in COA's online database – solicitors general did not make it to the top 10.
Earnings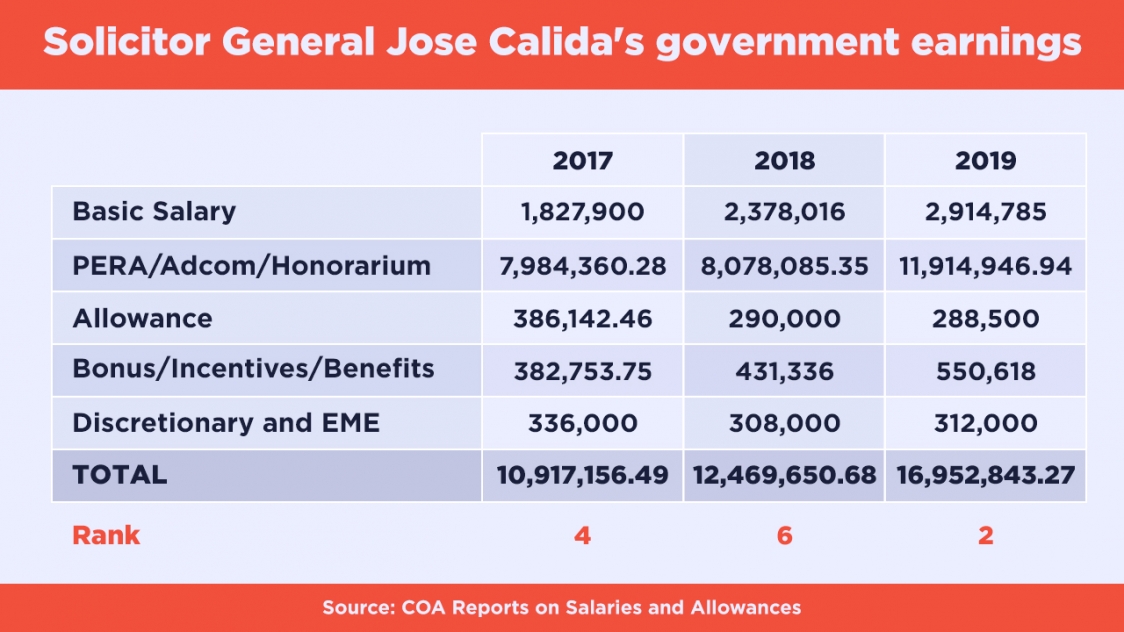 Calida's basic salary for 2019 was only P2.9 million, but he earned P11.9 million from Personnel Economic Relief Allowance (PERA), Additional Compensation and Honorarium.
The solicitor general earned P288,500 in allowances, P550,618 in bonuses, incentives and benefits, and P312,000 in discretionary expenses and miscellaneous.
Calida's allowances had been flagged by COA before and has been a longtime dispute even in other agencies.
While allowances are allowed, COA Circular No. 85-25-E states that allowances should not exceed 50% of the annual salary.
For example in 2017, Calida received P8.37 million in allowances, but earned a P1.82 million basic salary only. For COA, his allowances should not have exceeded 910,000, which is 50% of his P1.82 million basic salary. Instead, Calida collected an excess of P7.46 million in allowances, according to COA.
Calida's government earnings steadily grew in the last 3 years, especially his PERA, additional compensation and honorarium.
His allowances and discretionary expenses went down in 2019, and his bonuses and incentives only went up by P120,000 but his PERA, additional compensation and honorarium went up by almost P4 million.
Other top earners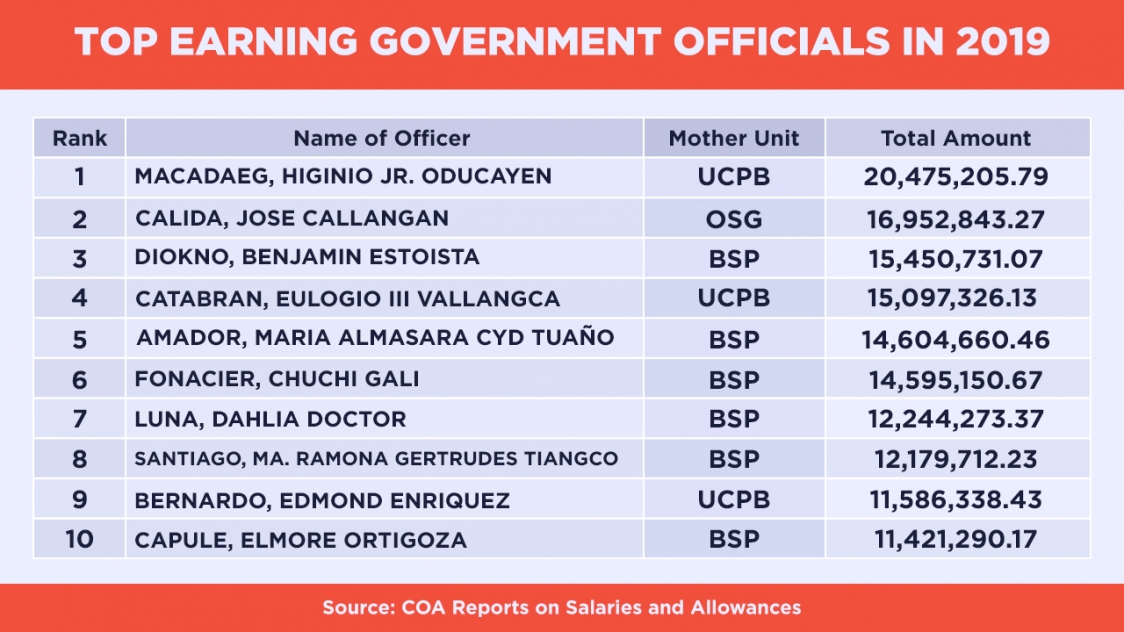 The 3rd top earning government official is Bangko Sentral ng Pilipinas (BSP) Governor Benjamin Diokno, followed by UCPB Executive Vice President Eulogio Catabran, and BSP Deputy Governor Maria Almasara Amador.
The Top 10 and the following slots belonged to officials of BSP and UCPB, but up there in Number 13 is Chief Justice Diosdado Peralta with an annual earning of P10.36 million.
Since 2009, retired chief justice Lucas Bersamin and retired justice now Marinduque Governor Presbitero Velasco Jr have been the only two justices in the top 10 highest-paid government officials.
Top 20 is likewise filled with financial officials including those from the Development Bank of the Philippines, but Senior Associate Justice Estela Perlas Bernabe is Number 16 with an annual earning of P10.21 million. – Rappler.com