Ousted Speaker Alan Peter Cayetano apologizes to President Rodrigo Duterte for having 'misunderstood' his term-sharing deal with new House Speaker Lord Allan Velasco
Taguig-Pateros Representative Alan Peter Cayetano "resigned" as Speaker of the House of Representatives on Tuesday, October 13, minutes after lawmakers ousted him and proclaimed his rival Marinduque Representative Lord Allan Velasco as their new leader.
Cayetano announced his "irrevocable resignation" through a Facebook Live video around 11:52 am on Tuesday. Velasco had already been proclaimed new House speaker at the plenary hall of the House of Representatives around 11:43 am.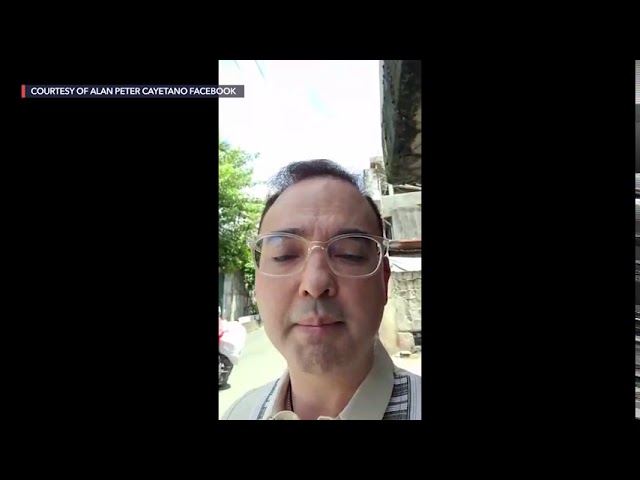 "I am tendering my irrevocable resignation as the Speaker of the House of the Republic of the Philippines," Cayetano said in a live video on his official Facebook page. He was speaking in front of his residence in Taguig City.
Cayetano then addressed his fellow lawmakers to "elect your new Speaker, and pass the budget" at 3 pm of the same day, when the House is officially scheduled to convene for a special session upon President Rodrigo Duterte's orders.
Lawmakers allied with Velasco had, in fact, already gathered at the House's plenary hall about half an hour before Cayetano announced his resignation. Velasco was proclaimed House Speaker with a vote of 186. The House currently consists of 299 lawmakers.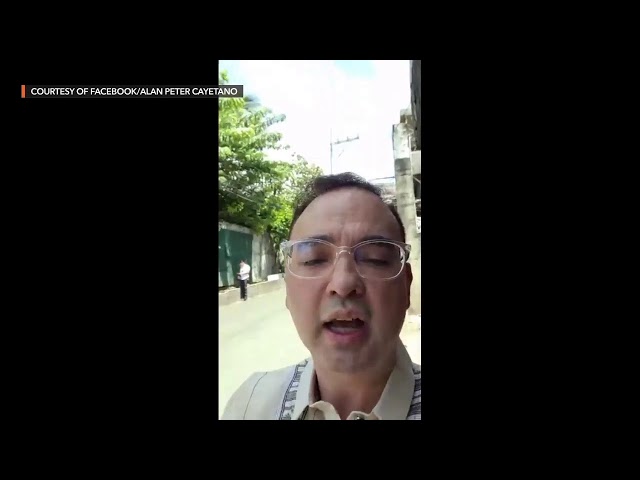 Cayetano insisted that the election of Velasco in a meeting of lawmakers at the Celebrity Sports Club in Quezon City on Monday, October 12, was invalid. He criticized the Velasco camp's entry into the House plenary hall on Tuesday morning as "acts of violence."
Cayetano then urged Velasco to fulfill his palabra de honor or word of honor and not replace any of the lawmakers holding House leadership posts.
"You held me up to my palabra de honor. I'm holding you up now to your palabra de honor," Cayetano said, addressing Velasco.
"Kalahati ng ating leadership ay tao mo. Nilagay ko pero tao mo (Half of our leadership are your people. I appointed them even if they were your people)," Cayetano added.
To ensure a "smooth transition," Cayetano told Velasco, "i-uphold mo 'yung pangako kay Presidente na walang papalitan (uphold your promise to the President that no one will be replaced)."
Cayetano apologized to Duterte that he may have "misunderstood" what he wanted in terms of the speakership "term-sharing" agreement with Velasco. Cayetano said he thought the instruction was for him to remain as Speaker until the 2021 national budget bill is finished and passed.
Velasco had said Duterte felt duped by Cayetano, his running mate in the 2016 presidential elections.
Cayetano said: "Ang pagkaalam ko talaga, I was to handle the budget and I was told, until matapos 'yung budget, para walang disruption, and I invited Representative Velasco to join me." (The way I understood it, I was to handle the budget and I was told, until the budget is finished, so there won't be any disruption, and I invited Representative Velasco.)
"So Mr President, if I made a mistake, mali ang reading ko, misunderstood ko na gusto mong ituloy at tapusin ko ang budget, ako'y humihingi ng paumanhin. Hindi ko intention, never, na hindi ka sundin," Cayetano added. (So Mr President, if I made a mistake, my reading was wrong, I misunderstood that you wanted me to continue and finish with the budget, I'm asking for your pardon. It was not my intention, never, to disobey you.)
He then said that the supposed 15-21 agreement with Velasco did not mean that he would relinquish the speakership after a term of 15 months, and Velasco would get the next 21 months.
"Hindi po 15-21. Ang sinabi ko, after 15 months, I will go to the President and kung ano ang order niya, iyon ang susundin ko (It was not 15-21. What I said was, after 15 months, I will go to the President and whatever his order would be, I would follow it)," Cayetano said.
"The budget should have been finished by October, and we all knew that the handover would be in November. So when Congressman Velasco's group caused a stir in September, the budget process was disrupted. I tried to save it by passing it quickly on 2nd reading," Cayetano said in a mix of English and Filipino.
After abruptly approving the budget bill on 2nd reading during session on October 6, Cayetano moved to suspend session until November 15. This pushed back the passage of the budget bill on 3rd reading to November 16. It was expected to be passed on October 14.
Senators and other sectors said this would effectively delay the budget process by a month, and posed the risk of forcing the government to reenact the 2020 budget for next year if the new bill is not ratified and enacted on time.
Cayetano's suspension of session on October 6 was seen as a way to prevent Velasco from taking over the speakership. Two days later, Duterte ordered Congress to hold a special session from October 13 to 16 in order for the House to pass the budget bill on 3rd reading as originally scheduled.
Duterte then told lawmakers to resolve the speakership mess, or else he would intervene. On Tuesday, he summoned Cayetano and Velasco to a meeting in Malacañang.
In his Facebook livestream, Cayetano said he was heading to Malacañang afterwards for a meeting with the President.
Wrapping up his Facebook Live video, the ousted speaker told his supporters: "Please start calling me 'Alan' again. If you call me 'Secretary-, Senador Alan,' naiiba-iba pa, nalilito pa kayo (it gets mixed up, you get confused) – 'Alan' o 'Kuya Alan.' And I'll always be here with you." – Rappler.com