Spokesperson James Jimenez says all polling places opened despite the rainy weather
Commission on Elections (Comelec) spokesperson James Jimenez said on Saturday, March 13, that the historic Palawan plebiscite was "generally successful." (READ: Palawan residents vote in historic plebiscite)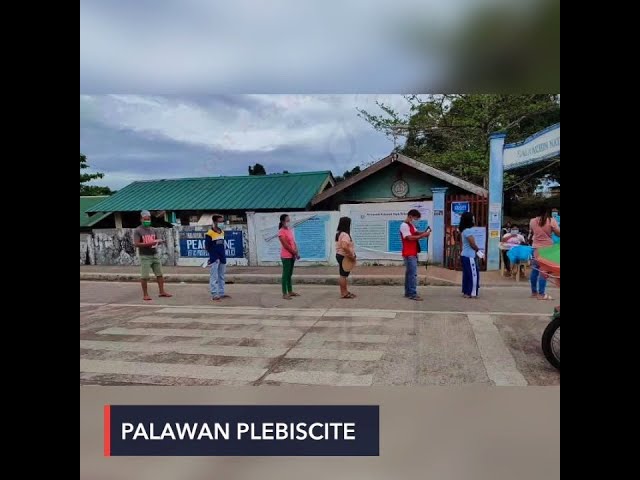 During Comelec's livestream on Saturday evening, Jimenez said that some places registered voter turnouts as high as 54%, while some averaged around 36% to 37%. "Hindi pa natin masasabi kung ano 'yung overall voter turnout, pero 'yun 'yung lay of the land natin (We can't determine what's the overall turnout yet, but this is our lay of the land)," he added.
The board of canvassers also announced during the livestream that they were adjourning the canvassing. They will reconvene at 2 pm on Sunday, March 14.
"By most metrics, successful itong ating plebiscite. Kailangan na lang nating malaman ngayon kung ano yung outcome. And bukas natin magsisimulang malaman 'yan…," Jimenez said. He explained that the board of canvassers decided to adjourn because they were not expecting results to arrive today.
(By most metrics, our plebiscite was successful. We just now need to know the outcome. And we will start finding that out by tomorrow.)
Election watchdog National Citizens' Movement for Free Elections (NAMFREL) also said in a statement on Saturday that "the voting went on smoothly and counting started on time."
The Comelec aims to announce the results by Tuesday, March 16.
The results of the plebiscite would decide whether or not Palawan would be split into 3 separate provinces – Palawan del Norte, Palawan Oriental, and Palawan del Sur – under Republic Act No. 11259.
Weather a 'big issue'
Jimenez said that all polling places opened for voters and only one municipality, Kalayaan, opened rather late. He said weather played a big factor in this because the delivery of supplies got delayed due to a low pressure area located 145 kilometers east southeast of Puerto Princesa City, Palawan, on Saturday morning.
"Ang naging issue talagang malaki ay 'yung ating weather. Nakita natin na 'yung ulan nagsimula madaling araw pa lang kaninang umaga, at tuloy-tuloy siya throughout the day. In those cases kung saan tumigil yung ulan, biglang naglabasan yung mga tao, bumoto, kaya medyo humabol yung ating voter turnout," Jimenez said.
(The big issue that we had was the weather. We saw that the rains started early this morning, and it did not stop throughout the day. In those cases where the rain stopped for a bit, voters went out to vote. So the voter turnout started picking up.)
The voting period in Kalayaan was extended until 5 pm due to the delays, Jimenez said.
A question of 'scaling up'
The Palawan plebiscite is the first electoral exercise held in the Philippines during the COVID-19 pandemic. Jimenez said the Comelec was happy that the minimum health protocols were observed during the plebiscite, and that it could also be achieved in the 2022 national elections.
"Kaya (It's doable). It's a question of scaling up," Jimenez said.
The Comelec spokesperson said that the polling booths were effective and that he didn't see anyone without a mask. "Medyo lang kailangan nating pag-igtingin yung marshalling natin (We just have to tighten our marshalling efforts)," Jimenez said, saying that there were times when physical distancing was not strictly observed.
Jimenez pointed out that there are around 60 million registered voters in the Philippines – a big difference from the province of Palawan's 490,639 registered voters. – Rappler.com