In 2 to 3 years, 'ang suweldo nila, mapupunta lang sa PhilHealth' because of implementing rules that are not based on the law itself, says OFW advocate Susan Ople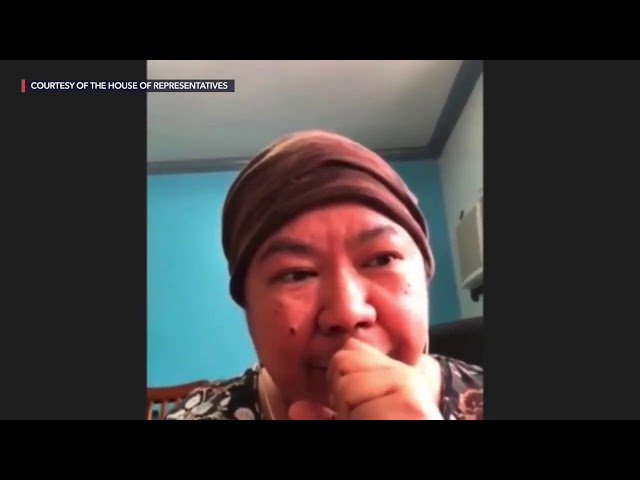 Susan Ople, head of the Blas F. Ople Policy Center, appealed to Congress to suspend the implementing rules and regulations (IRR) of the Universal Health Care Law (UHC) which has burdened overseas Filipino workers (OFWs).
The longtime OFW advocate told the House's joint committee hearing on Tuesday, August 18, about the anomalies hounding the Philippine Health Insurance Corporation (PhilHealth) and its collection of contributions from workers abroad.
Ople said PhilHealth had added requirements for OFWs in the IRR even if these were not stipulated in the text of the UHC or Republic Act No. 11223.
"Sa Saudi Arabia po, implemented ang 40% wage cut sa mga foreign workers, anumang lahi. So this is really not the time [to impose this]. Ang urgent request po namin sa Congress, paki-suspend po muna 'yung IRR – sabihin lang po sa PhilHealth – habang ina-amend 'nyo 'yong batas, lalo na 'yong section lang po for OFWs and dual citizens," Ople said.
(In Saudi Arabia, they already implemented a 40% wage cut on foreign workers, regardless of nationality. So this is really not the time [to impose this]. Our urgent request to Congress is please suspend the IRR – and please tell PhilHealth – while you are amending the law, especially the section on OFWs and dual citizens.)
Ople cited the IRR's provision requiring OFWs to first pay for their PhilHealth contributions before they can get their Overseas Employment Certificate, which serves as a proof that a migrant worker is documented.
"So habang di pa naka-rollout 'yong e-components ng Universal Health Care Act, kumukubra na sa OFW. Bagsak po ang deployment ngayon. They are barely hanging on to their jobs," said Ople.
(While the e-components of the Universal Health Care have not been fully rolled out, they are already charging OFWs. Deployment is down now. They are barely hanging on to their jobs.)
She also slammed the PhilHealth's controversial circular issued last April, mandating that the contributions of OFWs with monthly salaries between P10,000 and P60,000 will now be 3% of their salaries, higher than the 2.75% rate in 2019.
The monthly premium will then increase by 0.5 percentage points every year afterwards until it reaches 5% by 2024. The PhilHealth circular said that OFWs "are classified as direct contributors" under the UHC.
OFWs raged over the PhilHealth order, calling it "unfair" and "inhumane" since many of them were already losing income or, worse, losing their jobs entirely, because of the COVID-19 pandemic.
This prompted President Rodrigo Duterte to order PhilHealth to make OFW contributions voluntary. The agency then temporarily suspended the collections for "direct members" in May.
But Ople said there are still OFWs who are opting to just stay abroad since they are afraid PhilHealth may end up charging them once they return to the Philippines.
"Kaya sana maintindihan din ng PhilHealth at mapag-usapan din po sa Congress na kahit po 'yung mga seafarers ngayon, mahihirapan mag-comply. By 2025 or 2024, ang laking porsiyento na kakainin [ng contributions]. Ang suweldo nila, mapupunta lang sa PhilHealth," said Ople.
(I hope PhilHealth would understand and Congress would discuss that even seafarers would find it hard to comply later on. By 2025 or 2024, the contributions would eat up a big percent of their earnings. Their salaries will just go to PhilHealth.)
Bayan Muna Representative Ferdinand Gaite said OFWs do not need this "unnecessary burden" since the Philippine government already requires them to pay other fees, like their contributions to the Overseas Workers Welfare Administration (OWWA) and the Pag-ibig Fund.
"Nakikita ng maraming OFWs na ito ay unnecessary burden. Ang dami palang kinokolekta. Kasama na 'yong OWWA contribution, may Pag-ibig pa pala. Ang daming state extractions," said Gaite.
(Many of OFWs see this as an unnecessary burden. It turns out a lot of other fees are being collected from them. These include their OWWA contribution, and then there's Pag-ibig. There are so many state extractions.)
Gaite was among the 6 Makabayan bloc lawmakers who earlier filed a resolution calling for a review of the UHC following the backlash over PhilHealth's spiking of premiums for OFWs.
"Ang kawawa nating OFWs, na paulit-ulit nating mga sinasabing mga bagong bayani, ay pumapasan ng napakaraming extractions na talagang nagpapahirap sa kanila," said Gaite. (Our poor OFWs, whom we repeatedly say are our modern-day heroes, are carrying the burden of these extractions that makes life even more difficult for them.)
Labor officials estimate that some 500,000 OFWs may be displaced by the end of August because of the COVID-19 pandemic. – Rappler.com