This is AI generated summarization, which may have errors. For context, always refer to the full article.
The judge, Romeo Buenaventura, only inhibited from Leila de Lima's case after it was discovered that his brother Erwin was involved in the former senator's prosecution
MANILA, Philippines – The lawyers of detained former Senator Leila de Lima filed an administrative complaint against Judge Romeo Buenaventura of the Muntinlupa City Regional Trial Court on Tuesday, September 12, with the Judicial and Integrity Board.
According to a joint statement from the complainants on Tuesday, the judge belatedly inhibited from participating in the trial of De Lima "despite his disqualification stemming from his brother's role and involvement in her prosecution – was willful, knowing, and deliberate, thus malicious."
The complainants include Teddy Esteban Rigoroso, Dino de Leon, and Rolly Francis Peoro, represented by lawyers Tony La Viña and Maria Cristina Yambot.
Buenaventura inhibited from De Lima's case last June in 2023, after three years of handling the case, after it was revealed he is the brother of Erwin Buenaventura, the lawyer who assisted Ronnie Dayan, De Lima's former driver who initially implicated his boss in his affidavit.
Dayan later recanted and said he was coerced into testifying against De Lima.
"Ito pong kaso ay isang administrative complaint na inihain ng mga complainants dahil po sa belated na paginhibit ng isa pong judge na hawak ang isang kaso ni former Senator Leila de Lima. Sa tingin ng complainants, tainted po ang ganoong klaseng belated inhibition," Yambot told reporters in a chance interview on Tuesday afternoon.
(This case is an administrative complaint filed by the complainants due to the delayed inhibition of a judge who was handling the case of former Senator Leila de Lima. In the opinion of the complainants, such a delayed inhibition tainted the proceedings.)
"Dahil dito, nagkaroon ng sense of impropriety at yung mga proseso nakitaan na hindi patas kumbaga, hindi naging patas, dahil belated natuklasan at hindi dinisclose na si Judge Buenaventura pala ay related po sa isang abogado ng isang co-accused ni Senator Leila de Lima sa isang kaso," the lawyer added.
(Because of this, there was a sense of impropriety, and the processes appeared to be unfair, as it was discovered late and not disclosed that Judge Buenaventura is related to a lawyer representing a co-accused of Senator Leila de Lima in a case.)
The judge's sibling also served as a legal adviser to the late lawmaker Reynaldo Umali, who headed the House committee on justice, which conducted hearings in Congress on De Lima's alleged involvement in the drug trade in October 2016.
Though Buenaventura eventually inhibited from the case, the complainants said that he allowed the trial to remain in his courtroom despite knowing there was a possible conflict of interest due to his brother's involvement with Dayan.
The complainants pointed out that the trial went on for an entire three years before Buenaventura decided to inhibit.
"Dahil po sa nangyaring ito, sinasabi natin na ang belated inhibition ay nagresulta sa pagkadelay ng kaso at sa pagkakaalam naman natin, ilang taon na si Sen. Leila de Lima sa kulungan at di pa rin sya pinagbibigyan na makapag-bail man lamang at dahil dito, sinasabi natin na may role, malaki ang role ni Judge Buenaventura sa pag-continue ng detention ni [Senator] Leila de Lima at sa pagdeny nito sa kanya ng bail at dahil sa kanyang conflict of interest ni judge ay tainted po ang proseso," Yambot said.
(Because of this incident, we can say that the belated inhibition resulted in a delay in the case. As we know, Senator Leila de Lima has been in detention for several years, and she has not been granted bail even once. Because of this, we can say that Justice Buenaventura played a significant role in the continued detention of Senator Leila de Lima and in denying her bail. Due to his conflict of interest, the process is tainted.)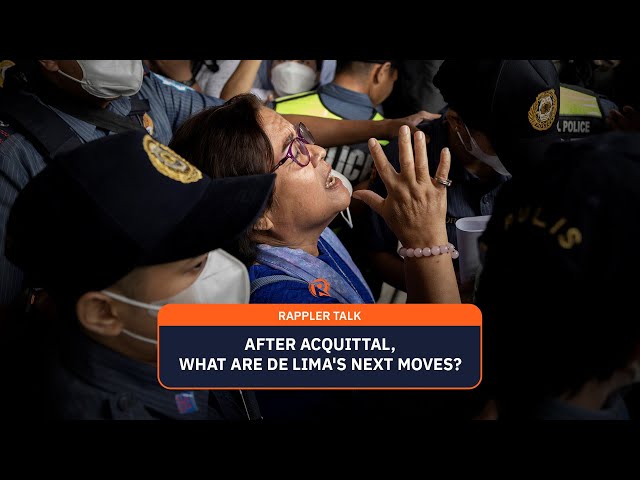 The complainants urged the Judicial Integrity Board to scrutinize the actions of the judge and "determine the necessary sanctions for his violations of the Canons of the New Code of Judicial Conduct for the Philippine Judiciary."
Buenaventura previously denied having any conflict of interest despite belatedly inhibiting from the case. The fact that lawyer Emmanuel is his brother, he argued, is not sufficient to prove that he "acted with malice, bad faith, and partiality in conducting the proceedings in this case, more so in denying the accused's petitions and motions for bail."
Buenaventura claimed he didn't know that his brother was a former counsel to Dayan.
Yambot said they included a prayer in their petition but did not disclose what punishment they are seeking against Buenaventura.
"Meron kaming (We have a) prayer in accordance sa Rules of Court. We leave it to the board to decide kung ano yung (what is the) appropriate penalty for them," Yambot said.
In May this year, in a separate case, Presiding Judge Abraham Joseph Alcantara cleared De Lima and her former aide Dayan in one of their drug charges. De Lima remains in detention, however, and has only one more charge pending before Branch 206 – after a series of inhibitions and re-raffles. (READ: FAQs on Leila de Lima's drug cases)
Another Muntinlupa court already cleared her in one of the three charges in 2021. – Rappler.com