Rappler weaves together the accounts of detained former senator Leila de Lima and her rescuer, Colonel Mark Pespes, to paint a clearer picture of the October 9 hostage-taking incident
MANILA, Philippines – Former senator Leila de Lima has a morning routine of praying the rosary inside her detention cell in Camp Crame. The guards are familiar with her everyday ritual: from 5:30 to 6 am, she opens her door so she can exercise and pray.
But on Sunday, October 9, she prayed for her life, as a hostage-taker held her at knifepoint in her dark cell. He said it was time for them to die. "I closed my eyes, and uttered mentally, 'Lord, bahala na po kayo (I leave it to you).'"
It was, in De Lima's on words, a "near-death experience." The former senator's latest ordeal, after five years in detention over trumped-up charges, also highlighted calls for her immediate release.
Rappler compiled details from an affidavit filed by De Lima on Sunday, and a press conference with her rescuer Police Colonel Mark Pespes on Monday, October 10, to paint a clearer picture of the hostage-taking incident. De Lima's full affidavit is accessible here, while the press conference with Pespes and other leaders of the Philippine National Police can also be viewed here.
'Nasasakal ako'
In her sworn statement, De Lima, 63, recounted how the incident began at around 6:40 am on Sunday when she was praying the rosary in her detention cell.
While praying, a man suddenly barged into the room with an ice pick or a screwdriver he pointed at her chest. De Lima said his eyes were glaring and he was catching his breath.
The man turned out to be a fellow detainee at the PNP Custodial Center – Feliciano Sulayao Jr.
At that time, Sulayao and two others linked to extremist groups – Idang Susukan and Arnel Cabintoy – had attempted to escape. Susukan and Cabintoy were killed in their attempt to flee the detention facility. Left alone, Sulayao perpetrated the hostage-taking incident in what De Lima described as a "desperate attempt to make known their grievances to the public."
De Lima recalled Sulayao saying, "Ma'am, patay na ang dalawang kasamahan ko kaya kailangan mo sumama sa akin kasi papatayin din ako." (Ma'am, my two companions are dead, so you need to come with me because they're going to kill me, too.)
She then recalled the hostage-taker tying her hands behind her back and dragging her outside to the gate of the compound.
Outside, according to De Lima, a guard noticed Sulayao keeping her in a chokehold with the sharp object pointed at her chest. "Hindi ako makasalita kasi nasasakal ako (I couldn't speak because I was choking)," she said.
The former senator also heard another guard shouting while pointing a gun at Sulayao. Once Sulayao saw that the main outer maximum security gate had been locked, De Lima said he dragged her back to her cell.
"Muli niya akong kinaladkad papasok sa aking kuwarto at muli na naman akong nadapa dahil tinulak niya ako nang malakas. Pagdating sa loob, tinalian na rin ang aking paa at piniringan/blindfolded niya ako," she said. (He dragged me into my room again and I fell to the ground because he pushed me hard. When we were inside, he tied my feet and blindfolded me.)
Hostage-taker 'more frantic, agitated'
There is an "inner room" and "outer room" of De Lima's cell. Sulayao made De Lima sit in a swivel chair and turned her back towards the inner door of her cell. She said he continued to hold and push the sharp object against her chest as they talked about his demands.
(Read De Lima's full affidavit below.)
"Paulit-ulit niyang sinasabi na patay na ang dalawa niyang kasama at wala daw siyang choice dahil ako lang daw ang paraan na makalabas siya at makatakas (He kept saying that his two companions were gone and he did not have a choice because I was his only ticket out)," De Lima said.
De Lima said Sulayao told her to ask the police for a Hummer and a C-130 aircraft so he could return to Sulu. He also asked her for a cellphone, and when she said she didn't have one, Sulayao became "more frantic and agitated," and asked for media presence.
De Lima shouted for the police to come to the cell. She heard fellow detainees relaying her messages to the police.
She asked Sulayao if they could go outside because she had difficulty breathing and felt pain in her chest because he held the sharp object tightly against it. Sulayao denied her request, saying there were "snipers" outside. De Lima instead appealed that he does not hold the knife too tightly against her skin. Still, he made continuous threats against her life.
While waiting for the police, De Lima asked Sulayao about his two companions, which he said were Susukan and Cabintoy.
"Marami kaming reklamo sa ginagawa sa amin dito – para kaming hayop itrato at ang mga pagkain ay may baboy," De Lima recalled Sulayao saying, in apparent reference to non-halal food. (We have many complaints about what they do to us here – we are treated like animals, and the food has pork.)
A cup of water, then gunshots
In a PNP press conference on Monday, Pespes, acting director of the PNP Headquarters Support Service, detailed the incident from his point of view as well. De Lima said she heard Sulayao talking to a voice outside who turned out to be Pespes.
(Watch Colonel Mark Pespes' account below.)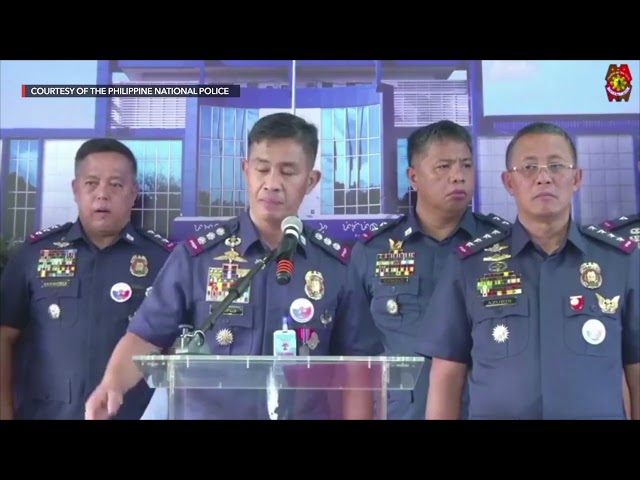 Pespes was in the outer room and saw that the inner room's lights were turned off. Still, the police outside saw De Lima "side view" in her swivel chair, who was being used as a human shield for Sulayao. They only saw Sulayao's shoulder up to his head.
Sulayao repeated his demands to the police – a Hummer, a "helicopter," and media presence, Pespes said.
De Lima said in her affidavit that when Sulayao followed up on the media, Pespes said they had already called for them, but they were afraid to come inside. Sulayao also asked where his two companions were and if they were dead. According to De Lima, Pespes said they were not dead, only injured.
Sulayao demanded to see the two other men as "proof of life," and Pespes said they were outside talking to the media.
Pespes said that eventually, Sulayao asked for water. The police rolled a bottle of water across the floor, but Sulayao suspected that the water had been drugged. Pespes then opened a bottle of water, drank from it, and gave it to him. But Sulayao still did not accept it.
De Lima said that Sulayao told Pespes that if they made "one mistake" she would die. If nothing happened by 7:30 am, they would both die, he said. When the media did not appear, Sulayao said it was time for them both to die, and he started praying.
"And then I started praying also quietly. Closed my eyes, and uttered mentally, 'Dear Lord, bahala na po kayo (I leave it to you),'" said De Lima.
Sulayao asked for water again, but he wanted it to come from the dispenser. After getting the water, Pespes asked Sulayao to come get it from him. Sulayao refused to come near Pespes, so Pespes put it on the table near the door.
"Sinabi kong, 'Feliciano, malalaglag ito.' So nag-attempt siya na hawakan 'yung baso. Noong nakita kong medyo na-expose na 'yung ibang katawan niya, doon ko inilabas 'yung baril," Pespes ended. (I said, "Feliciano, the cup is going to fall." So he attempted to hold the cup. When I saw more of his body exposed, that's when I pulled out my gun.)
De Lima heard about three or four successive gun shots. While she was still blindfolded and tied up, she felt herself being brought out of the room.
She was then brought to the PNP General Hospital (PNPGH) for a medic to check her. That's when she learned that Sulayao and his two companions were killed.
"If not for the timely intervention of the PNP security force, I don't think I would have come out alive since the hostage-taker was already determined to die and take me with him," said De Lima in a statement on Sunday.
In the Monday press conference, PNP Chief Azurin said there was an ongoing investigation of the Sunday hostage-taking. An initial lapse he determined was the "complacency" of guards who may have built a rapport with inmates in the PNP Custodial Center.
Azurin said that De Lima was "okay" as of Monday morning as she continued to be monitored by the PNPGH. She is set to move to a different detention facility in Crame.
De Lima survived the incident with a lingering pain in her chest where the sharp object was pressed, and a renewed appreciation for life.
"Thank you for all your prayers. Most of all, I thank the Lord for being by my side during those terrible moments, and for saving my life today." – Rappler.com