'I strongly believe that my vindication is at hand. But even if they continue to try to silence me, I refuse to cower,' says the former justice secretary
MANILA, Philippines – Former senator Leila de Lima – six years into her detention – said she was right in sacrificing her freedom to fight for human rights.
"Six years I stood my ground. And today, after 6 years, I am still fighting for my own innocence and for justice for the victims of extrajudicial killings and the families they left behind," the former justice secretary said in her handwritten statement on Friday, February 24.
"Today, more than ever, I am convinced that I did the right thing of sacrificing my personal liberty and even my political career. I strongly believe that my vindication is at hand. But even if they continue to try to silence me, I refuse to cower," the opposition leader added.
February 24, 2023 marks De Lima's 6th year in detention after she was arrested in 2017 for drug-related charges. The former chair of the Commission on Human Rights (CHR), who was one of former president Rodrigo Duterte's most vocal critics, was accused of allegedly enabling the drug trade in the national penitentiary to fund her 2016 senatorial run.
De Lima has been detained at the Philippine National Police Custodial Center. In the past six years, she has been acquitted in one of three drug-related cases. Key witnesses against her, like self-confessed drug lord Kerwin Espinosa and former Bureau of Corrections officer-in-charge Rafael Ragos, have recanted their statements linking her to the drug trade.
Even while under detention, she almost lost her life after she was held hostage in October 2022.
De Lima was among the first lawmakers who sounded the alarm over Duterte's drug war. It was then-senator De Lima who presented Edgar Matobato, an alleged member of the Davao Death Squad (DDS), who revealed that Duterte ordered the killings in Davao City. When she was chairperson of the CHR from 2008 to 2010, the commission initiated the probe into the so-called DDS killings.
'Fighting the good fight'
De Lima added that for six years in "unjust detention," her persecutors expected that she would spend her days behind bars in "futility, submission, and silence." Instead, she said she has spent the last "most important six years of her life" fighting for her causes.
"When they thought I would buckle under the pressure of their oppression, I proved that my commitment to the Rule of Law, to Human Rights and, specifically, to speaking up for the victims, mostly poor and defenseless, of the so-called 'War on Drugs,' is stronger than any wall they can put between me and the outside world," she said.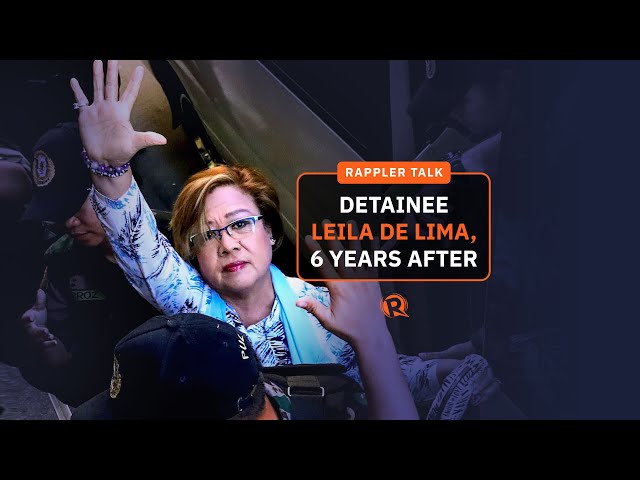 De Lima also said she will not be silenced for the sake of the people she's defending.
"I will stand my ground. For when they come after me and try to silence me, they are actually coming after those who cannot speak for themselves and defend themselves. I cannot, in good conscience, let that happen," she said. – Rappler.com