(6th UPDATE) The second of two explosions was caused by a female suicide bomber, says the military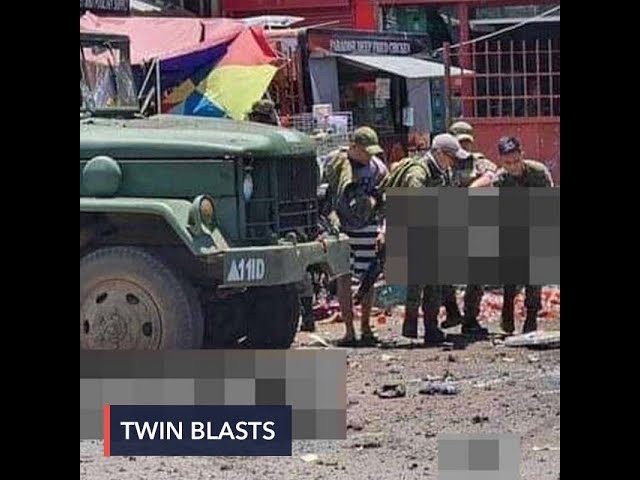 Back-to-back explosions rocked downtown Jolo, Sulu, around noon on Monday, August 24, killing at least 14 people and wounding 75 others, the military said.
"4 soldiers died on the spot, 17 wounded, no details yet regarding about civilian casualties," Lieutenant General Corleto Vinluan Jr, chief of the Armed Forces Western Mindanao Command, initially told reporters. Vinluan, ironically, just hurdled his confirmation hearing at the Commission on Appointments on Monday.
"Secondary blast is on the same street, just 100 meters from the first one. Initially, it's an IED planted in a motorbike," he said in a text message to reporters.
Hours later, Vinluan said the death toll had risen to 14, with 7 soldiers, 6 civilians, and one police killed in the two blasts.
At least 75 people were wounded – 48 civilians, 21 soldiers, 3 local police, and 3 police Special Action Force personnel, Vinluan added.
The first explosion happened at around 11:55 am, when an improvised explosive device (IED) went off near Paradise Food Plaza along Serantes Street, Barangay Walled City in downtown Jolo. Six soldiers were killed in this first blast, the military said.
A second explosion happened at around 01:15 pm along Sanchez Street, near a branch of the Development Bank of the Philippines, in front of New Trading store, also in Barangay Walled City. This blast killed one more soldier, and wounded at least 3 soldiers and 6 police, according to the military.
The second explosion was caused by a female suicide bomber with suspected links to Abu Sayyaf bomber Mundi Sawadjaan, nephew of Abu Sayyaf sub-leader and Islamic State (ISIS) head in the Philippines Hajan Sawadjaan, said Philippine Army 11th Infantry Division civil-military relations officer Lieutenant Colonel Ronaldo Mateo.
Senator Richard Gordon, chairperson of the Philippine Red Cross (PRC), tweeted about the first explosion at 1:12 pm, and about the second blast at 1:30 pm. He said the PRC has set up a First Aid and Welfare Station on the ground, and pre-positioned blood supply in case it is needed.
The aid group treated a female civilian with an abrasion on her left foot, Gordon added.
A motorcycle loaded with IED exploded beside a military truck in Brgy Walled City, Jolo at around 11:58AM today, reportedly killing 4 soldiers and 2 civilians. PRC treated 1 female civilian with abrasion on left foot and has set up First Aid and Welfare Station for assistance.

— Richard J. Gordon (@DickGordonDG) August 24, 2020
Representative Koko Nograles of the Puwersa ng Bayaning Atleta party shared an initial military report with reporters, indicating there were civilian casualties from the incident.
AFP spokesperson Major General Edgard Arevalo said an investigation on the site is underway. Military troops are on hand to secure the area, and to evacuate and provide treatment to casualties.
The Philippine National Police (PNP) in Sulu said its Explosives and Ordnance Division swept the area "for possible further explosive device or devices."
The explosions happened on a busy day at the town center because Monday is market day in Jolo.
The AFP Joint Task Force Sulu and the Philippine Army's 11th Infantry Division are on high alert, Arevalo said.
"We condemn in the strongest possible terms the explosion incidents in Jolo, Sulu today, which left scores dead and wounded, including soldiers. We likewise condole with the families and loved ones of those who died in these tragic incidents. Authorities are now conducting an investigation, which includes identifying individuals or groups behind these dastardly attacks," Presidential Spokesperson Harry Roque said in a statement on Monday afternoon.
"We call on the residents of Jolo to stay vigilant, and report suspicious personalities and unattended items in their areas," Roque added.
The island province of Sulu is the lair of the Abu Sayyaf terrorist group. One of its top leaders, Abduljihad "Idang" Susukan, was handed over to police by Moro National Liberation Front (MNLF) founding chairman Nur Misuari on August 13. (READ: Lacson hits 'politics' in Misuari's handover of Abu Sayyaf leader)
Monday's explosions happened near the Cathedral of Our Lady of Mount Carmel, where a suicide attack on January 27, 2019 killed at least 23 people and wounded 109 others. The bombers were an Indonesian couple with links to the Abu Sayyaf.
Bomb attacks also happened around the time Lieutenant General Cirilito Sobejana officially assumed command of the military in Western Mindanao on September 4, 2019. Days later, on September 7, at least 7 people were wounded when an IED went off near the public market in Isulan, Sultan Kudarat. The following day, a suicide bomber tried to attack an Army Camp in Indanan, Sulu, killing only herself. An investigation found the female attacker was a foreigner.
This is a developing story. Check this page again later for updates. – with reports from Sofia Tomacruz, Mara Cepeda and Rambo Talabong/Rappler.com