'Pero sa tingin ko hindi dapat 'yan maging balakid para sa full implementation ng face to face classes,' says DOH OIC Maria Rosario Vergeire, adding that cases remain mild
MANILA, Philippines – The Department of Health (DOH) on Friday, November 4, reported that some 3,900 youth aged 12 to 17 got infected with COVID-19 from September 1 to November 3, or since Philippine schools gradually returned to face-to-face classes after more than two years of forced campus shutdowns.
"There have been this number of infections among students during this time we started gradually opening up schools and having face-to-face classes. Pero sa tingin ko hindi dapat 'yan maging balakid para sa full implementation ng face-to-face classes (But I think, this should not hinder our full implementation of face-to-face classes)," DOH Officer-in-Charge Maria Rosario Vergeire told reporters in a press briefing.
Vergeire added that the recorded cases remained mild and no severe cases were reported.
The health official said the data is based on their own surveillance and not from the Department of Education (DepEd).
"We have our own report. Hindi nanggagaling 'yan sa eskuwelahan. Inisa-sa namin 'yan from our complete list of surveillance report (Our data didn't come from schools. It came from our complete list of surveillance report). The DepEd commit that they will be completing the report, and will be submitting to us," Vergeire said.
On Friday afternoon, the DOH clarified Vergeire's statement in the media forum, saying that the data mentioned was not specific to students, but rather for individuals aged 12 to 17.
"We are still waiting for official reports regarding the number of recorded infections in schools," the DOH said.
Based on government records, 28.79 million students enlisted for school year 2022-2023.
When school year 2022-2023 began on August 22, almost 90% of the 60,000 public and private schools in the country had already started transitioning to in-person classes, although some still had a distance learning component – the so-called hybrid setup. But on November 2, all public schools should have returned to five days of traditional in-person classes.
The DepEd has yet to give information on whether it has allowed some public schools to do distance learning. Vice President and Education Secretary Sara Duterte earlier said that exemptions could be given to "very specific areas."
On November 1, the DepEd said it was allowing the optional wearing of face masks inside classrooms, after President Ferdinand Marcos Jr. scrapped themask-wearing mandate that had been in place since the start of the COVID-19 pandemic in early 2020.
Despite this, students of Eusebio High School in Pasig City still wear face masks. School principal Gilbert Inocencio told Rappler that they still encouraged students to wear face masks inside classrooms, as this adds another layer of protection against COVID-19 and other diseases.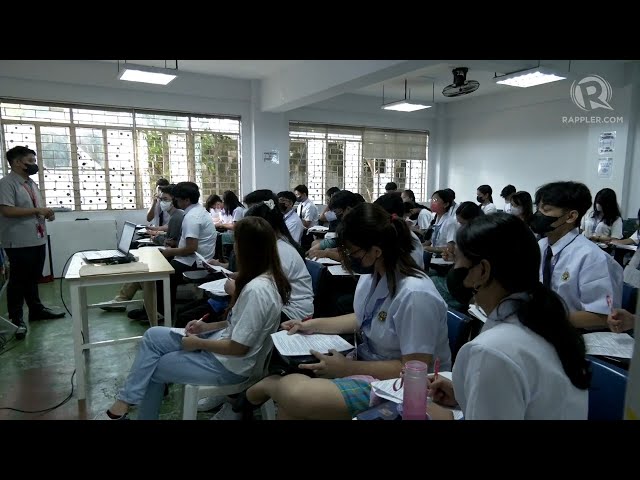 Over 96% of the Eusebio High School's 5,600 students are fully vaccinated against COVID-19. Inocencio said they are aiming to achieve 100% vaccination in their school.
The return to face-to-face classes in the Philippines is long overdue, considering the country's education system that is largely unprepared for distance learning. (READ: Distance learning in the Philippines: A year of hits and misses)
Studies showed students were "learning less" under the distance learning setup. Experts and lawmakers were alarmed by the learning losses brought by the pandemic. – Rappler.com