This is AI generated summarization, which may have errors. For context, always refer to the full article.
Parents, teachers, and the education department agree: Allow face-to-face classes in areas where it is safe to do so
Every morning, Adelaide Dolar would ask a favor: could she charge her mobile phone at her neighbor's house? She didn't have electricity at home, and her children needed her gadget for online class work. She did this for the whole duration of the school year 2020-2021. 
The pandemic made it difficult for financially struggling families like hers to fulfill their children's needs for distance learning, the 43-year-old vendor from Batangas province told Rappler in an interview on Sunday, July 18.
Despite this, she made sure that her children would not miss school the past year, when the government enforced a remote setup due to pandemic lockdowns.
Her three children – all basic education students – were enrolled under the modular learning system. The eldest, who was in Grade 10, needed to occasionally attend online classes. The younger ones, however, couldn't just answer the modules distributed by the school; they also needed to watch video lessons uploaded on YouTube or do research for their classes.
With a meager income of P300 ($5.91) a day from selling afternoon snacks to her neighbors, Dolar had to budget this amount between their meals and an allotment of mobile data for her children's online classes.
"If they have online classes, I need to have P200 for internet 'load.' If my eldest son needs to attend a Google meet, I need to buy internet load worth P50 per hour. Of course, there's also research that needs to be done, so the P50 load won't be enough – that's why we're spending P200 for it. It will be registered for three days," she said.
To make a living, Dolar and her husband sell snacks every afternoon in their neighborhood. Her husband has been diagnosed with bipolar disorder, so he cannot help that much with household finances. Dolar also does laundry services just to get by.
Not good for mental health
Aside from the financial burden brought by remote education, Dolar said that her children's mental health had been affected. Without teachers explaining the lessons to students, she had to change her morning routine so she could guide and motivate her children to answer their learning modules. That delayed her preparation of food she would sell in the afternoon.
"They're looking for the [in-person] school. They said in-person classes are better. They miss their interaction with their classmates. They are unmotivated to study. What will happen next school year? Will we be in this kind of situation again?" Dolar asked.
"They were culture-shocked. They are not used to this kind of situation. They're hoping to interact with their teachers and their classmates," she added.
In a recent video interview released by the Ateneo School of Government, Professor Carmel Abao said that aside from the issue of accessibility, remote learning also had an impact on students' mental health.
"There's an issue on the impact of this kind of learning on mental health. I still think that this is not advisable. Our kids are not made for this kind of isolation. Even if you do perform well in online learning, it's different if you're able to see, feel, and talk with your classmates," she said.
Students didn't learn as much
In a Rappler Talk interview on Friday, July 16, senior high school graduate Cheska Avenido said she found the remote learning setup really difficult.
"Besides the adjustment under the new modes of learning, sometimes we ask ourselves if studying during a pandemic is still worth it, because there are a lot of uncertainties," she said.
Dolar shared that sentiment, saying her children didn't learn that much in the remote setup, as she could not teach them properly. Though Dolar graduated with a degree in computer science, she wasn't able to practice any related profession.
"I think they're learning, but learning with teachers is far way better. Sometimes, I find it really hard to understand their lessons. Face-to-face classes is still the best way to go," Dolar said.
Aside from the school system being unprepared for the shift, remote education also posed a major challenge for students who did not have anyone to facilitate learning at home, or whose parents were not capable of guiding them due to lack of knowledge. (READ: Parents bear the brunt of distance learning as classes shift online)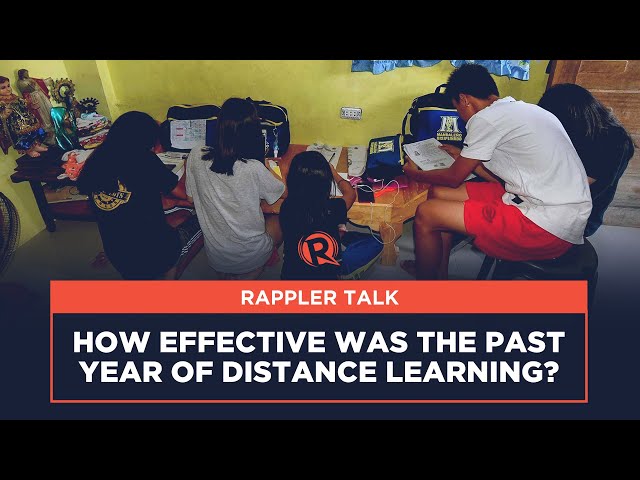 Dolar said that, most times, she was the one attending her children's online classes, especially in mathematics, so she could explain the concepts to them when answering their modules.
An online survey conducted by the multisectoral group Movement for Safe, Equitable, Quality and Relevant Education (SEQuRE) found that 86.7% of students under modular learning, 66% under online learning, and 74% under blended learning said they "learned less" under the alternative modes of learning compared with the traditional face-to-face setup.
The survey also found that only 5.4% under the blended learning, 5.7% under modular learning, and 9.1% under online learning "learned more."
The survey was conducted from June 25 to July 12 among 1,278 teachers, 1,299 Grades 4 to 12 students, and 3,172 parents.
Teachers' Dignity Coalition chairperson Benjo Basas said in a Rappler interview that, while the teachers would always do their best to teach students under any circumstance, they didn't have any control on how students would respond.
"Either of those modalities, whether online or modular, it was difficult to learn. It's difficult for the students. It's also difficult for the teachers because we're not trained for this system," he said.
In March, senators questioned a report from the Department of Education (DepEd) that said 99% of public school students obtained a passing grade in the first quarter of the school year (October-December 2020).
The lawmakers were baffled by the high passing rate because many students struggled with distance learning. They cited instances when it was the parents or household members who ended up answering the exercises in the learning modules.
Education Undersecretary Diosdado San Antonio said it was likely that teachers were being considerate and therefore gave students high passing rates.
When pandemic is over, Basas said, teachers would have a tougher job because the students will need to catch up on the level of learning that corresponds to their grade or class.
"We have a lot of catching up to do because we're promoting students to the next level even though we're unsure if they do actually learn. But then we cannot do something about it because we're asked to be considerate since we're in a pandemic," he said.
Erroneous modules, not enough gadgets
Education advocates have said that the pandemic highlighted the gaps in the Philippine education system. This was evident in the erroneous learning modules distributed to public school students during the pandemic.
"Painful" grammatical errors, wrong math equations, and depictions of gender stereotypes alarmed a public already worried over the quality of education that over 24 million students were receiving during the pandemic.
Aside from learning module blunders, Ateneo's Abao said the pandemic exposed the "cracks" in the country's education system.
"If the problem before the pandemic was the lack of classrooms, the problem now is the lack of computers. We have a problem with the quantity and quality which were magnified by the pandemic," she said.
Better than academic freeze
Still, there were those who appreciated that the Department of Education (DepEd) and the Commission on Higher Education were able to go ahead with the school year amid the pandemic.
Dolar said that, even though the implementation was flawed, distance learning was still better than having an academic break. (READ: School time out during a pandemic? Pros and cons of an academic break)
"They have nothing to do at home, that's why it's okay to have distance learning. But we hope that they can improve the implementation and provide support to parents, teachers, and students," she said.
Professor Jayeel Cornelio, director of Ateneo de Manila University's development studies program, said that while remote education provided an opportunity for those in the academe to be creative, it would not be as effective if not all had equal access to the tools needed for the digital shift.
"As a professor, [remote education for me] is a good. We take advantage of every platform available, but the question is – who is winning and losing here? The reality is that if you come from an elite private school, you can easily cope with it. But we cannot say that flexible learning is the way to go for small private schools and state universities," he said.
Students and teachers remain safe from the virus while they continue learning from their homes. Despite the challenges brought by remote learning, senior high school graduate Avenido said she still felt unsafe to return to face-to-face classes.
"I'd be comfortable to return to face-to-face classes if the government finds better solutions to our pandemic problems. If they can find ways to contain virus spread and ramp up vaccination, it's the only way I will feel safe to join face-to-face classes," she said.
Over a year into the pandemic, the Philippines is still struggling to contain the deadly virus that has so far infected more than 1.5 million and has killed over 26,000 of its population. The country is bracing for a possible surge in infections, as the threat of a more virulent Delta variant looms.
Finding local solutions
Regina Sibal, lead convenor of education advocacy group Aral Pilipinas, said that, aside from the slow response, the government's top-down approach in its policy making was another barrier in the reopening of schools. She said that the government should not be implementing a "blanket rule" across the country.
"Our remote learning now is for all schools and no provision is given to other areas that are able to do face-to-face classes. Disparity in education access has been more pronounced now, especially in marginalized areas that lack resources," she said.
Sibal said that what government should be doing now is to provide local communities with guidelines on finding solutions specific to their areas and situations. (READ: Empower LGUs to make decisions on school opening – advocacy group)
President Rodrigo Duterte turned down several times calls for face-to-face classes due to the threat of the pandemic.
Education Secretary Leonor Briones, however, was hopeful the DepEd would get the go signal to start limited face-to-face classes in some 100 schools it had identified. She was banking on the vaccination of teachers and the planned inoculation of students.
The DepEd had said that it was preparing for "the delivery of quality education no matter what the circumstances will be in the coming months."
Public schools in the country will start classes for school year 2021-2022 on September 13, while private schools can start as early as June since they closed the past school year earlier.
"Enhanced" blended distance learning will continue to be implemented. But will the government make it right for millions of students this time around? – Rappler.com
Editors' Note: All Filipino quotes were translated into English.