More than half of Filipinos participating in the ASEAN Studies Centre survey thumb down the Duterte government's response to the COVID-19 crisis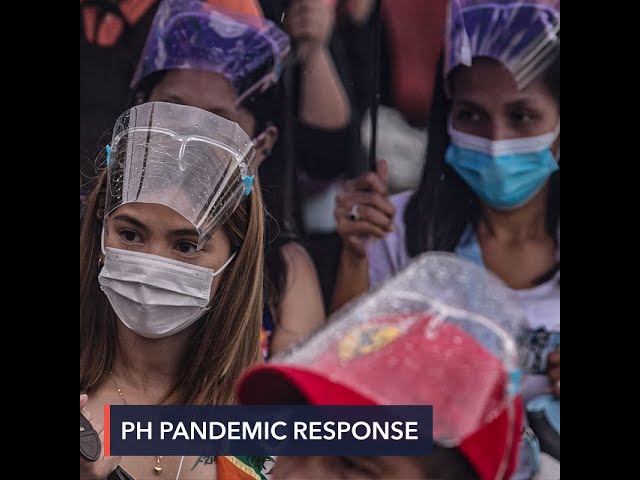 Out of all Southeast Asians, Filipinos are most disapproving of their government's response to the COVID-19 pandemic, according to a study by the ASEAN Studies Centre, a research institute focused on the Association of Southeast Asian Nations (ASEAN).
The findings are part of the thinktank's survey report, "The State of Southeast Asia: 2021," which involved responses of 1,032 respondents from all 10 ASEAN countries, through an online survey conducted from November 18, 2020 to January 10, 2021.
The survey found that 17.9% of Filipinos "strongly disapprove" of the Duterte government's pandemic response – the highest strong disapproval rating among Southeast Asian countries.
Combined with the percentage of Filipino respondents who "disapprove" of the government handling, 35.8%, a total of 53.7% of Filipinos asked by the research group thumb down the Duterte administration's response to the health crisis.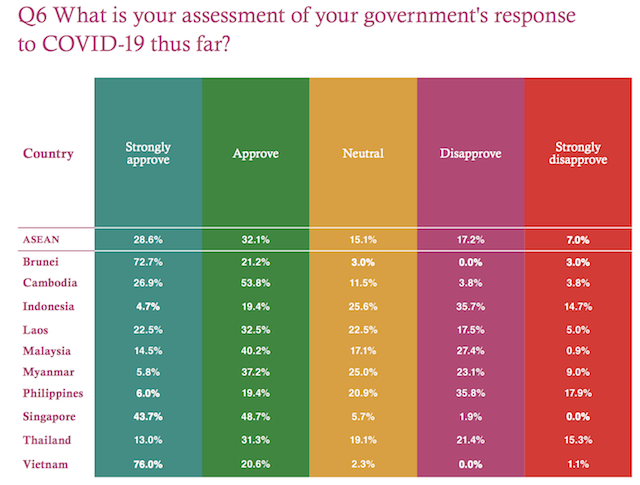 This is the highest percentage of disapproving respondents out of all ASEAN countries. In close second is Indonesia, where 50.4% of respondents said they did not like how the Widodo administration responded to the pandemic.
Why are Filipinos disapproving?
Another part of the survey provides some insight into where Filipinos' dissatisfaction is coming from.
Respondents were asked what their government should do to improve their COVID-19 response.
A big majority of Filipinos, 72.2%, said the Duterte government must "encourage more scientists and medical doctors to contribute to public policy discussions and heed their advice."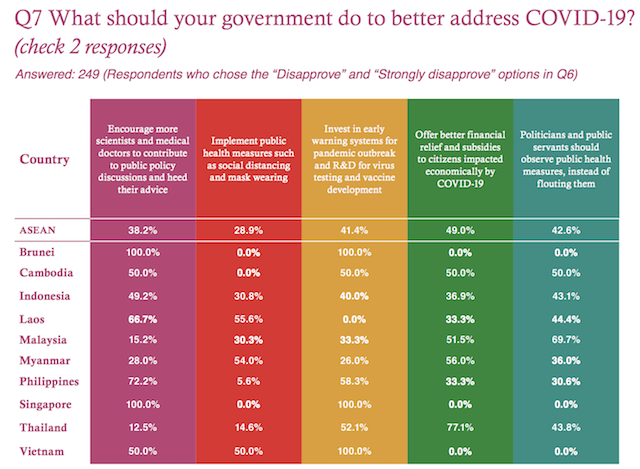 Duterte has appointed retired military generals to lead his COVID-19 task force but invited health experts and doctors to brief him on the status of the pandemic and advise the government on policies.
Still, there have been many instances when his task force made decisions opposed by medical frontliners, pediatricians, and other doctors. When a group of doctors called on Duterte to reimpose stricter quarantine in Metro Manila, the President relented. A doctor who had been advising the task force was removed from his advisory role after Duterte and some Cabinet members were offended by his tweets criticizing government pandemic response.
Meanwhile, more than half, or 58.3% of Filipino respondents think the government should "invest in early warning systems for pandemic outbreak" and on research and development for virus testing and vaccine development.
Over 30% think the government ought to offer better financial assistance to citizens whose livelihoods were affected by the global health crisis. A little less than this number believe "politicians and public servants should observe public health measures, instead of flouting them."
Flagrant violations of health protocols by government officials themselves have made headlines in the Philippines – the most memorable was the Metro Manila police chief attending a birthday bash organized for him which violated the prohibition on mass gathering.
Duterte not only publicly defended the cop, Lieutenant General Debold Sinas. He eventually promoted him to chief of the country's police force.
Aside from methodology, the Asian Studies Centre survey differs from those by local survey bodies like Social Weather Stations or Pulse Asia, in terms of respondents' pool.
While the local poll bodies include respondents from all socio-economic classes, this Asian Studies Centre survey respondents are a mix of people from academia or research, business or finance, government, civil society groups, media, and regional and international organizations.
Pandemic response leaders in ASEAN
The Philippines is an outlier in the larger trend of most Southeast Asians approving their government's response to the pandemic.
As a whole, 60.7% of all respondents favored the governments' handling of the crisis.
Three countries emerged as leaders in terms of citizens' approval of their COVID-19 response. In Vietnam, an astounding 96.6% gave the Communist Party of Vietnam a thumb's up. In Brunei, led by Sultan Hassanal Bolkiah, 93.9% approve. Singaporeans gave their government, helmed by Prime Minister Lee Hsien Loong, 92.4% approval.
In these 3 countries, disapproval rates were in the single digits.
Meanwhile, little more than a quarter of Filipino respondents (25.4%) either approved or strongly approved of the Duterte government's pandemic handling. A sizeable number, 20.9%, said they were neutral about it. – Rappler.com