Health Undersecretary Maria Rosario Vergeire says only the national government is authorized to buy vaccines given emergency use authorization by the Food and Drug Administration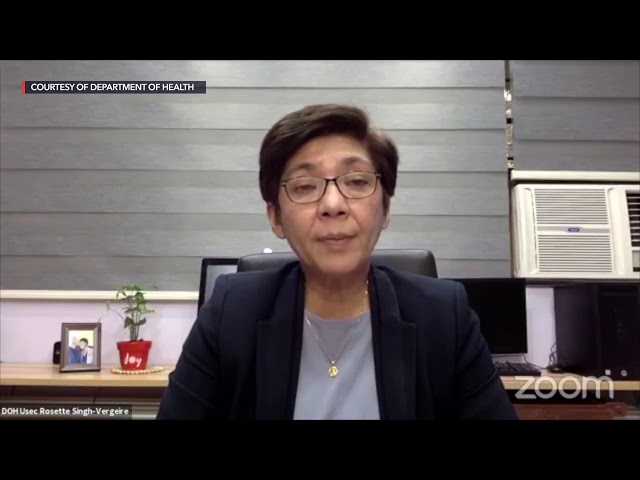 With local governments unveiling plans to provide COVID-19 vaccines to their communities, the Department of Health (DOH) urged them to work with the national government to ensure a smoother immunization campaign that would tame the pandemic.
Health Undersecretary Maria Rosario Vergeire said on Monday, January 4, that close coordination between the DOH and local government units (LGUs) is necessary to avoid a spotty rollout and to ensure tight monitoring of coronavirus vaccines' effects.
"We have to remember, the national immunization program rests on the mandate of the Department of Health, so hopefully the local governments will work with us…. Try to work with us so that we can have more effective vaccine deployment implementation," Vergeire said in a press briefing.
Cities like Manila and Makati recently announced efforts to set aside funds and register residents who would receive a COVID-19 vaccine once it arrives in the country.
Especially in Metro Manila – which has been the epicenter of the Philippines' coronavirus outbreak from the beginning – local officials have underscored that vaccination efforts would be their top priority in 2021.
Limitations exist
But even as LGUs gear up for vaccination activities pegged to start later in the year, efforts to acquire a vaccine won't be so straightforward.
On Monday, Vergeire noted that there are limits to getting the coveted vaccine. For instance, only the national government can procure a vaccine that has been issued emergency use authorization (EUA) by the Food and Drug Administration (FDA).
LGUs can only procure a vaccine on their own once it is given a certificate of product registration (CPR) for regular marketing and distribution. In the case of COVID-19 vaccines which are still technically in the development phase, regulatory authorities are only issuing EUAs, so far.
"First of all, for the EUA given by the FDA to manufacturers, only the national government can buy those since it is only an EUA. A product is only made available in the market once it has a certificate of product registration and these vaccines won't be issued a CPR since clinical trials are technically not yet done," Vergeire said in Filipino.
She continued, "So by saying that, ang local governments ay hinihikayat ng national government (local governments are encouraged) to work with us because we can pool the funds and then the national government can procure and we can have an effective distribution system."
Under the 2021 national budget, P72.5 billion was allocated for the rollout of COVID-19 vaccines. Yet the bulk of this amount – P70 billion – is largely made of unprogrammed allocations which will depend on the availability of government revenues. The other P2.5 billion is lodged under the DOH's budget.
Some LGUs have been stepping up to cover gaps in funding.
Priority assured
Vergeire assured local governments with high prevalence of the disease that they would be among the national government's priorities when it starts to distribute COVID-19 vaccines.
"Kasama kayong lahat dito sa ating mga listahan based on sa mga priorities (You are all part of the list of our priorities) that have been spelled out and officially declared," she said.
Vaccine czar Carlito Galvez Jr earlier said the government would focus on deploying vaccines to "high-burden" areas and for groups most at risk of getting COVID-19.
Galvez said this strategy being developed by the DOH, along with other health experts, aims to "immediately contain contamination and transmission of the virus and to reduce it."
While data are still being assessed, the DOH and Galvez said in December 2020 that Metro Manila and Calabarzon would most likely be prioritized as over half of the Philippines' total confirmed cases are in these regions. – Rappler.com