Doctors say their spine operation on Darvie Pondar, one of 2 survivors in the ambush-killing of human rights lawyer Rex Fernandez, was a success
The driver of slain Cebu human rights lawyer Rex Fernandez is now in stable condition, the Fernandez family said on Tuesday, September 7.
Darvie Pondar, one of the two survivors of the August 26 ambush in Cebu City that killed Fernandez, was hit in the spine.
The slain lawyer's family said doctors successfully operated on Pondar.
"Currently, he is recovering somewhere undisclosed. We have family members in (the) PNP who (have) provided security (for) Darvie," the family told Rappler.
Fernandez, Pondar, and real estate agent Rosinda Acot were in the lawyer's car when it was ambushed by a lone gunman along the corner of Duterte and Salvador streets in Sitio Banawa, Barangay Guadalupe.
Acot fled the scene unscathed but Pondar was rushed to Chong Hua Hospital in critical condition.
"Makalihok ra iyang duha ka tiil then iyang right leg na hinay na makalihok. No need na second operation, instead, rehab (siya) then wala diay siya screw sa spine. Naay gamay crack but mu-heal ra daw," Fernandez's kin.
(His feet can move but his right leg can't move like it used to. There's no need for a second operation; instead, he will be in rehab. He doesn't have any screws in his spine. There's a crack on his spine but doctors say it will just heal itself.)
Pondar now wears a body brace and will undergo physical therapy. The doctors said he did not need a second operation for his kidney, the family said.
"(For us), it means we can backtrack Atty Rex's direction (on) how he ended up there or what activities (he was) doing on that day."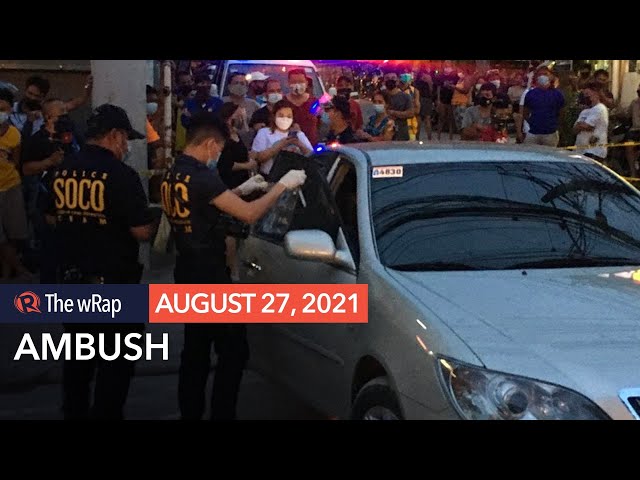 Probe efforts
Cebu City Police Office (CCPO) Director ColonelJosefino Ligan said in a press conference on Wednesday, September 1, that they were coordinating with Acot to find out more about events leading to the ambush.
"We have witnesses saying there was a woman who came out from the car that was seen collecting personal belongings of the victim before fleeing the scene. We were able to identify that woman. That's why we're going to focus on her to get her statement," Ligan said.
Sunstar Cebu reported that Acot, who was initially considered as a "person of interest" by the local police, reportedly expressed interest in becoming a witness when she turned over Fernandez's personal belongings, including his mobile phone.
Fernandez was the third lawyer killed in Cebu in less than a year. No suspect has been convicted yet for the killings of lawyers Joey Luis Wee in November 2020 and Baby Maria Concepcion Landero-Ole in December 2020.
Guadalupe police station in Cebu City formed a special investigation task group (SITG) and the Commission on Human Rights (CHR) Central Visayas will conduct a parallel investigation into the killing of Fernandez.
Department of Justice (DOJ) Secretary Menardo Guevarra also ordered the National Bureau of Investigation (NBI) to conduct its "own investigation and case build-up."
Fernandez's kin said the family expected the investigation and any case that stems from it to take a long time.
Under President Rodrigo Duterte's term, at least 64 lawyers, prosecutors and judges have been killed. – Rappler.com
Art Lubiano is a Visayas-based journalist and an awardee of the Aries Rufo Journalism Fellowship.