Philippine President Rodrigo Duterte says he is avoiding a 'confrontation that would lead to something which we can hardly afford'
Philippine President Rodrigo Duterte maintained his defeatist view on China at the heels of its newly passed law allowing the Chinese coast guard to fire on foreign vessels.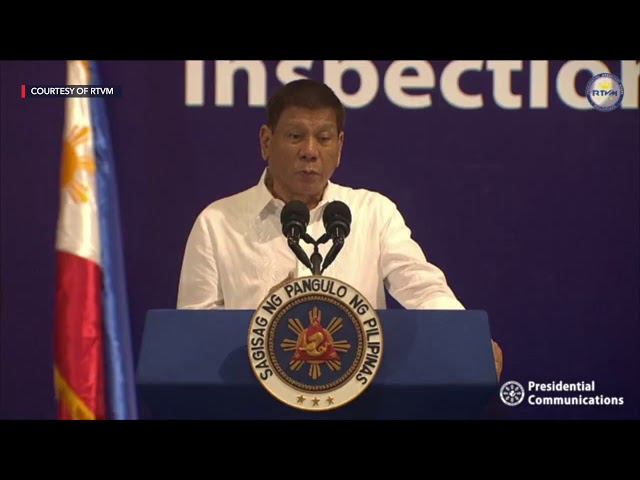 On Friday, February 12, Duterte went off-script during his speech before Philippine Air Force troops in Pampanga to reiterate that he does not want to go to war against China.
"The reason why I am so…I'm walking on a tightrope actually. I cannot afford to be brave in the mouth against China because we are avoiding any confrontation, a confrontation that would lead to something which we can hardly afford, at least not at this time," said the President. 
He then segued into his new threat to terminate the Visiting Forces Agreement with the United States before declaring he is neither allied with the Chinese nor the Americans. 
"I'm not allied with anybody. I am ally, alay – alay ko buhay ko, pati ang alay ko ang Pilipinas (I will just offer my life and offer it to the Philippines). Nobody else. 'Yun ang tandaaan ninyo (You remember this). The game here is geopolitics," said Duterte.  
Last January 22, China approved a law that grants Chinese coast guard personnel the authority to demolish other countries' structures built on reefs claimed by Beijing. 
Philippine Foreign Secretary Teodoro "Teddyboy" Locsin Jr has already filed a diplomatic protest against China over the matter, but not before initially saying the new law was "none of our business."
The Philippine Navy has also deployed more ships to the West Philippine Sea, a part of the South China Sea that belongs to the Philippines but China is falsely claiming as its own.
In 2016, the Philippines won its historical tribunal case against China, with an international tribunal junking China's expansive claim over the South China Sea.
But Duterte has long downplayed this victory, holding a pacifist view on the increased Chinese militarization of the West Philippine Sea – all in the name of getting grants and loans from the Asian economic giant
Chinese coast guard personnel have been known to unlawfully block and confiscate devices of Filipino fishermen accessing Scarborough Shoal, a common fishing ground as declared by the 2016 Hague ruling. – Rappler.com