The government will now send the newly-arrested to police station jails, where 131 have died during the lockdown, 4 of whom are due to the coronavirus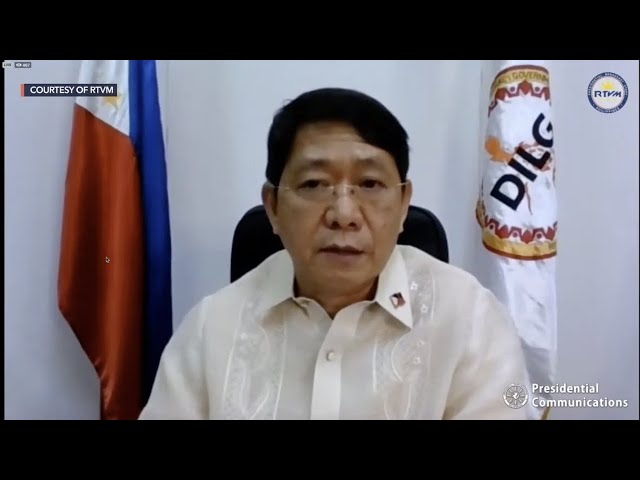 Fueled by the marching orders of President Rodrigo Duterte to have no "qualms [about] arresting people," the Philippine police will continue locking up quarantine violators even as they struggle to craft a policy with jail spaces running out.
"We will have to ask our police to be more strict. If you are brought to the police station and detained there, that would give you a lesson for all time," Duterte said in his speech on Tuesday, July 21.
The next day, Wednesday, July 22, Interior Secretary Eduardo Año said he and local executives have thought out a "uniform implementation" of these arrests: uniform jail time.
"Kapag nag-violate ka ng 'di pag-wear ng mask we suggest 10 to 30 days; physical distancing, also 10 to 30 days imprisonment," Año said on Wednesday during the pre-State of the Nation Address forum of the peace and security cluster of the Cabinet.
(If you do not wear a mask, we suggest 10 to 30 days, if you violate physical distancing also, 10 to 30 days imprisonment.)
"That is not legal. There is no basis for that at the national level," said Constitutional Law Professor Tony La Viña.
Arrested Filipinos have rights under Article 125 of the Revised Penal Code to be charged in court within a maximum of 36 hours, or else be released, or unless they waive it. When they are charged within that prescribed period, they have a right to bail. Quarantine offenses are bailable.
"Assuming there is a local ordinance, that can only be done if a person is tried and convicted. The people arrested can be bailed right away and at that point the ordinance can be challenged," said La Viña.
La Viña pointed to other countries that punish violators by issuing warnings first, and then increasing fines.
Año said they're looking at fines, too, of P1,000 to P5,000. (READ: In Duterte's Philippines, lawyers are pandemic frontliners too)
Even if an ordinance is passed, if the violator disputes the fine, he or she becomes vulnerable to a warrantless arrest on grounds of disobedience to authority – which has been used by the police several times before during the lockdown.
"The ordinance would have to lay down the consequences of nonpayment," said La Viña.
3,000 still in jail
Año mentioned the uniform jail time in the context of decongesting jails.
As of July 23, there are 3,009 quarantine violators still detained. The police are still arresting by the hundreds daily, and the dockets just could not keep up such that the government, since May, has not been able to cut down the number of detained to less than 2,000.
Año said they have not yet identified the reason why there are thousands of arrested quarantine violators still in jail, although the offenses are bailable.
Is it a delay in filing complaints, a delay in inquests, or a problem of those arrested being unable to afford the bail?
"We'll check on that. Ito na siguro 'yung meron na talagang existing na kaso (Maybe they have existing cases), so we'll check on that," Año said.
Justice Secretary Menardo Guevarra, who handles prosecutors, claimed it's not a problem of inquest, even though reports from the field cite the limited days per week that some city prosecutors can conduct inquest proceedings.
Generally, until an inquest is done, the arrested person is kept in custody, although Article 125 imposes a maximum 36-hour limit to finish inquest proceedings and charge the person in court.
"Kung hindi possible na ma-inquest agad then we have requested before, we have made arrangements with the law enforcement agencies before na wag na muna silang i-process, ma-release na lang, and then i-subject na lang to regular preliminary investigation at a later time kasi nga naiipon," Guevarra said in the same forum.
(But if it's not possible to subject them to inquest immediately, we had requested before, we have made arrangements with law enforcement agencies to not process them yet, release them, and then just subject them to a regular preliminary investigation at a later time precisely because the cases are accumulating.)
Krissy Conti of the Concerned Lawyers for Civil Liberties (CLCL), a consortium of legal groups that have been responding to lockdown arrests, said that the innovation of electronic inquests was "disorienting for the police, the accused, and their counsel."
What was supposed to be a quicker process became an issue of difficult access, said Conti.
"Technology in this case was a substantial disadvantage, because communicating by email is mostly alien and inaccessible to the poor – email addresses were not readily available, receipt of messages was not tangible and thus deniable, some offices were not equipped or knowledgeable, net signal was spotty in places and at times," said Conti.
"One time, we were all hunting down the person who had access to the Office of the City Prosecutor email, because the fiscal's resolution and release order had been sitting in the inbox for a while," said Conti.
Jail spaces running out
To curb the spread of the coronavirus in jails, Año – who also handles the Bureau of Jail Management and Penology (BJMP) – requested the Supreme Court to order judges not to send arrested people to BJMP facilities for now.
The Supreme Court heeded and directed judges to commit the newly-arrested to police station jails for now. But even police detention cells have "barely enough capacity."
In an earlier text message to Rappler, Police Spokesperson Brigadier General Bernard Banac said "our detention cells can still accommodate but with barely enough capacity."
Data from the police's Internal Affairs Service showed that during the lockdown period, or from March 16 to June 30, there were 131 inmates who died in their custody. Of the 131 deaths, 4 were due to COVID-19.
Many died due to various primary causes such as difficulty breathing, cardiovascular failure, and sepsis shock; 17 due to "other causes of death" such as meningitis, multiple organ failure, and "loss of consciousness;" 5 died by suicide; and 3 died from physical injuries.
The rule of law
Año had recently come under fire for a proposal to send cops to go house-to-house in search of coronavirus positive Filipinos and take them to government quarantine facilities.
Guevarra said it wasn't discussed at the Inter-Agency Task Force (IATF) and added it should be health workers at the forefront of these kinds of operations and not cops.
The plan has many legal issues going against it, including the violations of constitutional rights to privacy, security of abode and rights against unlawful searches.
Año has since dialed down this rhetoric and said policemen would only escort health workers when they do house-to-house operations.
But the use of the broad law, Republic Act 11332, in enforcing quarantine will open up people to warrantless arrests should they refuse to cooperate with officials in this house-to-house searches.
"Mass arrests disproportionately affect the poor and would only facilitate the spread of the highly contagious disease through the country's cramped and congested detention cells and prisons," said human rights group Karapatan.
"I wouldn't really say that there is inconsistent application of rule of law. It just so happens that a greater number of those arrested came from the lower income groups simply because they're the ones who were caught on the streets, and for that reason, since they have been found, or at the time of their arrest, found violating certain quarantine rules and regulations kaya sila marami (that's why there are many of them)," said Guevarra. – Rappler.com