'Patay human rights? Okay. Pasok ako sa kulungan? Good, I'd be happy,' says President Duterte a week after the killings of activists in Calabarzon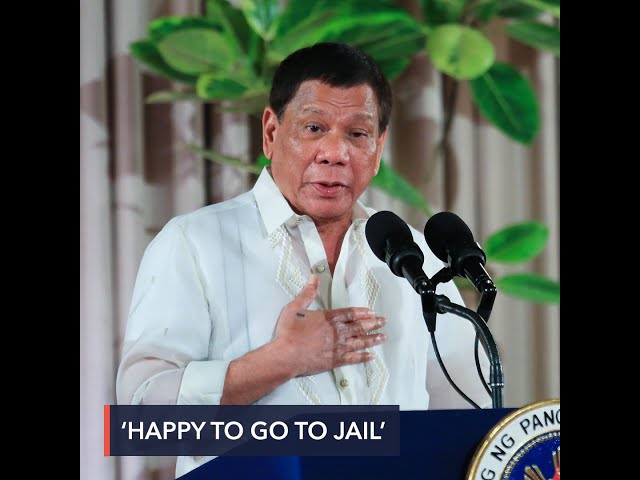 There was no letup in President Rodrigo Duterte's violent language against communists and human rights a week after the killings of 9 activists in Calabarzon.
Duterte, speaking at an event of his anti-communist task force on Thursday, March 18, in Tacloban City said he would gladly go to prison for killing communists and human rights activists.
His threat began with his recollection of killings in Negros Oriental being blamed on the government. He did not mention specifically the more recent Calabarzon killings.
"Invariably, ang sinasabi nila, gobyerno ang pumatay. Huwag kayong maniwala niyan. Kung ako ang nagpapatay, sabihin ko sa inyo, 'Pinapatay ko 'yang putanginang 'yan kasi gago 'yan,'" said Duterte.
(Invariably, they said, the government killed them. Don't believe that. If I had ordered the killing, I would have told you, 'I had that son of a bitch killed because he's a fool.')
He then said he would not hesitate to order killings of human rights activists who pissed him off.
"Hindi ako magdadalawang isip. Patay human rights? Okay. Pasok ako sa kulungan? Good, I'd be happy. Tutal, matanda na ako. Hindi ako magtagal sa preso na 'yan," said the Commander-in-Chief of the Philippine police and military.
(I will not think twice. Human rights activists are killed? Okay. I'll go to jail? Good, I'd be happy. Anyway, I am old. I won't live long in prison.)
Duterte often uses just the phrase "human rights" to refer to human rights groups or their members who are vocal critics of his government. He claims these groups are communist fronts. For instance, he said in 2017 he would order human rights groups shot if they "obstructed justice."
The President then repeated his order to the military to "kill" communist rebels if they "hold a gun."
The activists targeted by the March 7 raids had been accused of harboring grenades or guns, based on court-issued search warrants that gave the operations legal cover.
"Ayaw kong makita ang sundalo ko sa kabaong. Sila ang gusto kong makita nakalantad diyan, patay. 'Yan ang gusto ko kasi ako ang Presidente," said Duterte.
(I don't want to see soldiers in coffins. It's them I want to see lying there, dead. That's what I want because I am President.)
However, in the same event, which included an audience of supposed "former rebels" who surrendered to the government, Duterte said he was willing to talk to communist rebels in their camps.
"Tell your companions, I'm ready to talk to them. If I need to go to them, I will go to them. That's no problem," said Duterte in Filipino, addressing the former rebels.
Why this matters
Human rights groups, academe, lawyers, and critical lawmakers have said Duterte's threats against communists pose a threat to democracy because the President has included even legally-recognized organizations as covered by his communist crackdown.
The president justified the crackdown by saying these organizations were merely "legal fronts" of the Communist Party of the Philippines and were thus part of the communist threat.
Duterte signed a much-feared anti-terrorism law in 2020 that broadened the definition of terrorism and related crimes. Multiple groups have filed petitions with the Supreme Court to stop the law's implementation, saying it threatened democratic freedoms and violated the Bill of Rights.
Duterte avoids International Criminal Court
Duterte also devoted a few words to the International Criminal Court (ICC), which is currently examining if it would investigate his controversial campaign against illegal drugs.
"Ngayon gusto nila ako magharap doon. Ano ako, gago? Magharap ako ng korte na ang judge Pilipino. Hindi niyo ako iharap sa mga animal na 'yan. Sabi ko, not in a million years," said the Philippine leader.
(They want me to face them. What am I, a fool? I will face a court with a Filipino judge. Don't make me face those animals. I said, not in a million years.)
In 2018, Duterte withdrew the Philippines out of the ICC a month after the body announced it had begun a preliminary examination of reports of abuse in his "drug war." The withdrawal, however, has not stopped the ICC from continuing its examination. – Rappler.com