West Philippine Sea defenders have long called out Duterte's claim about China possibly waging war on the Philippines as being one part of a 'false option'
Philippine President Rodrigo Duterte once again shunned plans for the Philippines to regain China-occupied islands in the West Philippine Sea as he delivered his 5th State of the Nation Address on Monday, July 27.
In his 5th SONA, the Chief Executive instead reiterated what he had mentioned in his previous annual address: that if the Philippines would "forcefully or physically" retake maritime features in the West Philippines, this would lead to "war" with China. (READ: 93% of Filipinos want PH to regain China-occupied islands)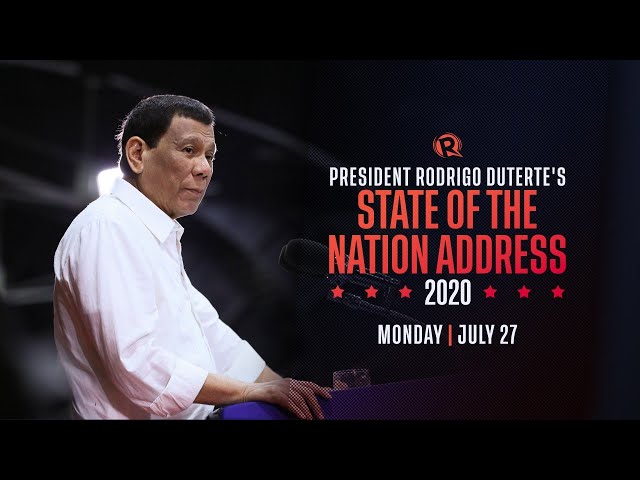 It's a position that has been debunked by several experts on the West Philippine Sea, including retired Supreme Court senior associate justice Antonio Carpio, who had earlier called Duterte's war claim a "hollow attempt to scare our people into submission to China."
Digressing from his prepared remarks, Duterte said, "Now, plenty of critics – both sides – claim…nothing has been done to retake forcefully or physically the South China Sea. Alam mo (You know), unless we are prepared to go to war I would suggest that we better just call off and treat this as a diplomatic endeavor."
"China is claiming it; we are claiming it. China has the arms; we do not have it. So, it's simple as that," he added.
This was in contrast to previous statements Duterte had made, where he said his administration had been working "without fail" to protect Filipinos' rights in the West Philippine Sea, calling it the South China Sea.
This much was seen among diplomats as the country recently issued some of its strongest statements against China's aggressive behavior in the South China Sea.
Among these was Foreign Secretary Teodoro Locsin Jr's recent statement calling on Beijing to comply with the 2016 Hague ruling – a "non-negotiable" for the Philippines.
Yet Duterte insisted on his claim that China was "in possession" of "property" in the West Philippine Sea. While China is in possession of 7 features in the Spratlys plus Scarborough Shoal, Carpio earlier said the "total area of these geologic features, including their territorial seas (if any), is less than 7% of the West Philippine Sea."
"They are in possession of the property. It has nothing to do with the Philippine laws of property but it's akin to, they are in possession, so what can we do? We have to go to war and I cannot afford it. Maybe some other president can but I cannot," he said.
"Inutil ako diyan (I'm useless there) and I'm willing to admit it," he added. (READ: Talk to China or go to war? 'False option,' Carpio says)
Strategy in disarray
Duterte's remarks on the West Philippine Sea in his 2020 SONA hark back to what Carpio earlier described as a strategy that is in "total disarray."
Duterte also used his speech to assert that the Philippines was no "pawn" to anyone. Despite this, he has long been criticized for downplaying the bitter sea dispute in exchange for economic benefits from China.
Several experts, including Carpio, have offered ways for the Duterte administration to assert its rights in the West Philippine Sea, though Malacañang insisted the President's way was still the "best." – Rappler.com