While a recent survey shows only 38% of Filipino Catholics attend church once a week, millions flock to churches as Lent begins
MANILA, Philippines – Still in their school uniforms, a dozen students from Arellano University traveled to the iconic Quiapo Church at around 4 pm on Wednesday, February 22, to fulfill an age-old Catholic practice.
Like millions of others across the Philippines, the students went to church on this day called Ash Wednesday, to have their foreheads marked with cross-shaped ashes to symbolize repentance from sin.
"Para rin mabawasan ang kasalanan namin (So that we can be cleansed of sin)," one of the students said, smiling, in Rappler's live broadcast. "Sana makapasa po kami sa mga subject namin (We hope to pass our subjects)," another student said.
Ash Wednesday is the start of Lent, a 40-day season of prayer, fasting, and almsgiving in the Catholic Church. While it is not a holiday, students and office employees usually go to churches during their breaks, or after school and work, to receive these symbolic ashes.
Scenes like these are not a surprise in this predominantly Catholic country whose rituals date back to its centuries as a Spanish colony.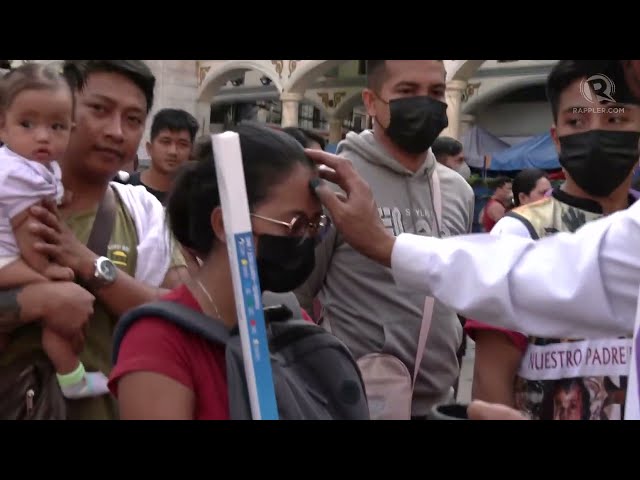 This year's observance, however, comes days after a wake-up call jolted the Catholic Church.
Only 38% of Filipino Catholics attend Mass at least once a week, according to a survey released by the pollster Social Weather Stations on Monday, February 20. The same survey shows, however, that 7 out of 10 Filipino Catholics pray at least once a day.
Conducted from December 10 to 14, 2022, this SWS survey involved 1,200 adult respondents across the Philippines and had a ±2.8% error margin.
This new survey reflects the results of a similar poll conducted by the SWS a decade ago. In a February 2013 survey, the SWS found that only 37% of respondents went to Mass weekly, down from 64% in July 1991.
'Return to Church'
"It's a challenge for us," said Father Carmelo Arada Jr., vice chancellor of the Archdiocese of Manila, in an interview with Rappler.
Despite the return of massgoers to pre-pandemic levels, Arada said the Catholic Church has "a lot of things to do" to invite more people to church. "Or the Church will go to their neighborhood to celebrate the sacraments," he said, referring to "mission stations" or improvised churches in malls, condominiums, and other communities.
"Bumalik kayo sa simbahan. Walang kasing-saya na makatagpo ang Diyos sa panalangin. Isang biyaya na makasama ang buong pamayanan na magpuri at magpasalamat sa Diyos," Arada said. (Return to church. Nothing is more joyful that meeting the Lord in prayer. It is a grace to join the entire community in praising and thanking the Lord.)
For Father Kali Pietre Llamado, attached priest of the Manila Cathedral, that 38% of Filipino Catholics go to Mass weekly can still be viewed as good news.
"Significant percentage pa rin naman ang 38% sa mga Katoliko na nagsisimba, at ito'y more than one-fourth," Llamado told Rappler. "Bagaman ito ay less than half, nagpapasalamat tayo na mayroon pa rin talagang mga Katoliko na nagsisimba linggu-linggo."
(38% is still a significant percentage of massgoers among Catholics, and this is more than one fourth…. Even if this is less than half, we are thankful that there are still Catholics who go to Mass weekly.)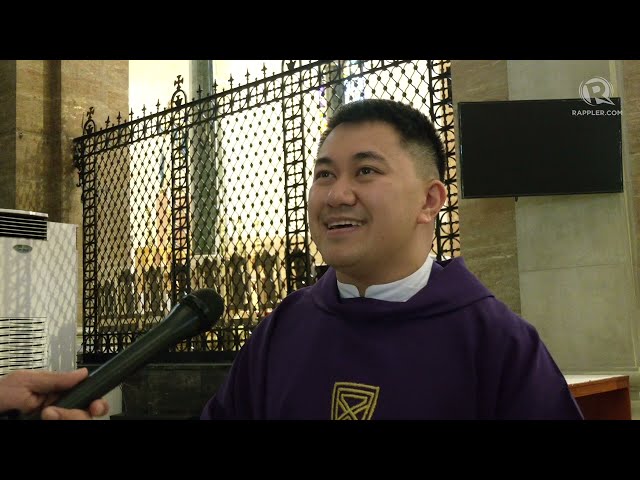 Llamado also said other Catholics may not go to church weekly, but still pray on a daily basis, in reference to SWS findings that 7 out of 10 Catholics pray at least once a day.
"Ito ay kahit paano ay maganda pa ring balita para sa atin, na naroon pa rin naman ang sense na may presensya ang Diyos (This is still good news for us, that there is still the sense of the presence of God)," he said.
Rift due to politics
For many observers, another reason for dwindling church attendance could be related to politics.
In the 2022 presidential elections, many clergymen – including bishops – campaigned for then-vice president Leni Robredo's presidential bid.
It was an electoral exercise framed as a battle between good and evil, which Robredo lost to Ferdinand Marcos Jr., son of the late dictator Ferdinand E. Marcos whom the Catholic Church helped depose on February 25, 1986.
Llamado himself, who was vice rector of the Manila Cathedral at that time, supported Robredo.
"Hindi natin maikakaila na nagkaroon ng maaaring rift (We cannot deny that there was a possible rift)," Llamado said. He added, however, that after the elections, many Filipinos returned to church despite political differences.
One online massgoer approached Llamado and said, "Father, nanonood ako ng online Mass mo. Magkaiba tayo ng politikong sinuportahan, pero naii-inspire pa rin ako sa 'yo at nakikinig pa rin ako sa 'yo." (Father, I watch your online Masses. We supported different politicians, but you still inspire me and I still listen to you.)
"Maganda siguro pakinggan din natin ang bawat tao," Llamado said. "Siguro nandoon din naman ang reconciliation sa simbahan." (It's good to listen to each person… Perhaps reconciliation in the church is also there.) – Rappler.com