Smartmatic, one of 3 interested bidders, withdraws because it was 'shocked and highly surprised' to see a 'significant reduction' of the project's budget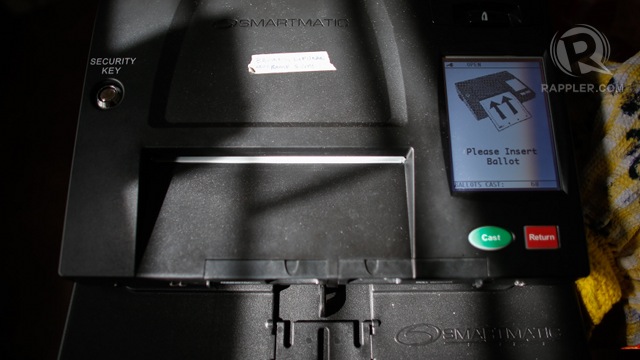 MANILA, Philippines – A special bids and awards committee (SBAC) of the Commission on Elections (Comelec) declared on Tuesday, June 30, a failure of bidding for the refurbishment of nearly 82,000 vote-counting machines for the 2016 national and local elections.
Three companies – Smartmatic, Indra Sistemas, and Vertex Business Applications – bought bid documents for the project, but none of them submitted on Tuesday, said SBAC-2 chairperson Jubil Surmieda.
Smartmatic declined to participate because it was "shocked and highly surprised" to see a "significant reduction" of the approved budget of the contract (ABC), after the SBAC released an amended bid bulletin on June 23, a week before the opening of bids.
In the said bulletin, the budget to refurbish 81,896 precinct count optical scan (PCOS) machines went down from P2.88 billion to P2.07 billion.
Surmieda explained that the SBAC decided to slash prices for some components, and even remove some items that were "unnecessary" to the refurbishment and repairs of the PCOS machines.
In a letter to Surmieda, Smartmatic's authorized representative Filipinas Ordoño said that the reduction brought down the estimated cost for refurbishment services from P20,513.82 to P11,141.52 per PCOS machine.
As a result, Smartmatic said that this "renders the project no longer feasible."
Meanwhile, Vertex withdrew from the bidding because their request for an extension of time to raise questions on the project was not granted by the SBAC.
Indra Sistemas did not send a representative nor submit a letter during the opening of bids, said Surmieda.
Surmieda said that his committee will conduct a mandatory review of the project specifications for a possible second round of bidding, then submit their findings to the Comelec en banc.
As this happened, another special bids committee opened the bids for the lease of 70,977 new machines that use optical mark reader (OMR) technology, the same one being used by the PCOS machines. (READ: Comelec holds parallel biddings for 2016 vote counting machines)
Contracts for the refurbishment and repairs of 81,896 PCOS machines – used in the 2010 and 2013 polls – were put up for public bidding after the Supreme Court in April nullified the P268.8-million deal between the Comelec and Smartmatic for the same project. – Rappler.com