(1st UPDATE) A placeholder? Drug war architect and Senator Bato dela Rosa files his candidacy for president under PDP-Laban
A throwback to 2016 elections?
Seen as a placeholder, drug war architect and Senator Ronald "Bato" dela Rosa filed a certificate for candidacy (COC) for president under PDP-Laban on Friday, October 8.
The erstwhile chief of the Philippine National Police was the overseer of the Duterte administration's bloody campaign against illegal drugs. President Rodrigo Duterte's war on drugs is the subject of the probe by the International Criminal Court.
In a short speech before taking questions, Dela Rosa said that he was chosen because "wala na silang ibang nakikitang magpapatuloy ng legacy ng ating Pangulong Duterte" (the party was not able to look for somebody else to continue the legacy of President Duterte).
Dela Rosa said PDP-Laban had decided to field him as its presidential bet "for a while now," only that it wasn't announced early on.
"Kasi kung maaga ka magbalita, titirahin ka agad. Kaya tinatago lang natin 'yon," he said. (If you announce early on, they will attack you. That's why we kept it first.)
Reporters asked PDP-Laban to confirm Dela Rosa's statement, but they were seen-zoned.
Asked if he is a placeholder for Davao City Mayor Sara Duterte, Dela Rosa answered, "Eh di, mas maganda" (Then, it's better).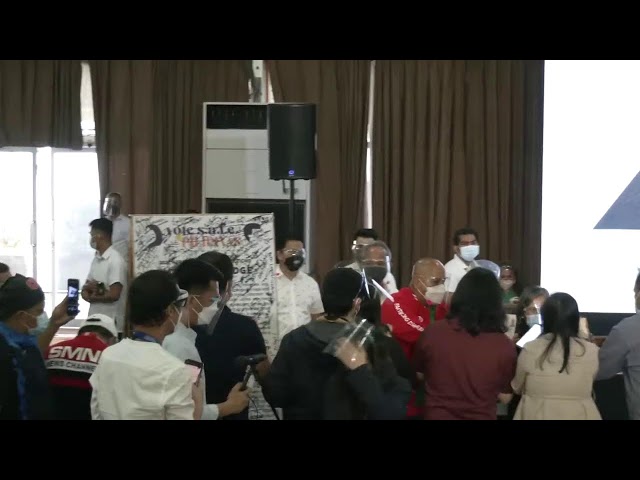 Dela Rosa still has three years in the Senate, having won a seat in 2019.
A mockery of elections?
The "practice" of substitution, while not new, was used to bring President Duterte to power.
Critics have accused the Duterte camp of titillating the public, given the indecisiveness of both the father and the daughter in 2015 and 2021, respectively, over running for president.
But isn't this "practice" of substitution just a mockery of the Philippine electoral process?
Dela Rosa, appearing to be irked by Rappler reporter Dwight de Leon's question, responded: "Do I look like a mockery to you?"
"I won as a senator. I was No. 5 in the last election. Is it mockery to the 19 million Filipinos who voted for me as senator of this republic?" he added.
Placeholder?
On September 8, the PDP-Laban faction led by President Rodrigo Duterte and Energy Secretary Cusi nominated a Bong Go-Duterte tandem for the 2022 polls.
Go declined the nomination.
But in a dramatic turn of events, Duterte announced that he would retire from politics. Go stepped in to run as vice president in his stead.
Still, the ruling party was left without a solid standard bearer.
Before Duterte's surprise announcement, PDP-Laban had been insistent on waiting for Go to be the party's presidential bet.
In September, the faction led by Senator Manny Pacquiao called the Go-Duterte tandem a "script," alleging that the Cusi faction really wanted another candidate to run for president instead of Go.
Davao City Mayor Sara Duterte also said she would not run, citing a previous arrangement with her father that only one of them would gun for a national position in 2022.
With the president backing out of the race, the question remains: Will Sara Duterte run for a national position?
According to her camp, she will not. "Not now or in the near future." Sara Duterte filed her COC on Saturday, October 2, seeking reelection for Davao City mayor.
For the 2022 elections, parties may still substitute candidates until November 15.
If Sara Duterte indeed runs for a national position, it remains to be seen if she would run under the divided PDP-Laban.
In 2015, Martin Diño, seen widely as a placeholder at that time, submitted his candidacy for president under PDP-Laban. He was later replaced by Duterte. – Rappler.com