Bongbong Marcos says 'this election is about the future of the Filipino people'
Presenting himself as a "unifying leader" who will get the Philippines out of a pandemic rut, presidential aspirant Ferdinand "Bongbong" Marcos Jr is pushing for higher budget for healthcare and medical research as part of his recovery plans.
Marcos calls it the "Tawid-Covid (Surviving Covid), Beyond Covid" program, which would prioritize improving the conditions of frontline medical workers, including increased salaries and benefits.
In a statement on Monday, November 1, Marcos said "medical research needs more support to fight pandemic," citing the need to strengthen the country's main COVID-19 laboratory, the Research Institute for Tropical Medicine (RITM).
Marcos pointed out that the RITM "was created in the 1980s" during the government of his father, the late dictator Ferdinand Marcos. In the past, Senator Imee Marcos also cited this in pushing for the expansion of RITM.
Vera Files has fact-checked this claim, and said that RITM "was already under construction well before [Executive Order No. 674 order] was issued by President Marcos." 
"RITM was heavily dependent on money from the Japanese government for its capital and equipment outlay, and would not have functioned well during the Marcos regime with government funding alone," said Vera Files, adding that funding from the Corazon Aquino government in 1987 of over P14 million was "P5 million more than it received during the last full year that Marcos was president."
Bongbong Marcos said aside from RITM, he "sees the need to strengthen the University of the Philippines' National Institute of Molecular Biology and Biotechnology (BIOTECH)" and that the "country should be able to produce its own vaccine."
Marcos' press releases in the run-up to the filing of certificates of candidacy (COC) in October were about pushing expansive vaccination, particularly on teachers and students who will go back to face-to-face classes.
Marcos, in a statement on Tuesday, November 2, said the Department of Education should only "deploy vaccinated teachers to prevent further spread of COVID-19."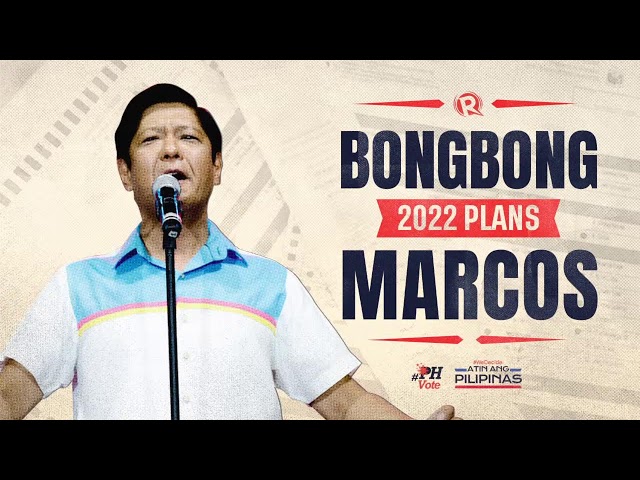 Economic recovery
The dictator's son said the key to economic recovery after the pandemic is to boost micro, small and medium enterprises (MSMEs), by vaccinating their workers and allowing them to operate again.
"If you look into the lives of Filipinos, they are looking for jobs right now as they need money to support their families. We need to have an extensive approach so that everyone will benefit," said Marcos.
The Presidential Commission on Good Government is still running after P125 billion in Marcos ill-gotten wealth to infuse to funds that would be distributed to Filipinos, among them farmers and coco planters whose taxes were corrupted by the late dictator and his cronies.
But for Bongbong Marcos, the May 2022 presidential race "is about the future of the Filipino people." – Rappler.com