(2nd UPDATE) 'We respect the president at hindi nagbabago 'yung pag galang, respeto, at mataas na pagkilala at pagtingin sa kaniya ni Bongbong Marcos,' says Marcos' spokesperson Vic Rodriguez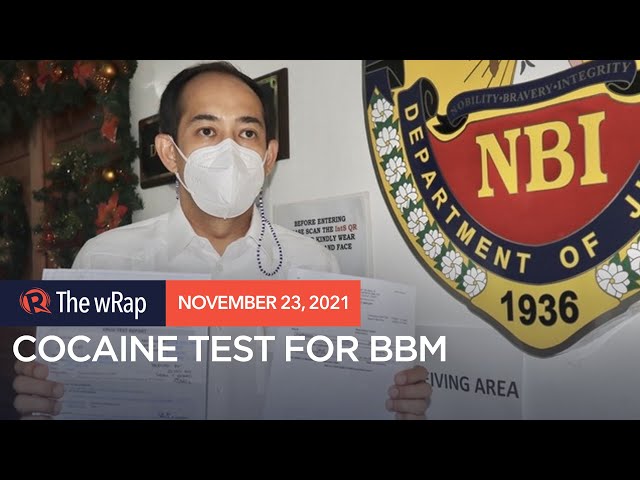 Breaking his silence days after President Rodrigo Duterte's tirade against a supposed cocaine-using presidential candidate, former senator Ferdinand "Bongbong" Marcos Jr. said on Tuesday, November 23, that he has tested negative for use of the illegal drug.
Marcos said in a statement that he took the test even if he did not think that Duterte was referring to him when the President talked about the alleged drug user, who was not named.
"I really don't feel that I am the one being alluded to. In spite of that, I believe it is my inherent duty as an aspiring public official to assure my fellow Filipinos that I am against illegal drugs," Marcos said in a statement sent to media on Tuesday.
Marcos said he tested negative for cocaine on Monday, November 22, and that he submitted his results on Tuesday morning to the Philippine Drug Enforcement Agency (PDEA), the Philippine National Police (PNP), and the National Bureau of Investigation.
Based on the drug test report presented by the Marcos camp, Marcos took the test at the St. Luke's Medical Center in BGC on Monday, November 22, and that the result was "negative" for cocaine.
The test method indicated was "test kit." Another drug test report came from the PNP Crime Lab, but it was dated November 10, before Duterte made his blind item, and it indicated negative results for shabu.
Rodriguez said the November 10 drug test was done as a requirement to get Marcos' permit to carry a firearm outside of his residence, but that supposedly the PNP Crime Lab only tests for shabu and marijuana.
Marcos did the November 22 drug test in St. Luke's for cocaine following Duterte's blind item.
On Tuesday, Marcos gave a nod to Duterte's hardline campaign against drugs, saying, "Let me reiterate my assurance to my fellowmen, especially to the supporters of BBM-Sara Uniteam, that I am, and will remain, a vigilant anti-illegal drugs campaigner."
He also said that "the war on drugs shall be pursued and won through 'love.'"
Marcos said he supports the call for all elective aspirants to take a drug test "to ensure our people, particularly the young generation, that no elected leader is into illegal substances."
The Commission on Elections (Comelec) does not require drug tests.
Duterte's rants against the still unnamed candidate has put his bloody drug war in question, for the apparent double standard against the poor.
Avoids word war with Duterte
The presidential aspirant did not address Duterte's reference to him as a "weak leader" and a "spoiled child" on Friday, November 19. Duterte had also used the phrase "weak leader" to describe the alleged cocaine-using candidate in a speech aired on Thursday, November 18.
"We respect the president at hindi nagbabago 'yung pag galang, respeto, at mataas na pagkilala at pagtingin sa kaniya ni Bongbong Marcos,' said Rodriguez.
(We respect the president and Bongbong Marcos' respect and highest recogniton for him has not changed.)
With this response, Marcos continued his non-confrontational attitude toward Duterte, whom he had courted to be his vice president and who was reportedly upset that Sara settled to be Marcos' vice president instead of running for president herself.
Duterte even said in the speech aired Friday that PDP-Laban would not have a coalition with Sara's Lakas-CMD because "Marcos is there," referring to the official tandem of Marcos, who is running under the Partido Federal ng Pilipinas (PFP); and his daughter, who is running under Lakas-CMD. Duterte is supporting the presidential bid of Senator Bong Go.
This unraveling of the supposed Duterte-Marcos alliance could benefit either Manila Mayor Isko Moreno or Senator Manny Pacquiao, according to political analysts, because the Duterte votes that Marcos could potentially lose would go to the two, and not Vice President Leni Robredo.
Over the weekend, Marcos and Sara – in a show of force – appeared for the first time as an official tandem in Tagum City, Davao del Norte, and not in the Duterte baliwick of Davao City.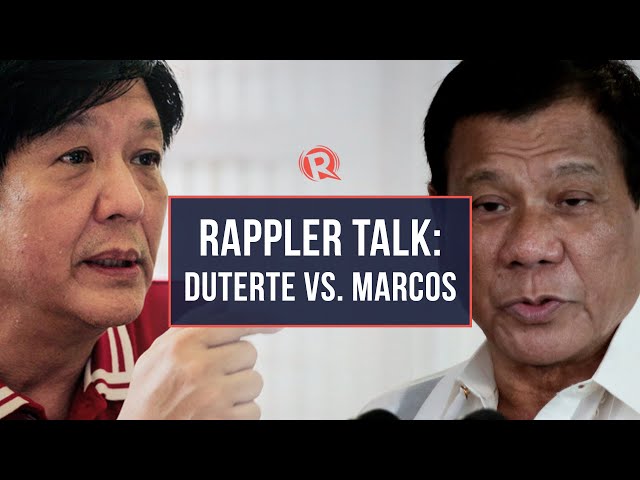 – Rappler.com