The Marcos camp issues a press release claiming that Comelec's James Jimenez brushed off as baseless an anti-Marcos petition
The Commission on Elections (Comelec) refuted a "misleading" press release by the camp of presidential bet Ferdinand "Bongbong" Marcos Jr., which sought to downplay a petition to block his 2022 bid.
The Marcos press release, sent to members of the media on Wednesday, November 3, read, "Comelec spokesperson James Jimenez on Wednesday said the disqualification case filed against presidential aspirant Ferdinand 'Bongbong' Marcos Jr. yesterday has no clear basis."
"According to Jimenez, Bongbong does not fit the criteria, and that there is no clear basis for the disqualification case," the press release added.
Contrary to the Marcos camp's claim, the quote used was from Jimenez's interview with OneNews on Tuesday morning, November 2, not Wednesday. The interview took place before civic leaders petitioned the Comelec on Tuesday afternoon to stop Marcos' presidential bid.
"At the time of our interview, there was no filing against the [former] senator, and therefore what I said could not possibly be construed or framed as referring to that subsequent event," Jimenez told reporters on Viber on Wednesday morning.
He said the press release was inaccurate.
"The PR is misleading. The quote was referring to why [former] senator Marcos hadn't yet been disqualified despite the fact of his conviction. The original quote should have been taken in the context of the fact that the senator ran for vice president in 2016," Jimenez said.
"That quote was not intended in any way as a comment on the current petition recently filed," he asserted.
Rappler sought the Marcos camp for comment on Wednesday afternoon, and will update this story as soon as they respond.
What was the timeline?
OneNews interviewed Jimenez on Tuesday morning, with a reporter asking him whether Marcos can be barred from participating in the 2022 race due to his 1997 tax case conviction.
"Under the law, a conviction has to be for a crime committed under moral turpitude or for an offense and a sentence is a penalty of at least 18 months. [He] doesn't meet this criteria so right now in order for him to be disqualified, as [former Supreme Court justice Antonio] Carpio opined in his article, there has to be a finding that the crime for which he was convicted involves moral turpitude," Jimenez had replied, based on a transcript sent by a OneNews reporter to the Comelec media Viber group.
"Right now it does not, because the Supreme Court said that it does not, so right now there is no clear case for disqualification," Jimenez had added.
Hours after the interview, the petition was filed before the poll body. OneNews uploaded its report containing Jimenez's shortened soundbite later on Tuesday.
What was the petition about?
The November 2 petition argued that Marcos falsified his COC "when he claimed that he was eligible to be a candidate for president of the Philippines in the 2022 national elections when in fact he is disqualified from doing so."
The petition referred to Marcos' 1997 conviction for failure to pay income tax returns from 1982 to 1984.
The appellate court conviction did not slap any prison time against Marcos, and only asked him to pay a P30,000 fine. But petitioners argued that failure to file ITRs for multiple years is a crime of moral turpitude.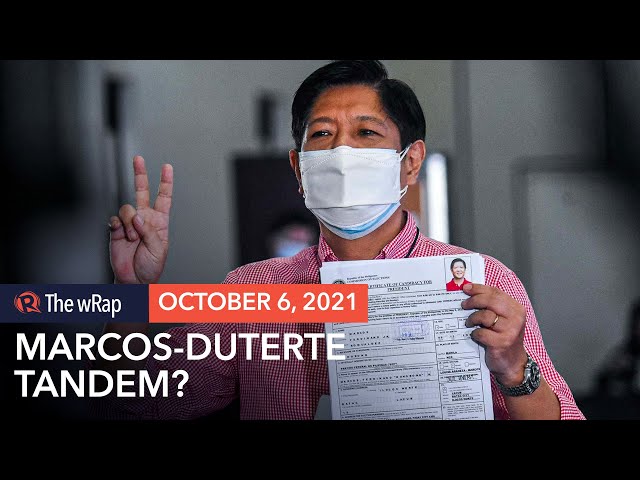 On Wednesday, the Marcos' camp, in the same PR in question, called the effort by its rivals "a predictable nuisance petition." – Rappler.com