The Omnibus Election Code prohibits vote-buying and the use of government funds for any campaign or partisan political activity
Philippine President Rodrigo Duterte promised he would bring "sacks of money" on the campaign trail when he promotes candidates of his political party PDP-Laban during national elections next year.
"Those running for elections, ikakampanya ko kayo, city for city, totoo 'yan… Talagang pupunta ako, city to city, province to province, kakampanya ako. At saka magdala ako ng maraming pera," he said on Saturday, July 17, to energetic applause from party members.
(Those running for elections, I will campaign for you, city to city, it's true… I will really go, city to city, province to province, I will campaign for you. And I will bring lots of money.)
"Sako kung mayroon (In sacks, if there are)," he added.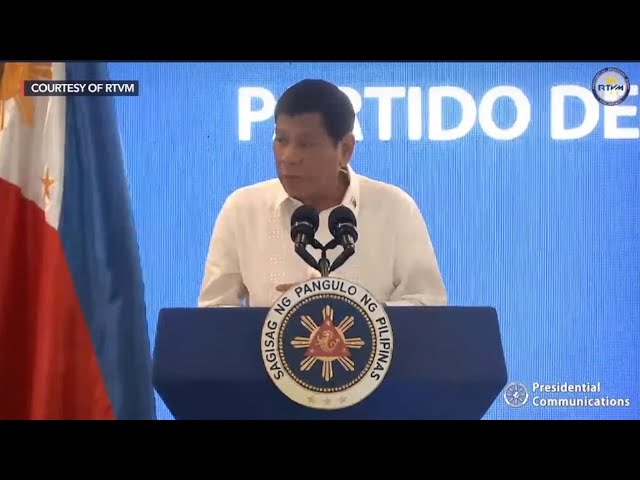 Acts prohibited by Comelec
The Omnibus Election Code, or the law governing the conduct of elections and campaigning, clearly prohibits the use of public funds for any electoral campaign.
Listed under "prohibited acts" in the law is the "use of public funds, money deposited in trust, equipment, facilities owned or controlled by the government for an election campaign." Use of government resources for "any partisan political activity" is also illegal.
Another act prohibited by the law is vote-buying.
Vote-buying is when a person "gives, offers, or promises money… in order to induce anyone or the public in general to vote for or against any candidate…"
Ironically, Duterte's words right after mentioning sacks of money was to remind PDP-Laban members to stick to party principles, which include "enlightened nationalism" and "participatory democracy."
"To my dear party mates, let us never lose sight of the founding principles upon which this party was built on. Let us never forget that our end goal is to improve the welfare of the Filipino people," said Duterte.
In the same speech, Duterte said he will run for vice president in the 2022 elections to protect himself from legal cases.
PDP-Laban members led by Energy Secretary Alfonso Cusi want Duterte to run for vice president to continue the dominance of the party in the 2022 elections. These members, many of whom are national and local politicians, are banking on Duterte's popularity to fuel their own electoral victories. – Rappler.com