Under House Bill 9557, the Commission on Elections can impose a fine of not less than P100,000 on a nuisance candidate
The House of Representatives has passed a bill that seeks to slap a monetary penalty against nuisance candidates.
"House Bill (HB) No. 9557 aims to protect the integrity of the electoral process and promote respect for it as an important facet of Philippine democracy by providing an efficient procedure for declaring a nuisance candidate," the House said on Facebook on Tuesday, August 25, after the proposed bill was approved on third and final reading.
While Section 69 of the Omnibus Election Code currently gives the Commission on Elections (Comelec) the power to stop those who filed certificates of candidacy "to put the election process in mockery" from running, it does not compel them to pay a fine.
Under HB 9557, the poll body has the power to impose a fine of not less than P100,000 on a nuisance candidate "and any other person named in the verified petition and found to have conspired with or induced the candidate to file such a certificate."
Such political aspirants may also be held liable for an election offense, which is punishable with jail time of at least one year under the Omnibus Election Code.
The measure also provides a detailed procedure in determining whether a political aspirant is a nuisance candidate.
A Senate bill seeking to expand classifications for nuisance candidates, and make them guilty of an election offense has been pending at the committee level as of August 2019.
The Comelec had constantly entertained "habitual" nuisance bets in past elections, with the late former chairman Sixto Brillantes Jr. arguing that it's all about fairness.
Comelec spokesman James Jimenez, in 2015, said that accepting the COCs of nuisance candidates is proof of democracy at work.
"Makikita mo ba iyong buong talambuhay ng isang tao sa isang kapirasong papel? Makikita mo ba iyong buong kakayahan niya base sa nakalaman sa isang kapirasong papel? Siyempre hindi," Jimenez had said.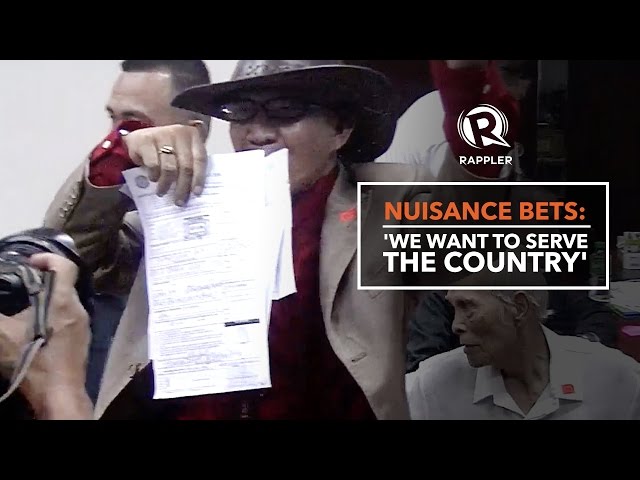 (Will you see a person's entire life and capabilities on a piece of paper? Of course not.) – Rappler.com