The Manila mayor vows that government officials and Pharmally executives found guilty of wrongdoing will go to jail if he is elected president
Manila Mayor Isko Moreno labeled the anomalies tainting the government's contracts with Pharmally Pharmaceutical Corporation as plunder and vowed the guilty would go to jail if he is elected president.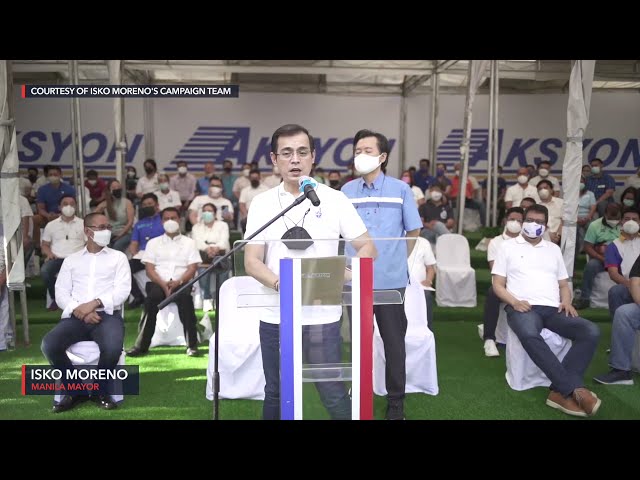 "There is what you call plunder, regular day. But there is also what you call plundemic. Plunder in pandemic," the presidential aspirant said on Friday, October 1, during the oath taking of new members of his party Aksyon Demokratiko.
"Basta papapanagutin natin ang mga nanggahasa sa atin na bahagi ng gobyerno pati pribadong kompanya na nagkasala, nagnakaw, nang-abuso, at sila ay papapanagutin natin sa mata ng batas," he added.
(We will hold accountable those from the government who raped us and private companies that did wrong, stole, abused their power, and we will hold them accountable in the eyes of the law.)
The 46-year-old politician promised those guilty of profiting from the government deals at the expense of the public would be denied peaceful sleep.
"Yes, we will go after them. Isosokpa natin sa oblo (Ipapasok sa loob or we will put them inside), pero hindi dahil sa kapritso, 'di dahil aabusuhin natin ang ating kapangyarihan (but not out of caprice, not because we are abusing our power)…. Yes, they are going to jail if found guilty," said Moreno.
Pandemic scandal
Several anomalies about the government's deals with Pharmally, its biggest pandemic-time supplier, have been uncovered by Senate hearings.
These include purchase orders signed a day before price quotes from alternative suppliers were received by the government, alleged tampering of production dates of face shields, substandard medical supplies, inspection reports signed even before supplies were delivered, and the overarching question mark of how a new company with low capital bagged billions of pesos worth of deals and happens to be financed by President Rodrigo Duterte's ex-adviser Michael Yang.
Senators are saying the findings point to graft.
A day before Moreno's remarks, Duterte continued his public rants against the Senate blue ribbon committee investigating Pharmally.
A fuming Duterte ordered that Cabinet members be prevented from attending future Senate hearings. He has also consistently defended Yang and officials at the Procurement Service, which oversaw the Pharmally deals and deliveries.
This is not the first time Moreno has criticized the Duterte government over its pandemic response. In early September, he described the government as "deaf" to the concerns of Filipinos. – Rappler.com