(1st UPDATE) The party founded by the late dictator Ferdinand Marcos wants his son to run for president in 2022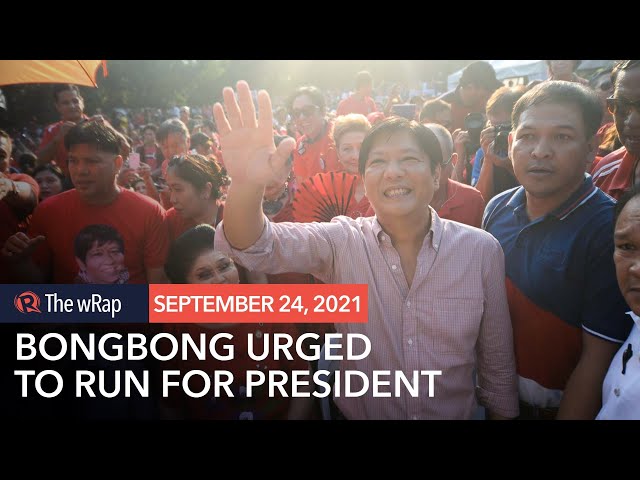 The Kilusang Bagong Lipunan (KBL), founded by the late dictator Ferdinand Marcos, on Friday, September 24, nominated his son Bongbong to be its standard-bearer in the May 2022 presidential race.
Marcos sent a recorded message to the KBL after its nomination, prompting a foreign correspondent to later ask if this is an acceptance.
Marcos clarified during the Friday News Forum, "It is an expression of the understanding of the work that the KBL continues to do in the past 40 years, even more, that's what that message was. If they endorsed me, I also thank them for the trust they bestowed upon me. I don't know that you can interpret that as an acceptance."
Pressed repeatedly during the forum if he is running for president, Marcos said: "I will answer you when the time comes, you cannot rush these things, I fully intend to take all the available time that I have to make the decision."
Marcos also said in the news forum that he remains a member of the Nacionalista Party (NP). KBL and NP used to be an alliance but split up in 2009, as Marcos ran and won for senator under the NP ticket in 2010.
If he accepts, this would be Bongbong Marcos' first presidential bid as he tries to complete his journey of following in his father's footsteps. Like his father, Bongbong had been congressman and senator.
Bongbong Marcos served as Ilocos Norte vice governor from 1981 to 1983, and was Ilocos Norte governor from 1983 until 1986, when his father was deposed. A decade later, he ran for Ilocos Norte 2nd district representative and won, serving from 1992-1995. He was elected governor again in 1998, holding the post for three consecutive terms until 2007. Marcos returned to Congress in 2007 up to 2010, then ran for the Senate where he served until 2016.
The 64-year-old Marcos, buoyed by high poll ratings and aided by a massive propaganda network, almost won as vice president in the 2016 elections. But he lost by a thin margin to Vice President Leni Robredo, who has said that a Bongbong Marcos run might just force her to seek the presidency.
The Supreme Court has unanimously junked Marcos' electoral protest, saying that Robredo would have still won even if votes in disputed Mindanao provinces were to be voided. Marcos has filed a motion for reconsideration, still pending before the High Court.
Marcos has thrived on social media with his vlogs. His recent sit-down interview with celebrity Toni Gonzaga has been slammed for whitewashing the atrocities committed under his father's dictatorial rule, which ended in February 1986 when Marcos was ousted in a people power revolution.
The Marcoses have managed to regain control of Ilocos Norte, birthplace of the late dictator, and taken a seat in the Senate. The family's eldest, Imee Marcos, won as senator in the 2019 elections while her son Matthew succeeded her as governor of Ilocos Norte.
Matthew's aunt, Cecille Araneta Marcos, is vice governor of Ilocos Norte. An uncle, former Ilocos Norte Vice Governor Eugenio Angelo Marcos Barba, became representative of Ilocos Norte 2nd district, and replaced family matriarch Imelda Marcos.
Laoag City's first-term mayor is a cousin, Michael Keon, son of one of the former president's sisters. Bongbong's son Sandro also declared last week his congressional bid for the 1st district of Ilocos Norte.
Alliance with Duterte
An ally of the Dutertes, Marcos had wanted to be Duterte's running mate in the 2016 presidential race, but the President eventually chose Alan Peter Cayetano. This did not stop the Marcos camp from campaigning on a Duterte-Marcos ticket, called Aldub (Alyansang Duterte-Bongbong), pushed by Davao lawyer Jose Calida, who became Duterte's solicitor general.
The Office of the Solicitor General (OSG) favored Marcos' electoral protest against Robredo, a departure from tradition that the OSG should lawyer for the government, or the Commission on Elections. Calida had also sought the inhibition of Justice Marvic Leonen, in charge of the protest, and filed the motion the same day that Marcos did.
As the elections loomed, Marcos and his sister Senator Imee Marcos have tried to distance themselves from Duterte, dropping some criticisms here and there against the government's pandemic response.
Bongbong releases occasional statements on the pandemic response, such as calling face shields "not supported or endorsed by international health organizations," while Imee helps steer the Senate blue ribbon committee investigations against alleged fraud in pandemic procurements.
In his interview with Gonzaga, Marcos said lies continue to be spread about him or his family, but did not specify what these were.
Marcos' mother Imelda has been convicted of seven counts of graft for opening and maintaning illegal Swiss foundations, where Bongbong and his siblings were named beneficiaries, according to court records.
The Supreme Court in 2003 declared as ill-gotten US$658 million in the Marcos' Swiss bank accounts.
The Philippine government has so far recovered P174 billion of Marcos ill gotten wealth, and continues to run after P125 billion more.
The recovered loot is distributed to coconut farmers who were scammed during the martial law by the dictator's cronies, and to victims of human rights abuses, whose horrific experiences of torture and violence are preserved in case folders set to be memorialized as mandated by Republic Act 10368. – Rappler.com