(2nd UPDATE) Marcos tells Vice President Leni Robredo to tell 'friends' to drop the petitions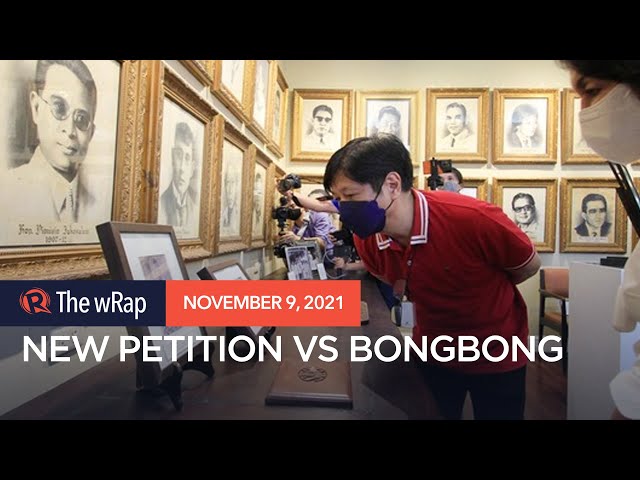 The new petition to cancel the certificate of candidacy (COC) of presidential aspirant Bongbong Marcos focused on the automatic penalty of disqualification of the tax code, under which Marcos was convicted of four counts in 1997.
Ten individuals represented by lawyer Howard Calleja, a convenor of opposition coalition 1Sambayan, filed with the Commission on Elections (Comelec) their motion and petition in intervention on Monday, November 8.
The group had to file a motion for intervention because the deadline to submit petitions to cancel COC has already lapsed, and therefore they would need the Comelec to grant their request to intervene or join the petition filed on the deadline by civic leaders and their lawyer Ted Te.
In an earlier interview, Vice President Leni Robredo said she and her team were not behind these moves against Marcos. In response, Marcos said in a press briefing in Tacloban, Leyte, on Monday, November 8, that if that is true "sabihin niya sa mga kasama niya na iwithdraw na (then she should tell her friends to drop it)."
Calleja said he is assting the group on a personal capacity, and not as convenor of 1Sambayan which has endorsed Robredo.
The Comelec's clerk of the commission's office confirmed in a phone call with Rappler on Tuesday that the petition filed last week by Te's group was raffled to the 2nd Division, composed of Commissioners Socorro Inting and Antonio Kho Jr.
Both of them are appointees of President Rodrigo Duterte, as the poll body is left with only one Aquino appointee, Commissioner Rowena Guanzon.
Inting, who is from Davao City, was appointed to the Comelec in 2018, and was Associate Justice of the Court of Appeals for nine years prior to her appointment.
Before he joined the Comelec, Kho was appointed Justice undersecretary in 2016. He is from Zamboanga City.
The exclusive ground for a petition to cancel COC, according to Comelec's Rule 23, is "any material representation contained therein as required by law is false." The deadline to file a petition to cancel COC was Tuesday.
The grounds
Here is the basic legal scenario: Marcos was convicted of failure to file income tax returns from 1982 to 1985, but when the Court of Appeals affirmed this conviction, it removed the penalty of imprisonment and just imposed P36,000 fines.
The election code disqualifies a person who has been sentenced to more than 18 month of prison, or of a crime involving moral turpitude. These two grounds have been removed in the case of Marcos, says Arroyo-time justice secretary Alberto Agra whom the Marcos camp is citing in its response.
"Ang tanong ngayon ay yun bang hindi pag-file ng income tax return yun ba ay crime involving moral turpitude? Siyempre hindi (The question is if not filing ITR is a crime involving moral turpitude, of course not)," said Agra as quoted by a Marcos press release. Agra is the justice secretary whose resolution in 2010 to clear Zaldy Ampatuan in the Maguindanao massacre pushed senior prosecutors to walk out on him.
The new petition filed by Calleja's group banked on the tax code's Section 252-C which says if the offender is a public official, they shall be "perpetually disqualified from holding any public office." Marcos was vice governor and then governor of Ilocos Norte when he did not file his ITR.
The new petition made clear that this provision already existed in the 1977 tax code, the basis of Marcos' charges, and not just in the succeeding amendments to the law.
"The provision is clear and is not subject to any interpretation. The fact of conviction alone should render a public officer candidate ineligible as he is thus perpetually disqualified pursuant to law," said the petition.
The CA ruling however did not spell out this accessory penalty in the 1997 decision. The petition said "being an accessory penalty, the same need not be written the judgment on conviction," citing a Supreme Court decision that says "it is unnecessary to express the accessory penalties in the sentence."
But Marcos had already won several posts afterwards, and was in fact able to run as vice president in 2016 although he lost to Robredo. It doesn't matter, said the petition, as estoppel does not lie against the State, or in this case, the State is not bound by its prior wrong decisions to allow Marcos to run.
They cited the case of former Dapitan, Zamboanga Mayor Dominador Jalosjos who was convicted of robbery in 1970. Jalosjos had won mayor twice, and had actually already survived a disqualification petition, until 2010 when he was running for his third term.
His opponent Agapito Cardino filed a petition to cancel his COC, alleging misrepresentation. Jalosjos said in his COC he was eligible to run when in fact his conviction made him ineligible. This is also the petitions' framing of the Marcos' case because the dictator's son said in his COC he was not found liable of a crime that disqualified him from public office.
In 2012, the Supreme Court affirmed Comelec's decision to cancel Jalosjos' COC. The petition cited this decision in urging the Comelec to exercise its motu proprio (on its own) powers.
The decision said: : "Despite a prior perpetual special disqualification, Jalosjos was elected and served twice as mayor. The Comelec will be grossly remiss in its constitutional duty to enforce and administer all laws relating to the conduct of elections if it does not motu proprio bar from running for public office those suffering from perpetual special disqualification by virtue of a final judgment."
'Nuisance'
Marcos on Monday called these petitions "nuisance."
"Yung mga abugado naman na nakakausap ko, sabi it's a nuisance petition. Sasagutin at ipapakita na walang grounds," Marcos said.
(The lawyers I talked to said it's a nuisance petition. We will answer and show that they have no grounds.)
Among the lawyers cited by Marcos is Nilo Divina, the dean of the University of Santo Tomas (UST) Faculty of Civil Law whose name figured in the death of Aegis Juris fratman Atio Castillo, and the messy legal battle between close friend former Comelec chair Andres Bautista and estranged wife Tish Bautista.
The Marcos camp quoted Divina as saying: "It's ad hominem, or an attack against the character of the respondent, that may weaken the petitioner's position. It is the law, always, that matters." – With a report from Dwight De Leon and Vernise Tantuco/Rappler.com