The ruling party pulls one surprise after another during and long after COC week. 'It's a sign of desperation on the part of PDP-Laban…. they have a problem in the house, inside the PDP-Laban house,' says a governance professor.
At around 3 pm on Friday, October 8, Senator Ronald dela Rosa got a call from Energy Secretary Alfonso Cusi, who heads one faction of the ruling PDP-Laban (Partido Demokratiko Pilipino-Lakas ng Bayan).
Not unlike the orders Dela Rosa had gotten during his time in the Philippine Military Academy and later at the Philippine National Police (PNP), today's mission was clear: head to Sofitel and file your certificate of candidacy (COC) as standard-bearer of the party. 
Dela Rosa didn't question the order, but had only one concern: he might not make the 5 pm deadline because of Metro Manila traffic. 
The events of October 8, of how the ruling party's presidential candidate was picked and announced, was a stark contrast to how other parties and presidential candidates announced their own plans for 2022.
There weren't any declaration speeches prior to filing – only a message in a Viber group of journalists of Dela Rosa holding his COC, wearing a green Hugpong ng Pagbabago shirt and a red PDP-Laban jacket.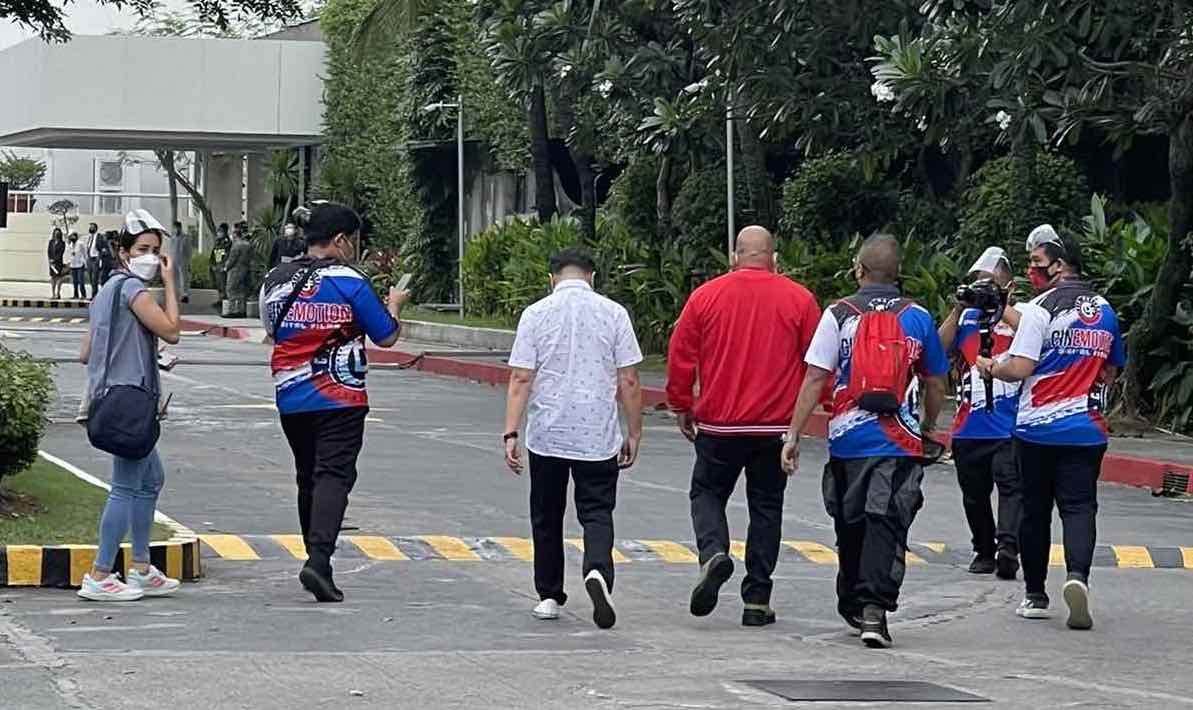 Even the ruling party's preliminary senatorial slate didn't have a grand reveal – both PDP-Laban and guest candidates waited at the Sofitel tent on the last day of filing for a quick photo-op with President Rodrigo Duterte at the COC-filing venue itself. 
All this, of course, caps off a week of speculation, drama, and uncertainty surrounding the Cusi faction – of its nominee for president suddenly sliding down to vice president, of its party chairman declaring his "retirement" from politics, and of the chairman and incumbent President's daughter insisting again and again that she wasn't running for president and that she had no plans of joining the party.
Welcome to the ruling political party, Duterte style.
From Davao to Malacañang, 5 years on
Tensions in the party started in 2020, when Senator Aquilino "Koko" Pimentel III stepped down as party president and passed on the mantle to Senator Manny Pacquiao – a move that upset then-party vice chairman Cusi and party secretary-general Melvin Matibag.
Even before that, PDP-Laban found itself in a weird place during the 2019 midterm elections, as it faced threats from other parties that Duterte, party chairman, had backed or was associated with.
It's since turned into an all-out war, with the Cusi-led faction asking the Commission on Elections (Comelec) to consider the Pimentel and Pacquiao-led faction "illegitimate." Pacquiao, despite being allied with the party co-founder's own son, filed for president under PROMDI, a Cebu-based regional party that served as vehicle for Lito Osmeña's presidential bid in 1998. 
In early 2021, the question was: could PDP-Laban survive Dutertismo? But as the elections draw near, it's clear that the party isn't just surviving Duterte, it's leaning hard onto his leadership. 
Duterte, according to Matibag, had been given authority by the Cusi wing to pick candidates for any empty positions in the national races. Duterte flexed this on September 30, when he informed the party via a letter that he would not be running for vice president and would instead field his long-time aide, Senator Bong Go. 
The same happened, albeit informally, when Dela Rosa was picked as standard-bearer. He called Go and checked if Duterte was on board with the party's decision because "baka mamaya mapagalitan ako nito, takbo ako nang takbo, wala pang blessing sa kanya (I might get scolded for running without his blessing)." 
The role is ironic, given Duterte's stance towards party politics. "I don't think [Duterte] believes, really, in party politics," Meong Cabarde, a faculty member of the Ateneo de Davao University (ADDU) political science department, told Rappler in an interview.
Cabarde, a long-time Davao City resident, explains it this way: Duterte reflects and fully embraces prevailing Philippine political culture, where jumping ship is par for the course before, after, and even during an election.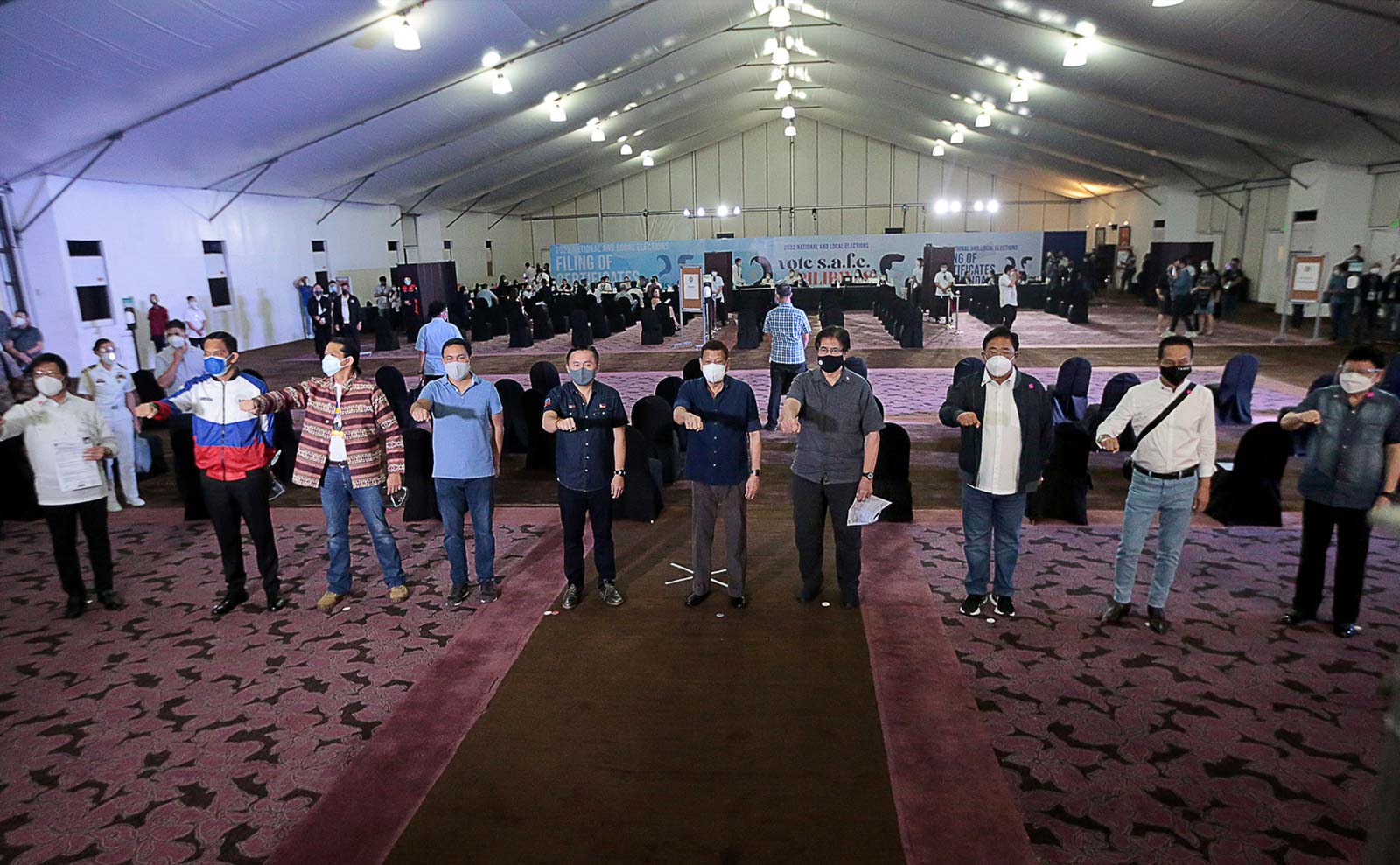 Duterte – as immortalized in viral posts that show him standing alongside opposing national figures – supports who is in power and picks allies depending on the political situation both in Davao and the rest of the country. He once chaired the Liberal Party in Davao City when the late Benigno Aquino III was president. Duterte joined PDP-Laban in 2016, primarily so he could have a vehicle for the presidential elections. 
"So karon, if you notice, medyo dili siya ingana ka passionate sa faction to resolve it, even if he is the representation sa PDP. He is lukewarm about it because he is, one, already stepping out, mu-resign na siya ug politics; second, I don't think ingana iyahang strong belief in a political party," Cabarde added. 
(So now, if you notice, he's not that passionate in resolving the factions, even if he represents PDP-Laban. He is lukewarm about it because he is, one, already stepping out and resigning from politics; second, I don't think he has strong beliefs in a political party.) 
Ramon Belleno II, who belongs to the political science and history faculties of ADDU, illustrates it further: when Duterte was Davao City mayor, his Hugpong sa Tawong Lungsod would endorse up to 16 candidates – never mind that only eights seats were up for grabs. 
The apple doesn't fall far from the tree, at least in electoral politics. In 2019, Sara Duterte's Hugpong ng Pagbabago endorsed up to 14 candidates in an election with only 12 Senate seats at stake.  
Belleno thinks the chaos of national politics – where opportunists abound and loyalty comes cheap – is something Sara Duterte is skeptical about, even if Hugpong ng Pagbabago has forged alliances with both national and local political parties.
It's curious to note that Sara's Hugpong ng Pagbabago has not forged a deal with PDP-Laban, the party her own father chairs. 
The older Duterte had teased a Sara Duterte-and-Go tandem for 2022, but, thus far, Sara has been firm: she is not joining PDP-Laban nor does she have plans of being its standard-bearer. 
Cabarde said it's "very difficult" for the President's daughter to even consider running for national office because "the implications on local politics are huge if she leaves."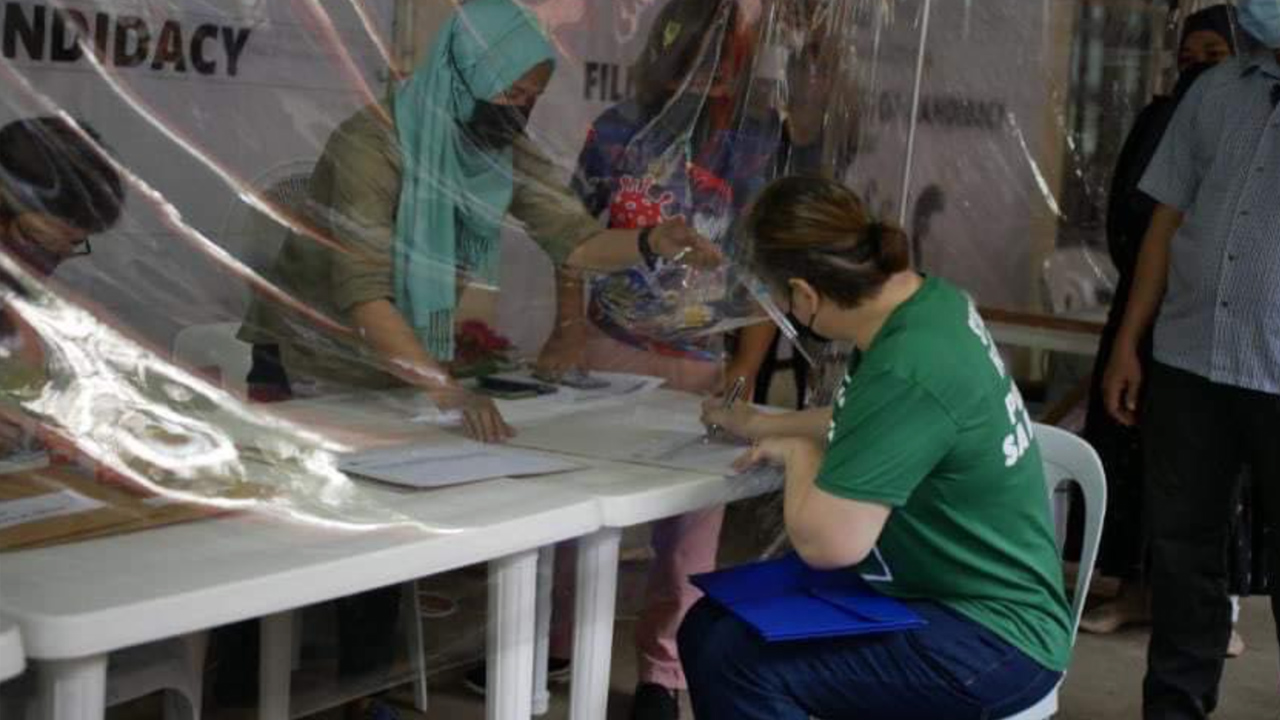 While all three of Duterte's adult children hold elected posts in the city (Sara is mayor, the younger son Sebastian is vice mayor, while Paolo or "Pulong" represents the 1st district in Congress), their hold on Davao City isn't absolute – or, at the very least, it's something that can be challenged. 
But it could also be wishful thinking for Cabarde, who's thrown his support behind nongovernmental organization worker Maria Victoria "Mags" Maglana, Pulong's challenger for the 1st district seat. Sara is also being challenged for the mayoralty post, most notably by one-time Duterte ally Ruy Elias Lopez, who once represented Davao City's 3rd District in Congress. 
For better or for worse, Cabarde sees the political movements – at the national level and in Davao – as a "game of chess," where Sara is queen.
"Wala siyang tinitignan na party ideology or principle. Walang party line. It's all personality…. Tama 'yung sinasabi [ni Cabarde] na he (Duterte) is not actually a party man," said Belleno, who likened the President to a "political lord." 
(He does not think about the party ideology or principle. It's not about the party line. It's all personality. [Cabarde] is right, Duterte is not actually a party man.) 
Despite being in Malacañang for five years, Duterte it seems hasn't adjusted to the "norms" of Philippine national politics. 
The substitution playbook
Even then, President Duterte is sure to leave a lasting effect on Philippine politics – the most obvious and immediate of them being the withdrawals of candidacies and consequent substitutions as normal "political strategy." 
Politicians, including current and apparently erstwhile allies of the Duterte administration, have gone on to call for amendments to the Omnibus Election Code to clip what's allowed under the substitution rule. Curiously enough, Dela Rosa said he's for changing the substitution rule "kung ikabubuti ng ating electoral process (if it will improve our electoral process)." 
For the 2022 elections, substitution due to withdrawal is allowed until November 15, 2021.
Dr. Edna Co, a professor and former dean of the University of the Philippines Diliman's National College of Public Administration and Governance, said substitutions due to withdrawals are "unfair to the electorate." 
"You need sufficient time to kilatis, to make note…. Ako, ang dami kong rin 'ah, ngayon lang lumalabas 'yung tungkol sa ganitong candidate' kasi pinag-iisipan mo na eh. Inaalam mo na ano 'yung track record, ano 'yung kakayanan, and if you have – suddenly, there's a flying saucer na biglang darating, it loses that kind of spirit of the electorate being decent, thinking through," she said in an interview with Rappler. 
(You need sufficient time to scrutinize, to take note. Even I have had moments where I only learned about certain things about a certain candidate because you're starting to think critically about that person. You're learning about their track records, their capabilities, and if you have – suddenly, there's a flying saucer that comes, it loses that kind of spirit of the electorate being decent, thinking through.)
A last-minute standard-bearer, said Co, also speaks of the ruling party's health.
"It's a sign of desperation on the part of PDP-Laban. Certainly, it's a recognition – the old Duterte cannot [run for vice president]. Go is not necessarily assured of winnability, given the names that are already in the playing field. The daughter (Sara) is not keen on being adopted by the PDP-Laban, so where are we now? Sa'n ka pupulutin (Where does that leave you?)? So, sige, reserve mo na 'yang seat na 'yan (so, reserve that seat) – that is what the [Dela Rosa candidacy] means to me. Therefore, sa akin (for me), wow, they have a problem in the house, inside the PDP-Laban house," she added. 
In the latest public preference surveys, Go ranked 6th among possible vice presidential bets, with only 7% of respondents saying they'd pick the senator if elections were held at the time of the survey. Those surveys, however, included front-runners who have since announced a different plan for 2022: Duterte, Isko Moreno, Ferdinand Marcos Jr., and Manny Pacquiao. Duterte said he's retiring while Moreno, Marcos, and Pacquiao, are all seeking the presidency.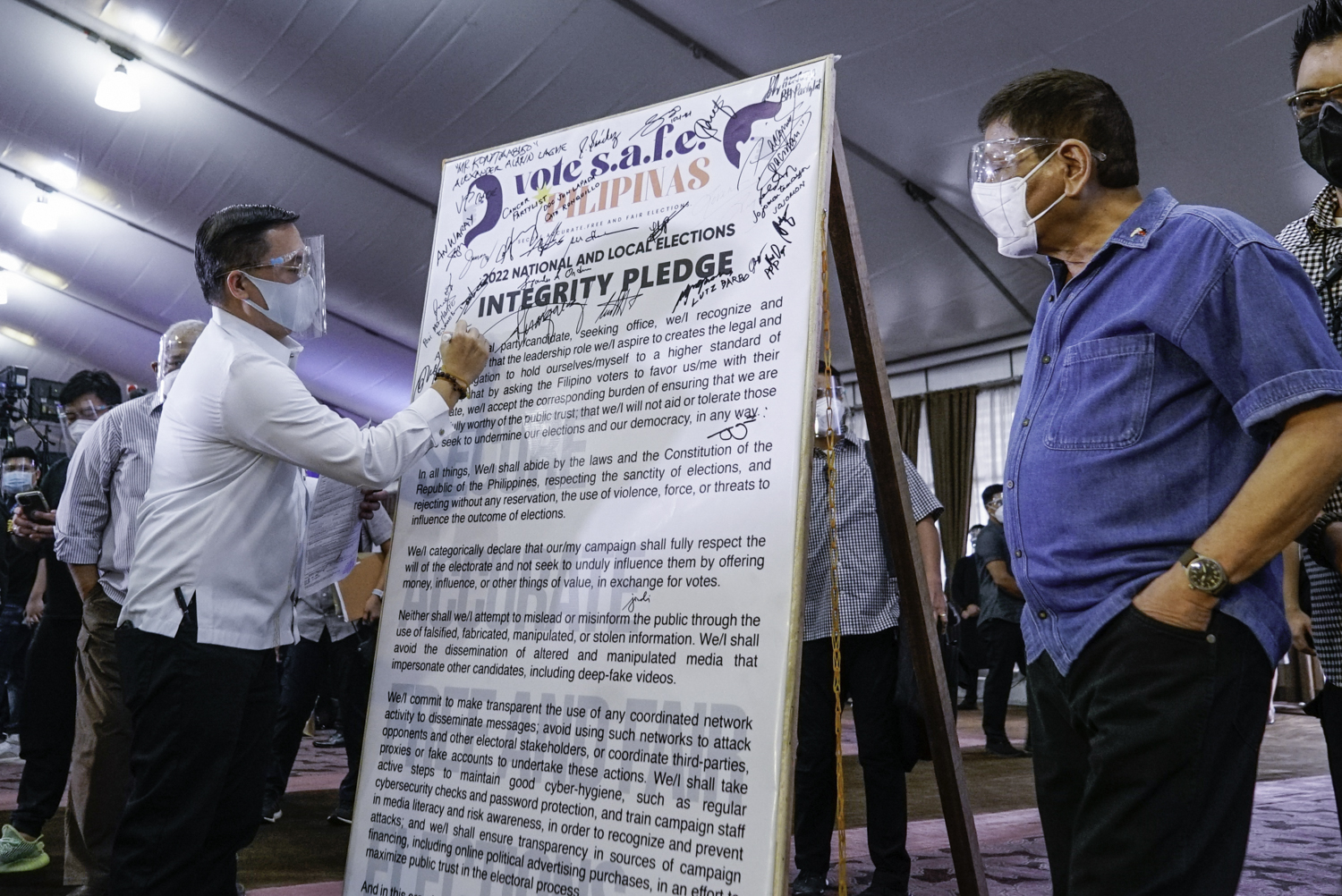 Co said it takes the focus away from the voters and onto the whims of the candidates and the parties in power. "[But the election] isn't about the candidates' wishes. The election is about the wish of the electorate, those who are voting," said Co.
Cabarde agrees. "Sa amo ganing (In our) internal discussion, we're saying that we have now reduced electoral processes to a game. Murag game of generals, tactics na siya, rather than the primary reason of elections really is kadtong imong (your) desire to serve and all," he said.
"Mura mao na'y gipakita ni Digong (That's what Digong showed) in the 2016 elections, na (that) winning a national election is not all about your image, your character, your compelling story, even your machinery. It would also require strategy and tactics. You must outsmart, outwit your opponents," Cabarde said.
Cabarde noted that even alternative candidates in Davao City have taken that route – Maglana filed in the last few hours of COC-filing week, partly to surprise Pulong's camp.
In any game of chess, the goal is always to protect the king. 
Even as Duterte enjoys record-high approval, trust, and satisfaction ratings as president, the ruling party – or at least the Cusi-led faction – must now think about how their king can possibly protect not just the queen, but the knights, rooks, bishops, and even its pawns. – Rappler.com