(2nd UPDATE) Lakas-CMD chairman Senator Bong Revilla says they are in the 'process of formalizing the adoption of a standard-bearer who Inday Sara will be running with as her president'
Davao City Mayor Sara Duterte formalized her bid for the country's second-highest post on Saturday, November 13.
She will be running for vice president under Lakas-CMD.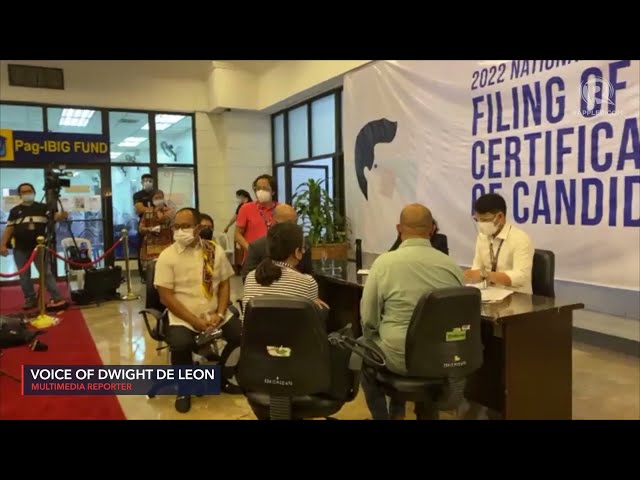 Sara, the eldest daughter of President Rodrigo Duterte, filed as the substitute of Lyle Uy, the party's original vice presidential candidate.
Lakas-CMD secretary general Prospero Pichay earlier admitted that the party filed two "placeholder" candidates for president and vice president as they waited for the younger Duterte to change her mind about seeking a national post in 2022.
The Davao mayor had led early presidential voter preference surveys but did not file for a national post during the week of the filing of certificates of candidacy (COCs). Instead, she filed for reelection as Davao City mayor, following through with her earlier declaration that she would finish her and last consecutive term as head of the Mindanao city.
But the winds changed swiftly beginning November 9, or a week before the deadline for substitution via withdrawal.
Sara withdrew her mayoral candidacy in Davao City on November 9, shortly after her brother, the incumbent vice mayor, withdrew his own reelection bid. Two days later, on November 11, she officially took her oath as a member of Lakas-CMD.
Rumors have been rife that Sara would become the running mate of presidential aspirant Bongbong Marcos. In an interview on SNMI's Point of Order earlier on Saturday, Marcos said that if Sara would agree to be his running mate, he anticipated a "good working relationship" with her, based on their previous conversations.
Shortly after Sara formalized her vice presidential bid, Marcos' Partido Federal ng Pilipinas issued a resolution adopting Sara as Marcos' vice presidential candidate.
In a statement, Lakas-CMD chairman Senator Bong Revilla said they are in the "process of formalizing the adoption of a standard-bearer who Inday Sara will be running with as her president."
Lakas-CMD's original presidential candidate, Anna Capella Velasco, also withdrew her candidacy on November 13. – Rappler.com