(2nd UPDATE) 'Please don't get ahead of me,' Robredo says in response to assumptions that she would run for CamSur governor. 'If you say that I've already made my decision, then you'd be wrong, because I haven't decided yet.'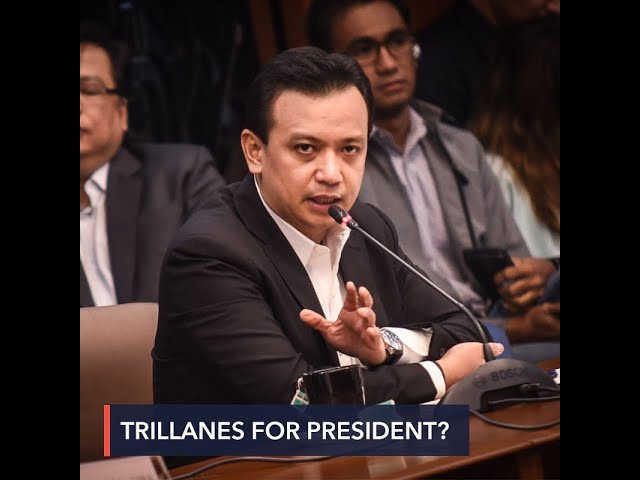 Former senator Antonio Trillanes IV, one of President Rodrigo Duterte's staunchest critics, is running for president in 2022 – but only if Vice President Leni Robredo does not gun for the highest post in the land.
In a Facebook post on Wednesday, May 12, Trillanes said he is now seeking the endorsement of the 1Sambayan opposition coalition as its "principal candidate" for president. This makes Trillanes the first politician to announce his presidential bid for the 2022 polls.
The Duterte critic made the decision following persistent rumors that Robredo – who is the top-of-mind opposition standard-bearer for political pundits – will run for Camarines Sur governor instead.
"In view of VP Leni's preparations to run for governor of Camarines Sur in 2022, I, together with the Magdalo group, have decided to convey to the 1Sambayan coalition to change my status from being an alternate candidate (to VP Leni) to being a principal candidate for president to vie for the coalition's nomination," said Trillanes.
The Magdalo soldier-turned-senator also expressed his intention to run for president in a letter addressed to 1Sambayan lead convenor and retired Supreme Court associate justice Antonio Carpio.
Trillanes and Robredo are among the potential presidential and vice presidential bets that the 1Sambayan coalition is considering to endorse for the 2022 elections.
The coalition's goal is to endorse a single slate of national candidates who will go up against whoever would be fielded by the Duterte administration come 2022.
Trillanes, however, said he would give way to Robredo should the latter ultimately decide to run for president.
"Just to be clear, I am not dividing the opposition as there will only be one uniified slate to be nominated by 1Sambayan, and both VP Leni and myself have committed to support and campaign for its nominees," said Trillanes.
"Just to further stress this point, in the event that VP Leni definitively decides to run for president before 1Sambayan picks its nominees in July, I would wholeheartedly step aside and withdraw my own candidacy in her favor," he added.
Trillanes knows the odds are stacked against the opposition in 2022, but he said he is determined to stop the President's anointed one from winning.
He said the Duterte administration has destroyed institutions, worsened the economy, and "promoted incompetence in public service."
"Truly, we will not survive another six years of a Duterte rule," said Trillanes.
While waiting for Robredo's final decision, Trillanes will now begin preparing for his presidential run.
He gave an overview of his potential platform, which covers pandemic response, economic recovery and poverty alleviation, reforms in peace and order as well as anti-corruption and governance, universal health care, and foreign policy.
Robredo herself has remained coy about her plans for 2022. She said in a February interview in her hometown Naga City that while she was open to running for president, she would prefer to run for local office instead.
Her recent move to sign up for the Philippine Identification System at the registration office in Magarao town – and not in Naga City, where her voter's registration is – only added fuel to the rumors she would be running for a local post, specifically for governor of Camarines Sur.
Robredo's spokesperson Barry Gutierrez, however, denied Trillanes' claim that the Vice President is already preparing to run for Camarines Sur governor.
Gutierrez said Robredo has not yet decided on what she would do in 2022, either.
"As VP Leni has repeatedly stated, her focus remains on helping our fellow Filipinos through the COVID-19 crisis. She has not made a decision regarding the 2022 elections, and there is absolutely no truth to the claim that she is making 'preparations' to run for governor of Camarines Sur. This is not a time for politicking, but for working for the people's welfare," said Gutierrez in a statement.
He then said Robredo remains open to "all options" for the 2022 elections, including a possible presidential bid.
"She will personally convey her decision on this matter," said Gutierrez. 
On her radio show Biserbisyong Leni on Sunday, May 16, Robredo called out those preempting her announcement, though she did not mention Trillanes directly.
"Huwag naman akong pangunahan. Kapag sinabi mong nakapagdesisyon na ako, mali ka kasi wala pa akong desisyon. And ako, from the very start, honest ako niyan, kasi kung may desisyon na ako…bakit ko naman itatago iyong desisyon ko? Kasi makakatulong nga na mai-announce ko kaagad, 'di ba, para makapag-umpisa na."
"Please don't get ahead of me. If you say that I've already made my decision, then you'd be wrong, because I haven't decided yet. And I've been honest about this from the very start, because if I had already made up my mind, then why would I keep it a secret? In fact, wouldn't it help if I announced it right away, so I could get things started?" – Rappler.com