If there is a high viral load and a clustering of cases, the Bacolod City government says, 'We treat them as Delta cases, whether or not results come in'
A family in Barangay Singcang on the southwestern edge of this city has 19 members positive for the COVID-19 virus. At least seven of them have CT (cycle threshold) numbers below 30, a sign of very high viral load and the possibility of the more transmissible and virulent Delta variant.
The city government is not waiting for genome sequencing results to impose more stringent isolation and testing measures on the family.
The formula is simple, City Administrator Em Ang told Rappler on Tuesday, August 31.
"If the viral load is high and there is clustering of cases, probability is high that these infections are caused by new variants," Ang said. "We treat them as Delta cases, whether or not results come in."
The Department of Health issued on August 28 new protocols for "positive" cases involving variants of concern. In places like Bacolod, where cases are on the rise again after hard won easing of positivity and attack rates, the DoH directive can seem surreal.
Results of cases sent in for what national health officials call "purposive testing" come back late, sometimes a month after local government units send samples of potential Delta cases.
Every positive finding from the Philippine Genome Center (PGC) is followed almost always with local officials noting the patient has recovered and been released from isolation.
Or, as in the case of a nine-year old boy from Silay City, north of Bacolod, that he died weeks before the delivery of his test result on August 29.
Isolation dragnet
Ang, who also heads the city Emergency Operations Center, said the family in Singcang and all other suspected Delta cases would remain in isolation until clinical recovery and completion of at least ten days of isolation.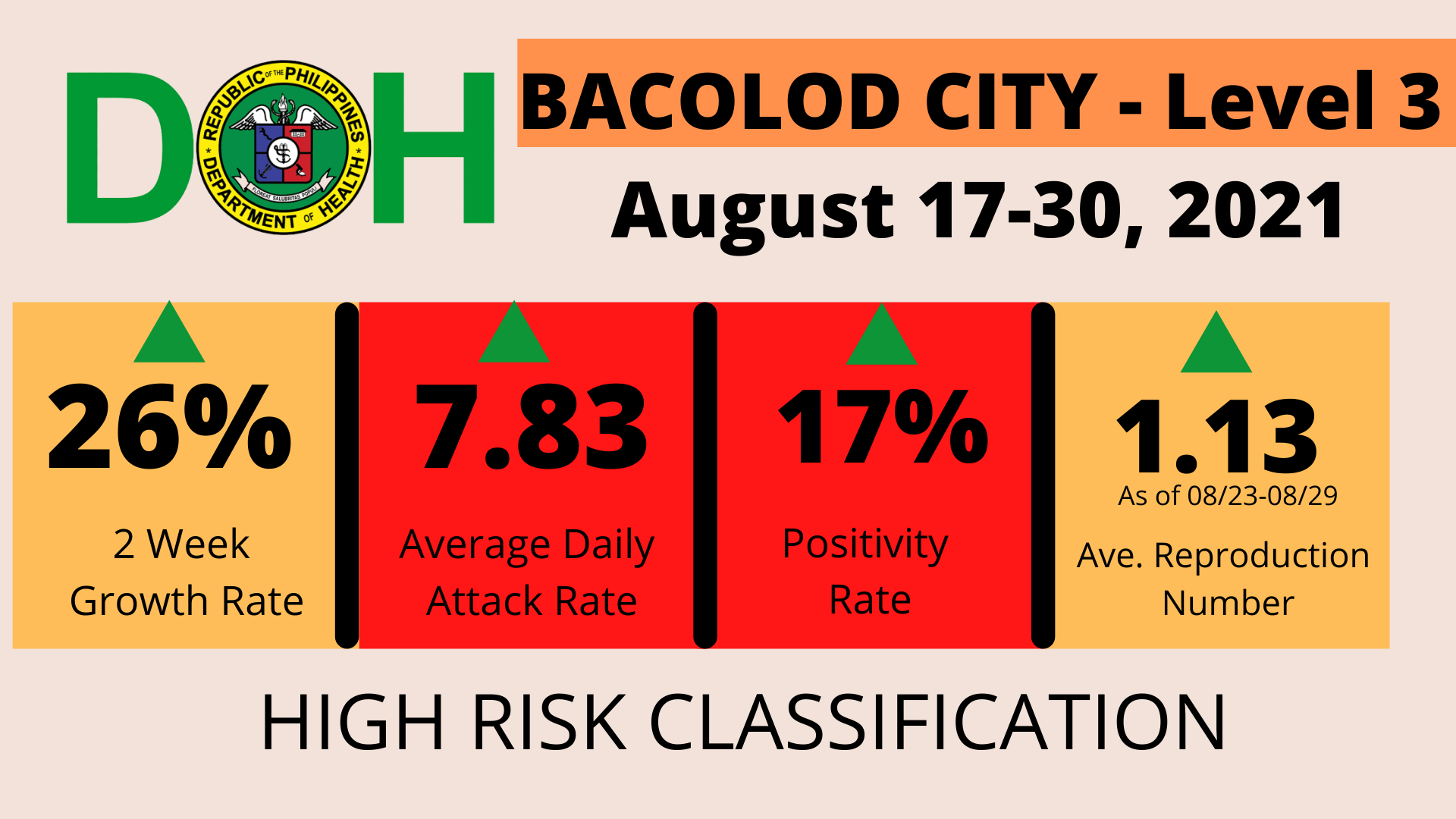 There is no repeat testing, but patients would need a discharge form from an infectious disease specialist.
Because Bacolod is currently under Alert Level 3, first generation close contacts shall be prioritized for RT-PCR testing.
"They must also undergo a 14-day strict quarantine at a facility, regardless of a negative result," Ang added.
The heightened isolation policy was needed because a second round of RT-PCR tests on confirmed cases here have found household members and neighbors positive for COVID-19.
Among them were two children of a pregnant woman who was one of the first two confirmed Delta cases. At least three kin of the second Delta case here also tested positive for COVID-19, almost a month since the initial swab test.
High risk
The DOH's Western Visayas' office included the city among "high risk" areas although the numbers of new cases here were much lower than in other provinces and cities.
The August 29 genome sequencing results showed four cases in Negros Occidental and another four in Bacolod.
Dr. Julius Drilon, head of Negros Occidental's largest COVID-19 referral facility, told Rappler the DOH regional figures for COVID-19 case growth rate, positivity and attack rates, indicate a coming surge in the city and the province.
The Corazon Locsin Montelibano Memorial Regional Hospital, which Drilon heads, also announced a staff had tested positive for the Delta variant. Drilon said the hospital sends its samples directly to the DOH. The concerned personnel has been quarantined and already tested NEGATIVE on her second RT-PCR testing, he added.
Initiatives
Ang said the city has been preparing for the surge since the start of August.
Weeks before the World Health Organization (WHO) pronounced the Delta variant as the current dominant COVID-19 variant in the country, pandemic warriors already responded like every case was a Delta variant.
The DoH doesn't like LGUs or hospitals jumping the gun on the national office. It was only on August 23 that it confirmed community transmission and then only for the National Capital Region.
The city couldn't go against national protocols that mandate DOH validation of case results, Ang said. DOH protocols still prioritize testing of symptomatic individuals.
But in June, during a surge in cases that made officials suspect unmonitored entry of the Delta variant, the city conducted mass testing or surveillance testing in communities or wherever a cluster of cases appeared: markets, transport hubs, casinos, business process outsourcing (BPO) centers, government offices, and banks.
The city has 1,063 contact tracers, higher than the 787 minimum hires needed for the IATF formula of one tracer for every 800 persons. There are three to four contact tracers for every positive patient, Ang said.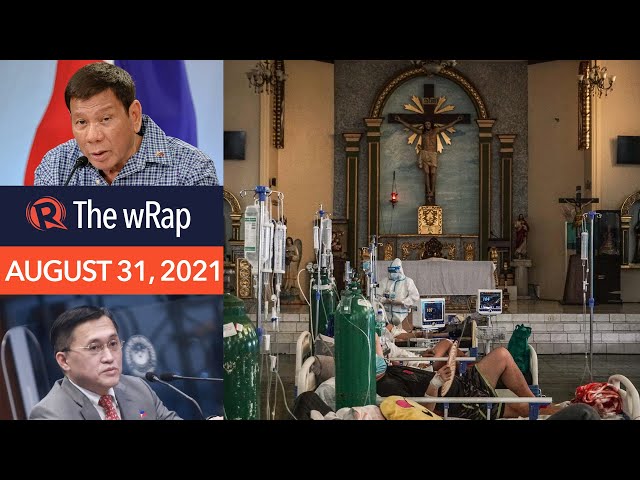 By August 6, Bacolod had placed 100% of all positive cases in isolation facilities.
It also implemented an all-swab policy in households with a positive case, extending the same to all other close contacts reported by the patient.
Appeals
Ang and Drilon said late results could hamper containment programs.
With the Delta being declared as the dominant variant in the country, the PGC results seemed so after-the-fact, confirmatory rather than something of immediate use to pandemic managers.
Neither official blamed the PGC, which has the capacity to test only 750 samples weekly. That's just a little more than the 716 new cases the Western Visayas DOH office reported on August 30, a single day.
Drilon told Rappler the national government should have invested in improving capacity and beefing up facilities and logistics in regions that can do genome sequencing.
The head of the CLMMRH pointed to Iloilo City, where Mayor Jerry Treñas has long appealed for equipment and other material to boost the capacity of a PGC satellite laboratory.
It was only on August 27 that Health Undersecretary Maria Rosario Vergeire announced approval of P275.9 million funding for the Visayas facility and another in Mindanao. Each laboratory would be able to test 350 samples weekly, she said.
Drilon, citing conversations with scientists, said that a new small genome sequencing facility could cost P60 million to P80 million. The national government, he said, should have invested funds to provide several major cities with genome testing capacity.
President Rodrigo Duterte and his aides have spent a year and a half harping on the difficulties of funding mass testing and contact tracing despite emergency laws that allowed him broad powers to allocate public monies for critical programs.
More than a year and a half into the pandemic, local government units have to scramble for new contract-tracing hires, as well as staff for overcrowded hospitals, with every surge. Medical workers have resigned and have staged protests over late hazard pay and other COVID-19 incentives. Social amelioration for people who lose jobs and livelihood with every general lockdown falls below the legal minimum wage.
"What happens on that level is beyond my paygrade," Drilon said. But he expressed hope that legislative probers untangle a slew of overpriced purchases and the return to the national treasury of P59.125 billion in COVID-19 management funds meant for 2020 containment measures. – Rappler.com