President Duterte's last SONA is special because it comes 'under the shadow of an international investigation of the human cost of the war on drugs,' says retired ICC judge Raul Pangalangan
While cops who may have committed lapses in President Rodrigo Duterte's drug war, just like any other Filipino, have the right to due process, a retired International Criminal Court (ICC) judge wished that their victims had been given due process as well.
Retired ICC judge Raul Pangalangan said this on Wednesday, July 28, in the context of Duterte's recent announcement that he wants a law that would give free legal assistance to cops and soldiers who will be charged for incidents that happened in the performance of their duty.
Pangalangan called this a tactical move on the part of Duterte, who pushed for the law in his State of the Nation Address (SONA).
"It was actually a very astute move because it puts our human rights lawyers in a quandary – they who speak quite highly precisely of this right to due process. I wish though that those same rights had been given to the victims as well," Pangalangan said in his keynote address during Stratbase ADRI's webinar assessing Duterte's last SONA and the last five years of his presidency.
The Department of Justice (DOJ) is reviewing the more than 7,000 deaths that occurred in police anti-drug operations, to see if criminal charges need to be filed against erring cops. Justice Secretary Menardo Guevarra said that to give free legal assistance to those who would potentially be charged in their review is to rightly give them due process.
"[Duterte's last SONA] is special in three other ways: one, it is delivered under the shadow of an international investigation of the human cost of the war on drugs," Pangalangan said.
The ICC's pre-trial chamber is expected to decide by end of August whether to launch a formal investigation into the drug war killings – a phase where summons and arrest warrants can be issued.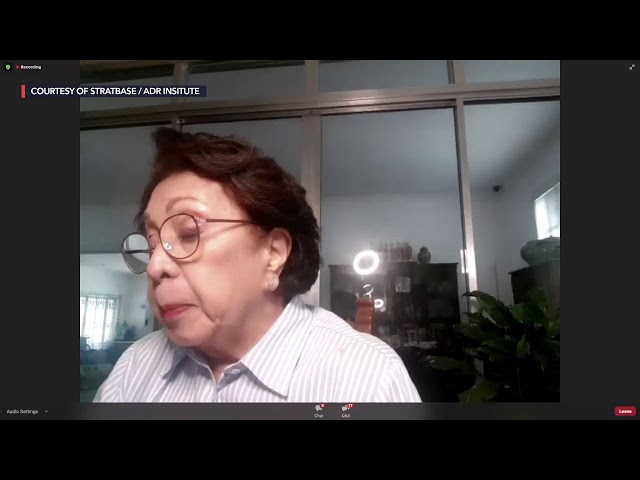 A 'significant' move
Pangalangan called Duterte's move to support a law for free legal assistance to state agents "significant."
"We all heard the President, he's not backing down from these policies at all, openly taunting the ICC investigators, and even more significantly, asking Congress to pass a law to give the police and the military free legal aid in what can presumably include charges connected with the anti-drug campaign," said Pangalangan, former dean of the University of the Philippines College of Law and the first Filipino to serve as an ICC judge.
There are existing mechanisms that give cops charged for duty-related incidents free legal aid – within the Philippine National Police (PNP) legal offices, and through the Public Attorneys Office (PAO) that has a "standing directive" to assist policemen up to the rank of executive master sergeant.
The ICC has already started asking for "representations" of drug war victims, a preliminary process of asking for views, concerns, and expectations. It is not a process of asking to be officially part of a court proceeding. Victims have been warned of the risk of intimidation and harassment once they start this.
Pangalangan retired from the ICC on May 16. He served a term of nine years and before his retirement, he was assigned to the Trial Chambers IX and VII.
Pangalangan was part of the chamber that convicted former Congo vice president Jean-Pierre Bemba for offenses against the administration of justice, finding him guilty of intentionally influencing defense witnesses and giving false evidence to the court.
Rise Up for Life, a group that assists the mothers and wives of drug war victims, has asked the ICC to bring on a similar charge against Duterte
"for his blatant attempt to pervert the course of justice by intimidating and retaliating against the officials of the Court."
Duterte, through his spokesperson, former international human rights lawyer Harry Roque, had insisted that the President will not cooperate with the ICC.
– Rappler.com