(4TH UPDATE) Grab driver Florence Norial is arrested and assaulted by a police officer after she asked him to move his car that blocked a mall driveway
A female Grab driver was arrested and hit with a car door by a policeman in civilian clothes after she asked him to move his stalled vehicle blocking the driveway of a mall in Taguig City Tuesday evening, October 6.
Grab driver Florence Norial, 26, was detained from around 7:40 pm on Tuesday evening up to as late as Wednesday afternoon after she was accused of direct assault, alarm and scandal, and disobedience to authority from the encounter.
This developed after Florence asked a driver to move his vehicle which was blocking the exit driveway of Grace Mall in Taguig City. At that time, she just picked up her Grab passenger from the mall.
It turned out the driver of the vehicle blocking the passage was a certain Captain Ronald Saquilayan
"Help pls! Nasa…police station po ako ngayon. Gusto po ako ikulong. Nag pick up ako pasahero sa Starbucks, ngayon kahit anong pakiusap ko s [pulis] na nasa harap ay ayaw umalis," Florence said in a Facebook status on Tuesday 8:41 pm, before she was detained.
(Help please. I am at a police statioon now. They want to jail me. I picked up a passenger at Starbucks, and whatever pleaded I made to ask the police to move, he still didn't want to leave.)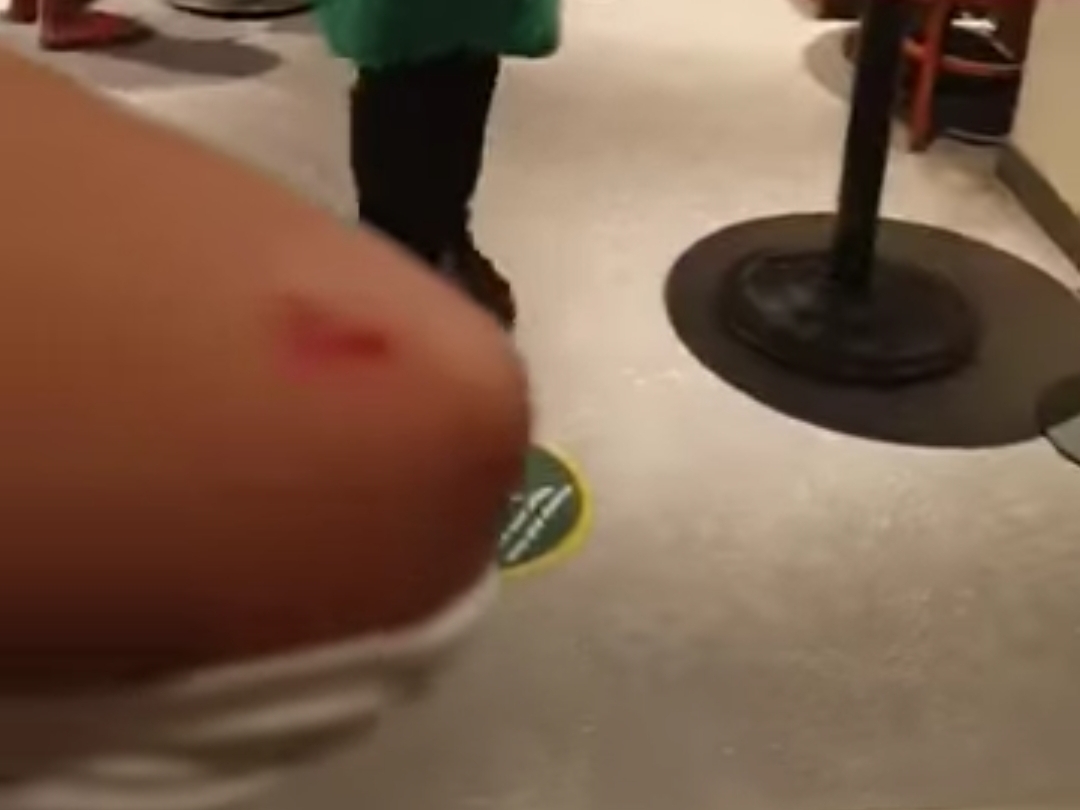 Mirza Miguel Shahzad – Florence's boyfriend who spoke and stayed with her before she was locked away – denied the allegations of the police, providing an hour-by-hour account of the events to Rappler in an email.
Narrating Florence's and his experience on Tuesday evening, Miguel said that the policeman was first to hit Florence. He said that Florence only acted on self-defense, and that the charges against her were fabricated, with the help of other personnel of the Taguig City Police.
In a text message to Rappler, Taguig police chief Colonel Celso Rodriguez said Saquilayan was not assigned in their area, but was detailed with the Pateros police. He did not confirm whether they would launch a probe into the incident.
Meanwhile, Pateros police chief Colonel Ramchrisen Haveria Jr confirmed in a phone interview with Rappler, that Saquilayan was assigned with them.
Still, Haveria said Taguig police should investigate the incident as it happened under their territorial responsibility.
In a text message to Rappler, Grab Philippines spokesperson Nicka Hosaka said they were "already investigating the matter" and have "reached out to the family of the driver."
What led to the arrest?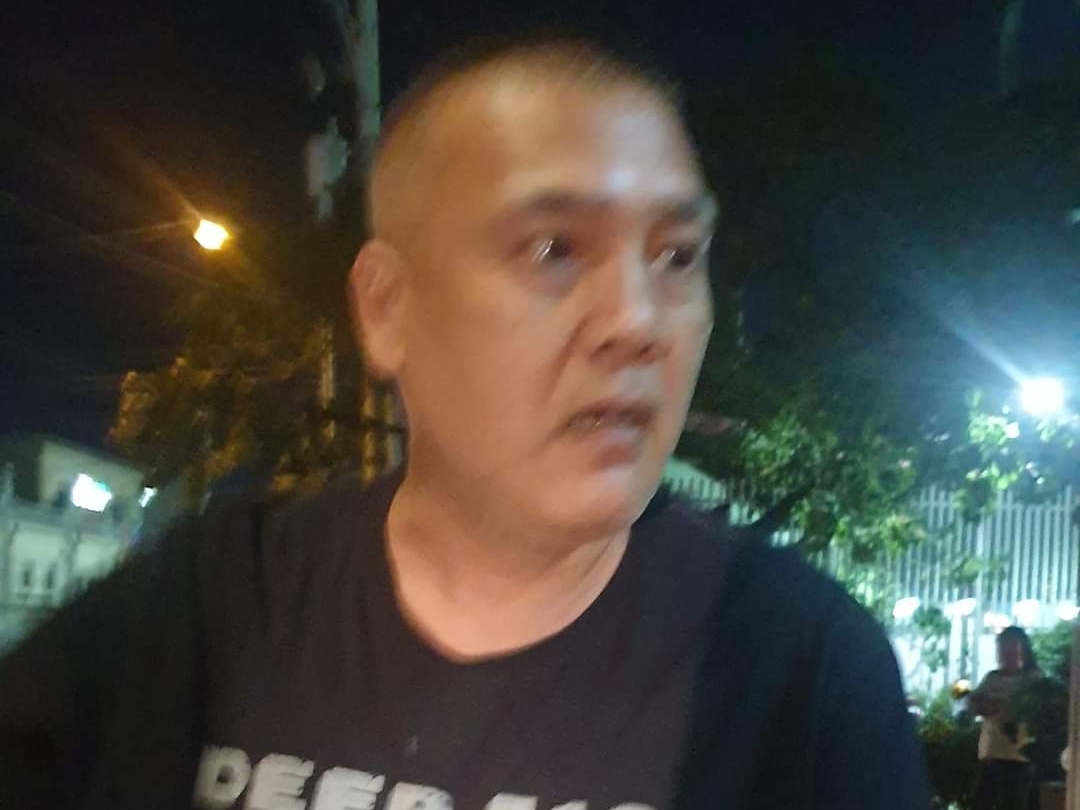 At around 7 pm on Tuesday evening, October 6, Florence was taking a passenger to the Starbucks branch in Grace Mall. They stopped at the driveway of the mall because a stalled dark grey Ford Ranger blocked the passage.
Florence flashed her headlights and honked her horn, but the vehicle did not move. She walked over to the stalled vehicle and knocked on the driver's door. Still, she was ignored.
Florence asked the assistance of the guard nearby, and they knocked on the Ranger's door once more.
This time the door swung open "suddenly and forcefully," Miguel said, knocking Florence down to the bushes beside the driveway and injuring her.
On impulse and in self-defense, Florence stood up and slapped the driver.
The driver then said he was a police officer and arrested Florence.
The arrest
The man who arrested Florence was wearing a printed black shirt and camouflage pants. He hastily arrested her without reading her rights.
"He then forced her to the walls outside of Starbucks to cuff her as he asked his daughter (who was inside the Ford Ranger) to get his handcuffs inside the said vehicle," Miguel said.
In her last Facebook status before her arrest, Florence attached a video of her argument with the driver of the stalled vehicle. In the video, the man said "I am police Captain Ronald Saquilayan," and said he was arresting Florence "for hurting me, for hitting me." Aside from the vague reason for the arrest, the police officer did not read her rights which is the standard protocol.
Miguel added that an unidentified civilian tried to intervene by telling the police officer to stop hurting Florence and to let her go.
Saquilayan stood his ground and insisted on arresting her. A police mobile patrol brought Florence to the Taguig City Police Station 4 in Usasan at around 7:40 pm.
Police exaggerating?
Miguel and Florence's older sister, Aubrey, rushed to the police station. Miguel said Saquilayan exaggerated his claims against Florence. Miguel added that the police at the station refused to acknowledge them when they said they wanted to file their own complaint against Saquilayan.
"They never listened on our side and insisted that Florence hurt the said police officer, that she almost destroyed his window which in this case was physically impossible. For Christ's sake, she could not even lift a 5-gallon water jug, not even a half-full of that 5-gallon jug," Miguel said.
At 9 pm, Miguel and Aubrey were told that Florence would be transferred to the main Taguig City Police Station near city hall. They asked if they could use their own car to transfer Florence. The station police chief said yes, but when they boarded the car, they were accused of another crime.
"For some reason, as we already were in the car, he got angry and stormed off to us and said we were in violation and were executing 'police disobedience' and added that case [against] Florence," Miguel said.
Miguel and Aubrey tried to take a video of the police sub-station chief threatening to arrest them. The police chief then snatched Aubrey's phone. Miguel was able to continue recording the incident and posted the footage on Facebook. In the video, the chief of the sub-station ordered his men to handcuff Aubrey.
Florence was then placed in a police mobile unit and brought to the main police headquarters. Miguel and Aubrey followed.
Transparency, fairness issues raised
At 10:25 pm, a policeman finally read Florence her rights and was told she was accused of disobedience. She was cuffed then taken to the Pateros District Hospital for her pre-detention medical examination.
They returned to the main police station at around 11:20 pm.
At around 1:30 am on October 7 at the main police station, Miguel and Aubrey demanded that they see the police report, the medical report, and the quarters where Florence was detained. Cops provided none of these.
"They even said they would arrest us if we would check on her detention cell," Miguel said.
He added: "After all of this happening, I was clearly shocked on how they would abuse the word 'arrest' in every move you would commit that would not even harm them as you were just documenting the said events that transpired. We were also not given a chance to have an attorney in all of the said events." – Rappler.com