The national picture may show health systems capacity still at 'low-risk,' but hospitals in several cities and provinces across the country are already filling up
As Metro Manila, along with several provinces and cities, hunker down for another round of lockdown, hospitals across the country are reporting a rise in cases possibly fueled by the more contagious Delta variant of COVID-19.
Overall, the national picture showed health care capacity was still at "low risk," with 54% of total COVID-19 dedicated beds currently occupied, lower than previous levels seen in April this year, when the country saw a surge in cases.
Yet health officials have sounded the alarm, saying local data already showed signs that the country could be headed for a more dire scenario similar to what wracked India and Indonesia if urgent action was not taken to stem the rise in infections.
Given that Delta was now the "fastest and fittest" COVID-19 variant, local officials were goaded to urgently increase the capacity of their health systems to prevent facilities from being overwhelmed and to avoid an increase in deaths due to lack of access to health services. 
"Half of provinces, highly urbanized cities, and independent component cities are already showing increase in cases and/or health care utilization," Health Undersecretary Maria Rosario Vergiere said.
"Our numbers of indicators may differ, but trends say the same thing, cases are rising," she added.
In the National Capital Region, the epicenter of the local epidemic, the health system capacity of its 17 cities were still mostly at low to moderate risk as of August 1, though the cities of Las Piñas, Muntinlupa, and Quezon City showed intensive care unit capacities were at high-risk to critical levels with at least 70% of beds occupied. 
Our numbers of indicators may differ, but trends say the same thing, cases are rising.
Health Undersecretary Maria Rosario Vergiere
Focusing further on level 3 hospitals or major health facilities catering to COVID-19 patients across Metro Manila, seven were already at "critical" levels with at least 85% of their total COVID-dedicated beds filled. Metro Manila Development Authority Chair Benhur Abalos cited data from the Department of Health (DOH), which showed the following hospitals at "critical" levels as of August 2: 
East Avenue Medical Center
Metropolitan Medical Center
National Children's Hospital
University of Perpetual Help Delta Medical Center
University of the Philippines-Philippine General Hospital
VRP Medical Center
V Luna Medical Center
The number of hospitals with ICU capacity at critical risk was even higher – with 12 facilities reporting their intensive care units were nearly or completely filled:
East Avenue Medical Center
Chinese General Hospital and Medical Center
Metropolitan Medical Center
Capitol Medical Center
Ospital ng Makati
Quirino Memorial Medical Center
San Juan de Dios Foundation Inc
University of Perpetual Help Delta Medical Center
VRP Medical Center
V Luna Medical Center
St Luke's Medical Center
In addition, the DOH reported that patients in emergency rooms (ER) across Metro Manila who were waiting for further admission into hospitals have been increasing since June.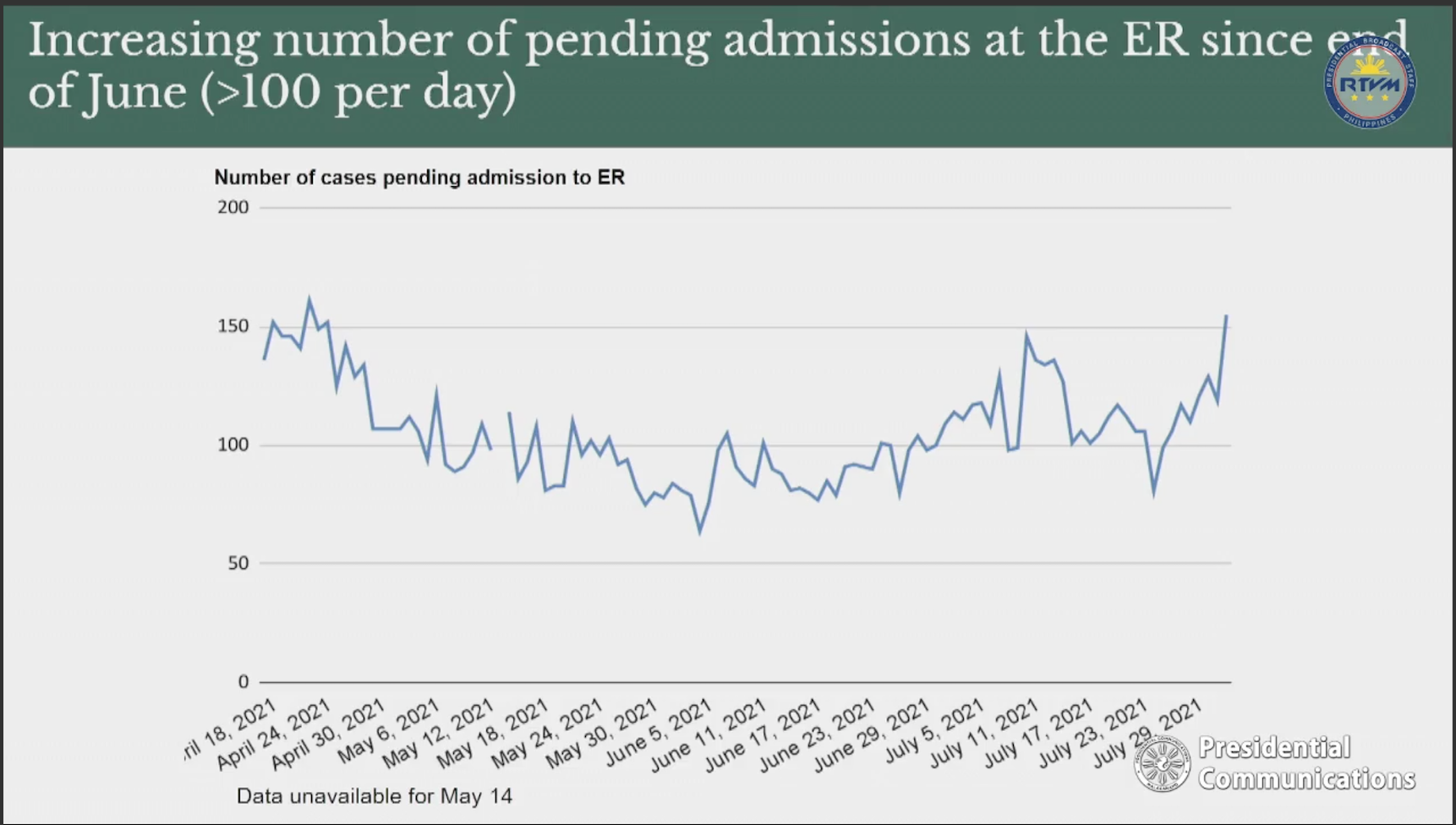 While ER figures were not yet at levels seen during the country's last surge in April 2021, Philippine College of Emergency Medicine President Pauline Convocar told Rappler the current build up of patients should already be addressed now to avoid a repeat of the situation where hundreds across the metro could not access care.
This was what happened back in April, when entire families were sick with COVID-19 and ambulances were lined up outside hospitals, after hundreds of patients had no choice but to wait for admission in hospitals overwhelmed by the surge in coronavirus cases.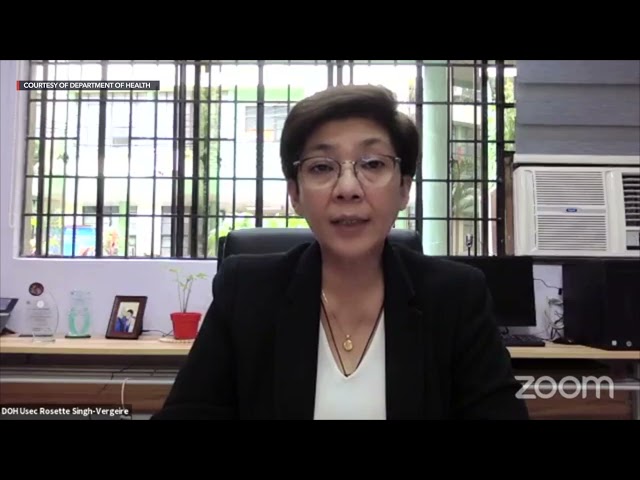 More hospitals under stress
Beyond Metro Manila, health workers in different regions have been sounding the alarm even before the authorities took more decisive steps. While cases have been growing in the capital region in the recent weeks, these have been rising in provinces and different regions much earlier. 
This week, the DOH said the impact of Delta "is now observed nationally." There were at least 21 other areas flagged by the agency due to the state of health care systems which were either at moderate, high-risk, or critical levels already. As of August 2, they included: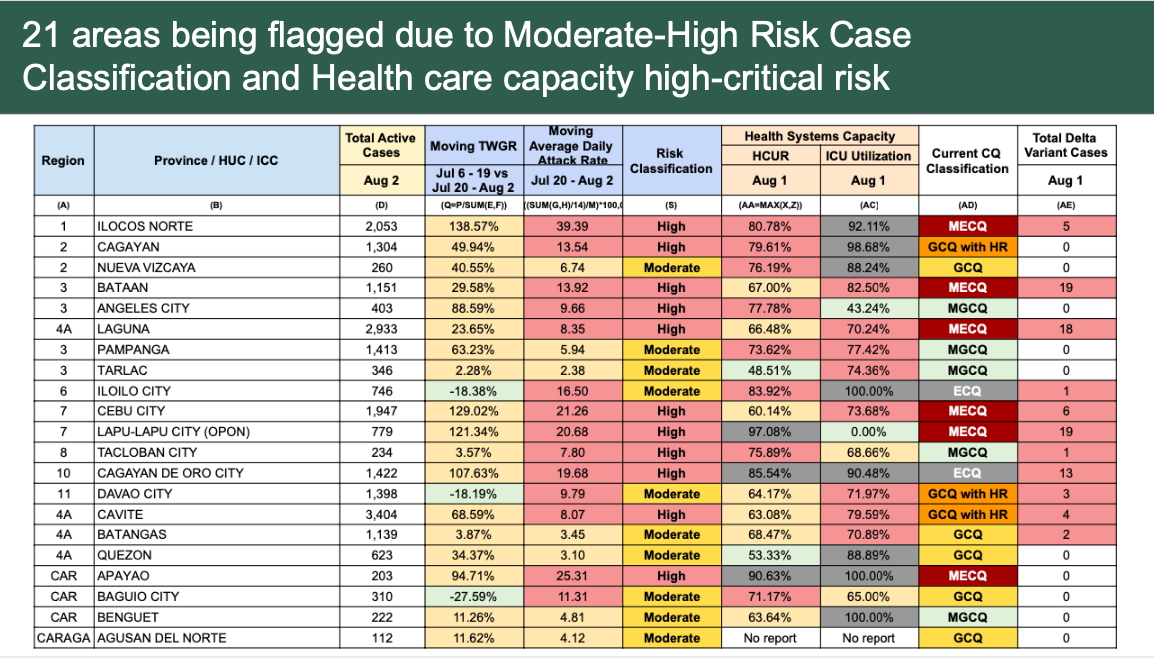 On the ground, the numbers were felt in the lack of health workers and packed hospitals across cities and provinces.
In IloIlo City, which returned to a hard-line enhanced community quarantine on August 6, the health care system has been under intense pressure with the increase in cases in nearby Aklan, other cases in the provinces of Antique, Capiz, Guimaras, as well as other towns in Iloilo province.
In the last half of July, Northern Mindanao saw an increase in cases that overstretched Cagayan de Oro's health care system. Aggravating Cagayan de Oro's challenged hospital capacities was the surge of patients from the provinces of Misamis Oriental, Bukidnon, Lanao del Norte, Camiguin, and Iligan City.
Hospitals in the region have since moved to increase beds allocated for COVID-19 patients. However, the lack of health workers needed to treat the growing number of patients continued to pose difficulty in treating more cases. 
The same trend was seen in Cebu, where the province faced another wave in cases with an acute need for more health workers to cope. Like in Northern Mindanao, the lack of health workers in Cebu has affected hospitals' capacity to accept patients, even when there are enough beds. 
The shortage of workers was more complicated in Cebu City, where the virus infected 132 health workers as of August 3. Local health officials said infected health workers only had mild symptoms or were asymptomatic, but nevertheless needed to be isolated, reducing the number of personnel who could treat patients. 
The personnel shortage has resulted in long queues of ambulances and private vehicles outside hospitals in Cebu City, with some patients given oxygen support as they waited to be screened by medical workers. 
The health department said nearly 10,000 more health workers were hired during the emergency, but this still fell short of the country's needs. 
National and local government officials were determined to make the current ECQ the last the Philippines will need, though experts have pointed out actions have yet to be taken to address several weaknesses that have plagued the government's response since the start of the health crisis.
Among these included the shortage of health personnel, lack of primary care, expensive COVID-19 testing, and inadequate financial aid for poor Filipinos. – Rappler.com