Medical experts tackle highly scrutinized findings on available COVID-19 vaccines, seeking to boost confidence in the government's selection process
After back-to-back Senate probes put intense scrutiny on the Duterte government's deal with Chinese drugmaker Sinovac, efforts of medical experts to explain findings on vaccines at the House of Representatives managed to allay lawmakers' fears over the controversial jab. 
Several representatives present during the House committee on health's hearing on Monday, January 18, expressed this much, saying presentations from infectious disease specialist Edsel Salvana and Department of Science and Technology vaccine expert panel head Nina Gloriani answered most of their reservations over the possible use of Sinovac's vaccine in the Philippines. 
It was a marked difference from recent Senate hearings, where government officials were grilled over their seeming "preference" for Sinovac despite questions hounding its supposed price and efficacy. 
At the House on Monday, Salvana and Gloriani dove into recent safety and efficacy findings of leading COVID-19 vaccines, seeking to inspire confidence in the government's selection process. 
Salvana, who tackled efficacy rates based on Pfizer, Moderna, AstraZeneca, and Sinovac's Brazil Phase 3 trials, underscored that each of the available vaccines could contribute toward the government's goal of taming the COVID-19 pandemic.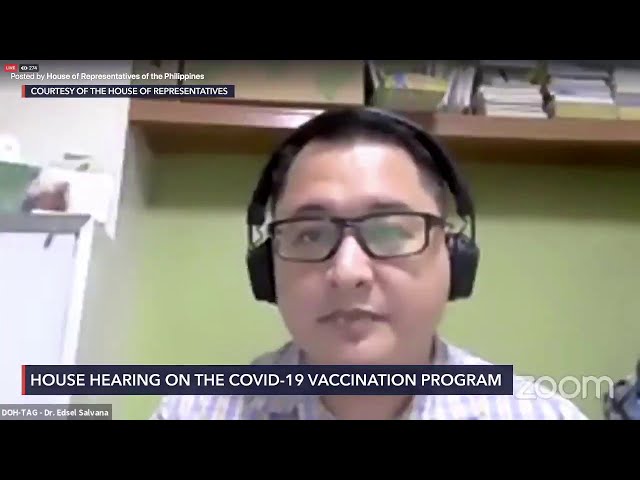 Salvana is also one of the members of the Department of Health's (DOH) technical advisory group on COVID-19.
In particular, Salvana said that based on available data, Moderna, AstraZeneca, and Sinovac's Brazil trials – the largest of all Phase 3 studies it conducted – showed 100% efficacy against preventing severe COVID-19, while Pfizer so far showed 89% efficacy. 
These figures are different from clinical efficacy rates which illustrate the vaccines' ability to prevent COVID-19. The clinical efficacy rate include widely publicized figures on leading vaccines. On this, Salvana said trial data so far showed Pfizer had a 95% efficacy rate in preventing clinical disease, while Moderna reported 94%, multiple AstraZeneca trials recorded 62-90%, and Sinovac's Brazil trial reported 50% for mild cases and 78% for moderate cases. 
"For now, we need to use all effective vaccines as soon as possible. Right now, Pfizer, Moderna, AstraZeneca, and Sinovac were effective in decreasing COVID-19," Salava said in Filipino.
Salvana said that findings so far were based on known data, and that AstraZeneca and Sinovac had yet to publish its preliminary trial results in a peer-reviewed journal for scientists worldwide to further look into. 
Galvez earlier defended the Duterte government's decision to hold negotiations with Sinovac, saying agreement was signed to secure 25 million doses of the shot in the interest of locking in limited supplies. 
He added no public funds had been used yet to purchase the vaccine, which still needs a final supply deal and, more importantly, an emergency use authorization from the Philippines' Food and Drug Administration (FDA).
More options available
Marikina City 2nd District Representative Stella Quimbo acknowledged the clarity offered by Salvana's presentation, describing it as an "eye-opener" on Sinovac's findings so far. 
In her line of questioning for FDA Director General Eric Domingo, Quimbo also made the case that vaccines with efficacy rates at around 50% "doesn't necessarily mean it has to be alienated as a choice."
Quimbo pointed out that the DOH has been purchasing vaccines for flu and pneumonia that have efficacy rates of 50.98% and 57%, respectively. She then asked Domingo to clarify what's the minimum standard being followed by the FDA.
The FDA chief explained as long as a vaccine is able to meet the minimum standard of 50% efficacy rate set by the World Health Organization, then the FDA can authorize its use. 
"For example, in FDA, we have minimum standards. If you are able to pass the minimum standards, then we can give it an authorization so we will have several choices. It doesn't mean it's the one that were going to use, but there are minimum standards that are being applied," said Domingo
Experts to ensure safety
Gloriani, meanwhile, gave assurances the country's vaccine expert panel observed rigorous criteria in reviewing potential vaccines for purchase. This included assessing vaccine companies' Phase 3 trial data, track record in developing vaccines, storage requirements, safety and efficacy, as well as dosing schedule, among others.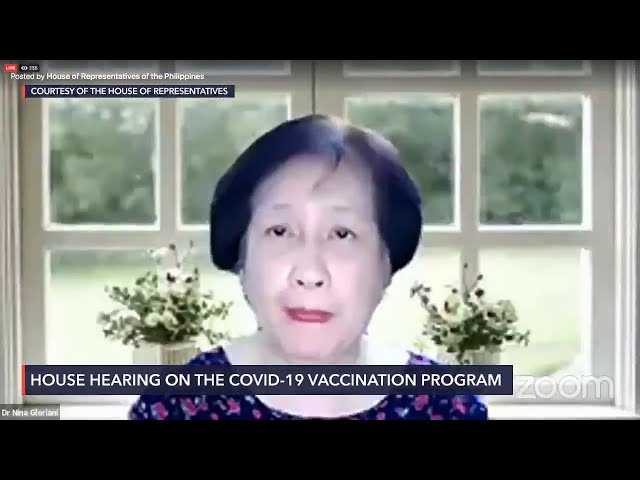 Gloriani also gave a boost to the government's choices, saying she would be willing to be vaccinated with Sinovac if it were to be approved by the FDA and made available to Filipinos today. 
Asked by Quimbo if she would receive the vaccine, Gloriani said: "Sa tanong po ninyo, yes po, magpapabakuna ako kasi nakita ko ang datos niya. Meron kaming safety parameters na sinusunod at saka 'yung efficacy. Ito pong efficacy ng Sinovac na palagi na lang tinatanong sa interviews – meron pong bagong press release po ito…pero kailangan namin makita 'yung actual na data – 'yung sinasabing 100% ay against severe disease."
(To your question, yes, I would get vaccinated because we studied its data. We have safety and efficacy parameters that we follow. On the efficacy of Sinovac which is always being raised during interviews – they had a recent press release…we still need to see actual data – they said it was 100% effective against preventing severe disease.)
Deputy Speaker Loren Legarda, however, still raised concerns about Sinovac's 51% efficacy rate as compared to the higher rates of other COVID-19 vaccines made by Pfizer or Moderna.
She asked Galvez if frontliners would be given the chance to choose the COVID-19 vaccines that would be administered to them. The vaccine czar said that while healthcare workers are free to do so, it would make them more vulnerable to the disease.
"For the purposes of really preserving our healthcare workers, the healthcare worker choosing what is the best brand for him or her, it endangers also the lives of what we call as the institution that would administer the vaccine," Galvez said in a mix of English and Filipino.
"Our primary concern is to preserve the healthcare institutions, considering that healthcare workers are very vulnerable. Yes, we want them to be able to choose, and for us to produce the most sought after brand. But in our messaging, we want to say that whether the brand is Moderna or Pfizer, it also heals the same disease," he added.
House health committee chair Helen Tan, a doctor by profession, had invited Salvana and Gloriani to explain technical details of COVID-19 vaccines. – Rappler.com