'Gagawin kong dekorasyon 'yung mga barko nila sa ilalim ng dagat,' says Isko Moreno about Chinese ships caught trespassing in Philippine waters
Manila Mayor and presidential candidate Isko Moreno promised to be just as tough on China's illegal activities in the West Philippine Sea as Indonesian President Joko Widodo, should he become the country's chief executive.
"That is our place, that is part of our geography, that is part of our sovereignty. The same rule when we recognize their rights in their respective geography. I hope for now, sana hindi gawin 'yan sa panahon ko. Baka makita 'nyo si Widodo," said Moreno on Friday, November 19, in Calauan, Laguna.
(I hope for now, they won't do that in my time. You might see Widodo.)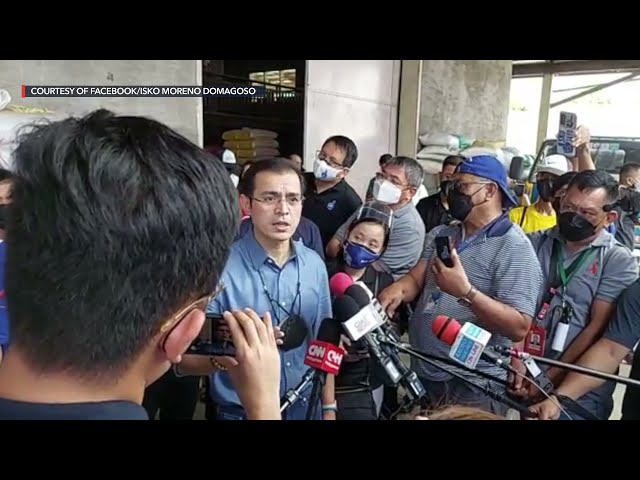 Only three days before, three Chinese coast guard vessels blocked and used water cannons on Philippine boats en route to Ayungin (Second Thomas) Shoal. The incident was condemned by the Philippine government.
Indonesian leader Joko Widodo has made strong messages and taken significant action against China's activities and claims in Natuna Sea, which lies in Indonesia's exclusive economic zone.
In 2016, Widodo once held a Cabinet meeting aboard a warship off Natuna Islands, to make a point to China. His former fisheries minister has chased away, even blown up, Chinese fishing vessels. Under Widodo's watch, Indonesia renamed waters north of Natuna Islands the North Natuna Sea, angering China. Indonesia then put up a new military base on the islands and has ramped up regular patrols in the area.
Despite Widodo's unyielding stance against China's bullying, Indonesia was the first Southeast Asian country to receive Sinovac vaccines from Beijing. Chinese investments in Indonesia have consistently increased under Widodo's presidency. To observers, this refutes President Rodrigo Duterte's premise that being tough on China's aggression means sacrificing economic relations.
Asked by Rappler if he would do what Widodo did, Moreno said, "Yes, to protect our water and fishermen."
Turn Chinese ships into 'decoration'
In Calauan, the presidential aspirant promised to make Chinese ships mere "decoration" under the sea, should they be caught trespassing in the West Philippine Sea.
"Makikipag giyera ba ako sa kanila? Hindi, pero 'pag nakalawit ko sila, gagawin kong dekorasyon 'yung mga barko nila sa ilalim ng dagat, once na pumasok kayo sa tubig namin. That is the job of the president," said Moreno.
(Will I go to war against them? No, but if I catch them illegally entering our waters, I will turn their ships into decoration under the sea.)
Is this Moreno's version of President Rodrigo Duterte's now infamous promise to take a jetski to the Spratlys? Unlike Duterte, Moreno showed an understanding of the nuances in his promise.
Admitting that Indonesia's navy and coast guard are better equipped and larger than those of the Philippines, Moreno reiterated his previous promise to beef up the Philippines' defense assets.
"We will invest more [in] our Navy and Coast Guard capabilities," he told Rappler.
Promise to fishermen
He also promised that Filipino fishermen would be able to fish in the West Philippine Sea "undeterred, undisturbed, unharmed" – a tall promise given that even under China-friendly Duterte, fishermen continued to be harassed at sea by the Chinese.
Moreno said he has no misgivings about using strong language against China's maritime intrusions, saying that is what's needed to protect the country's interest.
"Parang aggressive tayo (We sound aggressive)? Because it's ours. Nothing more, nothing less. There is no other room for interpretation," said the 47-year-old presidential bet.
Duterte has received much flak for taking a soft approach on China in the hopes of economic dividends even as Chinese ships harassed Filipino soldiers, swarmed Philippine waters, and took the catch of Filipino fishermen. To this day, the Chinese control access to Panatag (Scarborough) Shoal.
Former foreign secretary Albert del Rosario had said that China's latest act of aggression in the West Philippine Sea, may be traced back to the "wrong policy" of the Duterte administration that focused on "bilateral diplomacy." – Rappler.com