Manila Mayor Isko Moreno's State of the City Address is his last before his first term ends in June 2022, but his speech offers no clues about a rumored Malacañang bid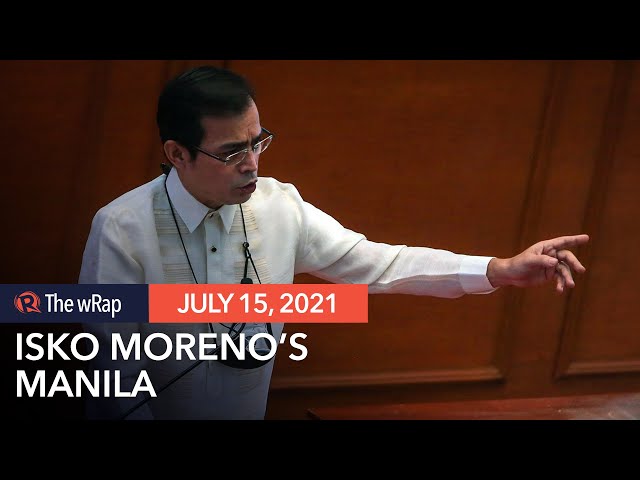 Manila Mayor Isko Moreno delivered his third State of the City Address (SOCA) on Thursday, July 15, zeroing in on his local government's successes despite the challenges brought by the COVID-19 pandemic.
Speaking before city officials, Moreno boasted how his city government rose to the occasion to address pandemic-driven setbacks in the past year.
These include the 52-day construction of a COVID-19 field hospital which was opened in late June, as well as the establishment of a molecular testing laboratory and coronavirus vaccine storage facility in Sta. Ana Hospital.
He also touted one of his city's major accomplishments: purchasing 400,000 COVID-19 jabs from China's Sinovac in June to replenish the local government unit's (LGU) stockpile.
He said that the 200,000 first doses from the shipment were administered to vaccine recipients within four days upon the jabs' arrival in the Philippines.
"Hindi natin pinatagal sa storage facility, dahil hindi ito tutubong parang kabute," Moreno quipped, a remark reminiscent of his criticism of the national government in May over the slow delivery of vaccines to LGUs.
(The vaccines should not stay long in the storage facility, because it won't spring up like mushrooms.)
Public housing
Moreno also underscored the city government's accomplishment of providing 229 townhouse-style units to indigent residents of the slums of Tondo in early July.
Each unit in the so-called Basecommunity is 42 square meters and has two bedrooms and a living room.
Three vertical housing projects – Tondominium 1, Tondominium 2, and Binondominum – are set to be completed in or before January 2022.
Moreno also vowed to emulate the public housing success of Singapore.
"Kung nagawa ng Singapore, mawawala na rin ang iskwater sa Maynila pagdating ng panahon," asserted Moreno, who grew up in the slums of Tondo as a scavenger before making a career in television and entering politics as city councilor of Manila in 1998.
(If Singapore was able to do it, Manila would also be able to eradicate slums in the future.)
Moreno's SOCA on Thursday was his last before his first term ends in June 2022. He is eligible to seek a second term as city mayor in May next year.
But questions persist on whether the charismatic local chief executive would seek the presidency instead.
All eyes are on Moreno, who, according to a recent Pulse Asia survey, has the biggest chance of challenging the president's daughter, Sara Duterte-Carpio, for president in 2022, if elections were held in early June. Neither of the two have confirmed their plans.
With less than three months left before the filing of certificates of candidacy in October, Moreno, in his speech, offered no clues as to whether he would throw his hat in the ring.
Instead, he only made an appeal to the public to remain united to overcome the pandemic.
"We must come together. May awa ang Diyos. Mananalo tayo. Mananalo tayo. Mananalo tayo (God has mercy. We will win. We will win. We will win)," he said. – Rappler.com