'This irresponsible government is deadly, as so many working people are at risk of dying from the pandemic or from the poverty that COVID-19 has made worse,' says labor group SENTRO
Workers called out the Duterte government on Labor Day, Saturday, May 1, for being "irresponsible" in its pandemic response and leaving laborers to be laid off without government intervention.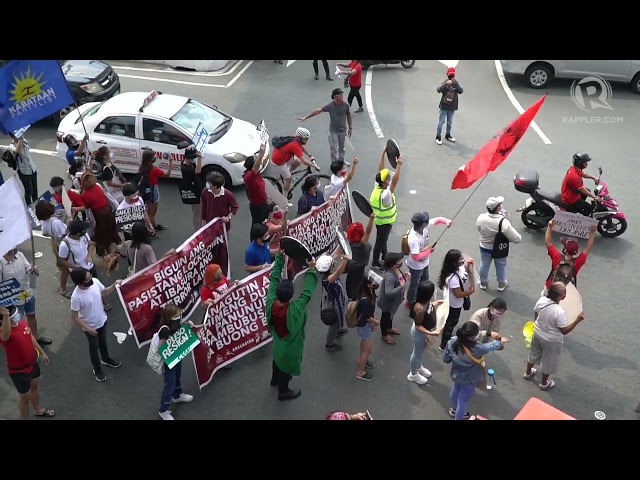 "This irresponsible government is deadly, as so many working people are at risk of dying from the pandemic or from the poverty that COVID-19 has made worse," labor group Sentro ng mga Nagkakaisa at Progresibong Manggagawa (SENTRO) said in a statement on Saturday.
The recent surges in COVID-19 case in the Philippines were traced to the workplace, "the ones we call economic hubs, at the same time the industries," according to Carlito Galvez Jr, chief implementer of the country's pandemic response.
Ecumenical Christian youth group Student Christian Movement of the Philippines (SCMP) called the government response a failure, and demanded that it provide immediate economic relief.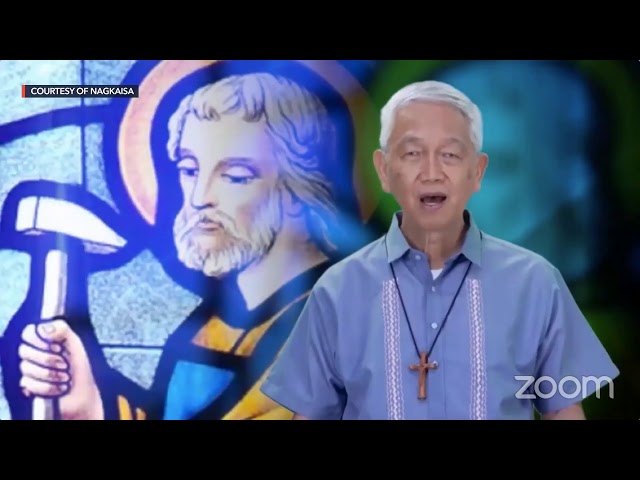 "We, as Christian youth, are one with the workers and their movement in demanding much-needed ₱10,000 aid and ₱100 daily emergency allowance because of the worsening condition of the Filipino masses under the failed militaristic Coivd-19 response of the Duterte administration," said Kej Andres, National Spokesperson of SCMP.
Labor group Socialista said that "so many workers have yet to receive SAP and the funds have already dried up."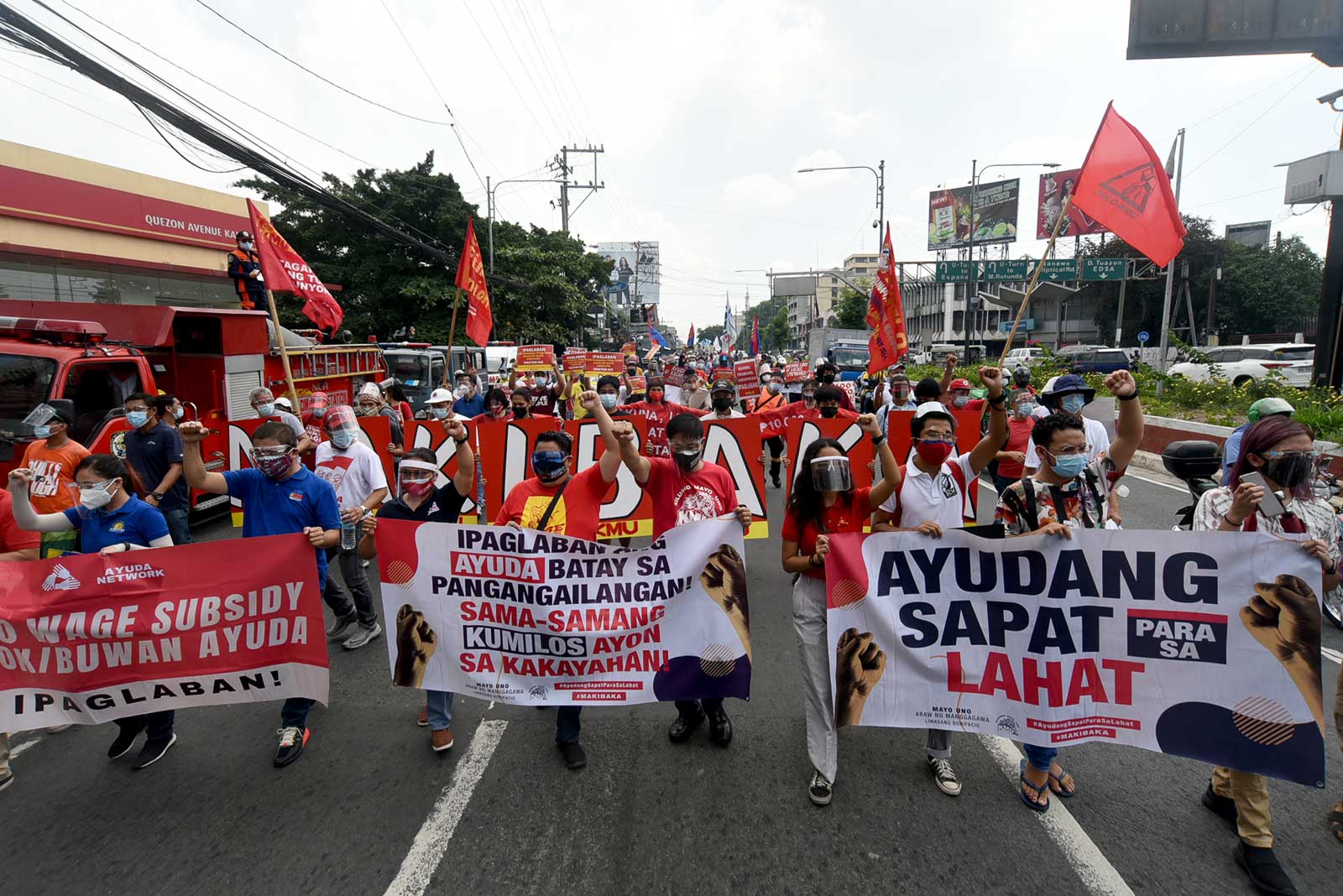 Labor coalition Pagkakaisa ng Uring Manggagawa (PAGGAWA) said the labor department must intervene and stop large companies from doing mass layoffs, citing the Labor Code.
"Secretary (Silvestre) Bello refuses to intervene against capitalists who are ironically getting richer during this recession! Lucio Tan for example has almost doubled his net worth despite laying off hundreds of workers in Philippine Airlines and his Fortune Tobacco Plant," said Bukluran ng Manggagawang Pilipino (BMP) president Luke Espiritu.
According to data from the Kilusang Mayo Uno (KMU), there are 3.9 million jobless Filipinos as of January 2021. The group said one in every two companies implemented layoffs, such that 9 in every 10 contractual workers lost their jobs amid the pandemic. The group added that 4 in every 10 workers are still under no work no pay status.
SENTRO called on Duterte to resign.
"Given Duterte's disastrous pandemic response and unwillingness to act on the changes that we need, we workers have no other option but to demand his resignation," said SENTRO.
It added: "The working people of the Philippines deserve a government and society that genuinely cares and is committed to our development. Duterte has had almost six years to prove this, and he has consistently failed from Marawi to COVID-19."
Anti-worker
SCMP also hit the Duterte government for "anti-worker policies such as CREATE Law and Anti-Terrorism Act of 2020."
The Corporate Recovery and Tax Incentives for Enterprises (CREATE) law, or Republic Act No. 11534, lowers corporate income tax.
The Kilusang Manggagawang Makabayan (KMM) said the government should have imposed a "wealth tax" instead to support the country's economic recovery.
"This recovery plan for the protection of our workers can be funded mainly by wealth taxes from capitalists and billionaires who have managed to increase their net worths despite recession," said KMM president Nathaniel Clores.
Filipino billionaires were shielded from the impact of the coronavirus pandemic, as their disclosures show hefty bonuses – some tycoons earned as much as 36% more than pre-pandemic times.
Laborers are among the petitioners questioning the constitutionality of the feared anti-terror law before the Supreme Court. One petition said common workers are vulnerable of being accused of terrorists just because of malicious associations to the CPP-NPA which the government has already designated as a terror group – a case of "guilt by association," they said.
Red-tagged labor leaders are among the recent victims of killings, including Dandy Miguel and Manny Asuncion, two of the 10 activists killed in Calabarzon in March 2021 alone.
According to rights group Karapatan, 230 human rights defenders have been killed under the Duterte administration. Of that number, 135 are from different groups of farmers, fisherfolks, and laborers. There were 5 killings within KMU's ranks.
"We demand that the government stop its irresponsible red-tagging and harassment of workers and our organizations," said SENTRO.
Several unions have put up a workers' health pantry in Mendiola near Malacañang – also a form of political protest to "expose how the state has failed to provide the needs of the working masses during a crisis."
"To place a pantry here in Mendiola, right beside the seat of political power, shows that workers are learning that mutual aid is a powerful form of protest against a state that has left them to survive on their own," said Leody de Guzman, BMP chairperson, and a former senatorial candidate.
Meanwhile, the Integrated Bar of the Philippines in its Labor Day message joined calls for the speedy administration of justice for "murdered or harassed" labor leaders and organizers.
In their Labor Day messages, Duterte said that his government will strive to "work as vigorously" as the labor sector in protecting their rights, while Vice President Leni Robredo called for an end to contractualization. – Rappler.com