This is AI generated summarization, which may have errors. For context, always refer to the full article.
The two House leaders smile for a photo op after Speaker Martin Romualdez exchanged pleasantries with Deputy Speaker Gloria Arroyo and reached for her hand
MANILA, Philippines – After rumors of an ouster plot gripped the House of Representatives last week, the two main characters of the congressional drama tried to present a united front on Monday, May 22.
House Speaker Martin Romualdez exchanged pleasantries and held hands with Deputy Speaker Gloria Macapagal-Arroyo, and the two smiled for a photo op after the chamber had sworn in new Senior Deputy Speaker Dong Gonzales.
Gonzales is the successor of Arroyo, who was demoted from senior to regular deputy speaker on Wednesday, May 17.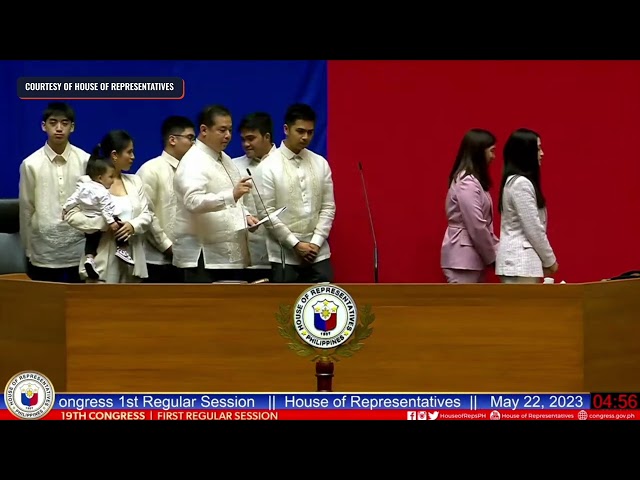 Monday's show
The spectacle began at 4:51 pm, when Romualdez entered the plenary while the chamber was voting to pass on third reading a Marcos administration priority bill on the proposed 30-year national infrastructure program.
Romualdez went to Arroyo's table, and pressed his forehead to her offered hand (a Filipino gesture known as mano to show respect for elders).
Romualdez went to the rostrum and granted Majority Leader Mannix Dalipe's motion allowing Gonzales to take his oath.
Gonzales proceeded to go on stage, but went back to fetch Arroyo, who joined him on the rostrum for his oath taking.
A source who declined to be named learned that Gonzales, prior to his oath taking, visited Arroyo's office. The two are close allies who both represent neighboring districts in Pampanga.
After the oath taking, members of Lakas-CMD and PDP-Laban – of which Gonzales is a member – proceeded to the Speaker's Lounge for the signing of a partnership agreement.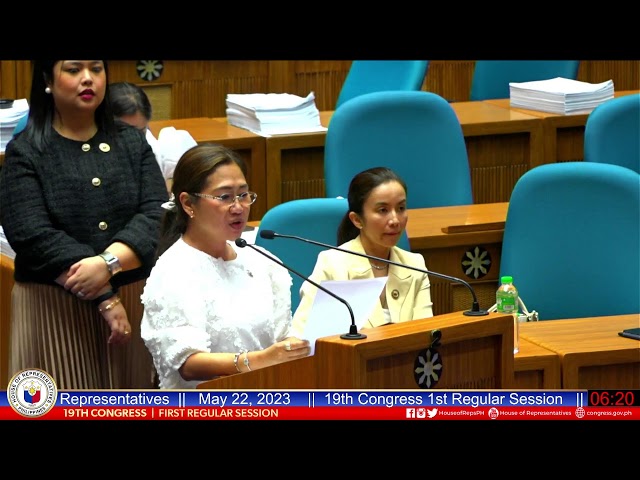 What the squabble was about
When Arroyo was demoted by the House, Dalipe said the move was meant to relieve her of a "heavy load," even though the senior deputy speaker title is a ceremonial role that does not entail extra responsibilities.
Rumors eventually swirled that the demotion was due to her alleged involvement in a coup intended to steal the speakership from Romualdez, but the former president issued a statement on Thursday, May 18, denying she was still aspiring to be the chamber's leader.
Arroyo acknowledged that a March trip to Korea with other congressmen, including Gonzales, may have been "misconstrued" as an attempt to rally her colleagues against Romualdez.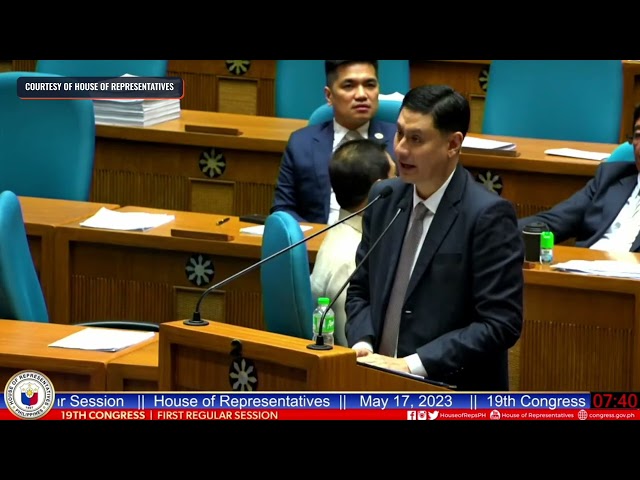 Adding fuel to the fire was Vice President Sara Duterte's resignation from Romualdez and Arroyo's party Lakas-CMD on Friday, May 19. In an apparent expression of support for Arroyo, she indicated her aversion to the "political toxicity" in the House.
On Sunday, May 21, Romualdez finally broke his silence, saying: "There is still much work to do, so occasional moves to destabilize the House should be nipped in the bud."
The supermajority in the House is a fragile alliance composed of politicians with overlapping and competing interests.
Romualdez and Arroyo are president and chairperson emeritus, respectively, of Lakas-CMD, the political machinery that catapulted Sara Duterte to the vice presidency in 2022.
PDP-Laban, the ruling party during the previous administration which has now suffered a decline in numbers, remains a key power player in the lower chamber. It's the party of Vice President Sara's father, former president Rodrigo Duterte. – Rappler.com