In Negros Occidental, a Western Visayas province where the economy rises and falls on the fate of the sugar industry, migrant field hands are indispensable once the harvest and milling season starts
The traditional image of workers' lodgings in Negros Occidental's haciendas (sugarcane farms) are of rickety, dark wooden structures crammed with field hands breathing dank air.
But renovations this year have created a new complex in Hacienda Consuelo, a farm in La Carlota City, on the province's lush central plains.
The three-wing, interconnected cement building includes a well-ventilated kitchen and mess hall, and a light-filled, airy dormitory for 88 migrant sugarcane workers (MSWs) arriving this August.
The windows of the living quarters fully open and slat-filled awnings keep air circulating even during monsoon rains.
Big metal ventilation systems suck hot air from a kitchen that can open on one side. Cement tables and benches in the mess hall, which has openings on all sides, are placed according to COVID-19 physical distancing guidelines.
Gerardo "Gerro" Locsin, who manages the farm co-owned with three other partners, including sugar industry leader Roberto Cuenca, told Rappler the new investment aims to ensure public health during the coming harvest and milling season that starts in September. His other farm, Hacienda Kanman-og, will host 44 migrant field workers.
Any outbreak of COVID-19 could cripple Locsin's sugarcane harvest, costing him millions in income.
Indispensable to industry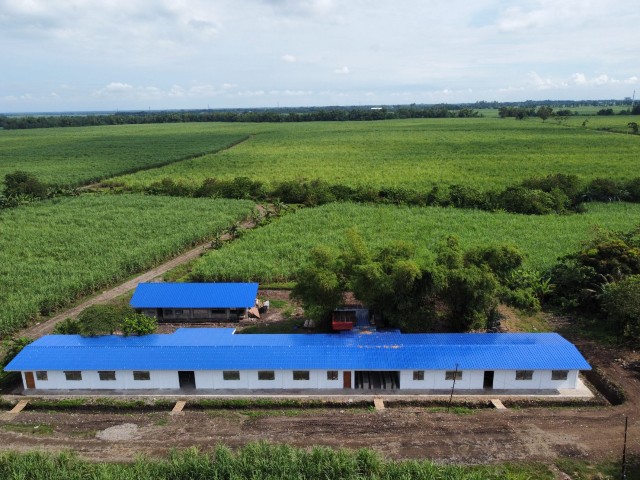 Emilio Yulo III, the planters' representative to the board of the Sugar Regulatory Administration, told Rappler the province expects 3,200 documented migrant sugar workers, or sakadas, to start arriving this August in preparation for harvest and milling in September.
The mass movement of people amid the COVID-19 pandemic represents a nightmare for any local government unit.
But in Negros Occidental, a Western Visayas province where the economy rises and falls on the fate of the sugar industry, migrant field hands are indispensable once harvest and milling season starts.
The sakadas augmented the local field force in the backbreaking tasks of cutting heavy cane stalks and loading them onto trucks bound for 13 mills across the province.
"The cost of milling will shoot up if there are no available MSWs," said Yulo. "It's a supply and demand problem. The demand for canecutters vis-a-vis their availability."
MSWs need to be in place at the right time, depending on the planting and harvest schedules of farm districts. A delay in harvesting translates to lower tonnage and sugar content, Yulo stressed.
"There's not much alternative available. A very small percentage use mechanical harvesters, which would be available only in December or January when fields are dry."
Yulo said the number of sakadas, some undocumented, could have been higher pre-COVID when there were no travel restrictions.
There are no clear figures for the number of permanent field hands in the province, which accounts for 53% of the 423,333 hectares utilized by the Philippine sugar industry.
Butch Lozande, secretary-general of the National Federation of Sugar Workers, told Rappler that around 25,000 sakadas, many of them undocumented workers, rotate yearly through sugarcane farms nationwide.
Frank Carbon, chief executive officer of Metro Bacolod Chamber of Commerce and Industry, said the sugar industry contributes P90 billion annually to the national economy, with Negros Occidental accounting for more than half of the total.
COVID-19 safeguards
The twin goals of ensuring that sugarcane flows smoothly from fields to mills and refinery while public health is protected has become more urgent this year.
Antique province, the main source of migrant workers, is also Western Visayas' hot spot for the more infectious Delta variant. On August 6, the DOH Region 6 office said 19 of 31 new Delta variant cases in Western Visayas came from Antique. Its August 18 COVID-19 tracker said Antique has 1,087 active cases.
Negros Occidental Governor Eugenio Jose "Bong" Lacson signed an executive order on August 10, laying out steps needed to bring in migrant workers.
Farmers must first submit a list including the names of the MSWs and contractor, their basic information, place of assignment, and preferred date of transport to Negros Occidental.
The workers should secure electronic or printed copies of the approved travel coordination permit from the S-Pass system.
They also need to present a negative RT-PCR test result from a DOH-certified molecular laboratory, valid for 72 hours from date of extraction. The other option is to submit to an RT-PCR test at their port of entry.
Planters who opt for the latter have to deposit P1,500 per person to the province's account, under the name of "DONATION TO THE PROVINCIAL GOVERNMENT OF NEGROS OCCIDENTAL" They should endorse the list, with acknowledgment receipts for the tests, before transporting their hired hands.
Lacson said the payment for the tests will help the province purchase new test kits. Some planters also pay P1,900 for two kits, with one donated to the province.
Planters should facilitate and provide transportation from port of entry to quarantine quarters in isolated sections of their farms.

Workers should stay put until the provincial health office releases their test results. All positive cases will be transferred to provincial quarantine facilities.
New costs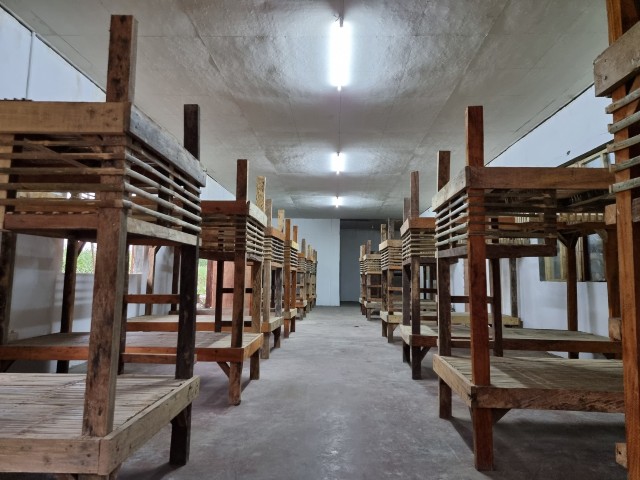 "This is the second year that we will be bringing in migrant workers under pandemic circumstances," Locsin said.
"We are doing these improvements to ensure their welfare as well as that of other workers in the farm,"he added.
Hacienda Consuela paid P275,900 to cover permits and health clearances for the 88 MSWs, Locsin said.
The farm also shoulders the P3,800 round-trip transport costs per worker and the P1,500 per person RT-PCR tests. The total cost is P742,300, or more than P8,400 per worker.
Locsin isn't the only sugarcane farmer investing in better lodgings.

Local government units hosting the province's haciendas have asked owners to improve living conditions to prevent potential outbreaks. Yulo said there were no outbreaks in sugar plantations in 2020.
Planters' groups praised the governors of Western Visayas provinces for helping untangle COVID-related mobility issues.
Raymond V. Montinola, president of the Confederation Of Sugar Producers Cooperative, said they sought assistance in March 2020 for the transport of MSWs into Negros and their return to hometowns at the end of the sugar season in April this year.
Lacson and Antique Govenor Rhodora Cadiao also put systems in place to help migrant workers navigate the digital pass system. In both provinces, Bureau of Quarantine staff help fill up application forms.
While pandemic conditions mean additional costs for farmers, Montinola said they understand that protocols help "ensure continued work and livelihood for sugarcane workers and all stakeholders for the sugar industry in our effort to survive."
The SRA's 2020 roadmap notes that 26,188 farmer-owners cultivate 212,627 hectares of sugarcane plantations in the province.

Governor Lacson said 85% of sugarcane farmers are agrarian reform beneficiaries. Many depend on planters' federations for better milling contracts, and negotiating farm inputs and trading.
United Sugar Producers Federation (UNIFED) president Manual Lamata said they have briefed their planter-members about the health protocols that need to be followed to protect migrant sugar workers, as well as the communities especially during this pandemic.
"We are closely coordinating with the local government units and other government agencies to ensure compliance of protocols. Majority of these migrant workers come from Antique and we are aware that there have been other COVID variants detected there, as well as most recently, in our province as well," Lamata said.
"We are grateful that both the provincial governments of Antique and Negros Occidental have been proactive in resolving the needs of the industry as we are now about to start the milling season," Lamata added. – Rappler.com