This is AI generated summarization, which may have errors. For context, always refer to the full article.
Senator Robinhood Padilla says the man was arrested even after the NBI gave him a clearance for having 'no derogatory record'
CAGAYAN DE ORO, Philippines ― A man from a small town in Lanao del Norte was placed behind bars for weeks because he was mistakenly identified as a sub-commander of the dreaded Abu Sayyaf in Sulu who was killed years ago.
Senator Robinhood Padilla on Tuesday, September 5, brought to the Senate's attention the plight of 62-year-old Mohammad Macaantal Said, who has been languishing in jail since August 10.
Said, he said, was wrongfully imprisoned. It turned out that his name is similar to that of a deceased Abu Sayyaf leader who had nine arrest warrants.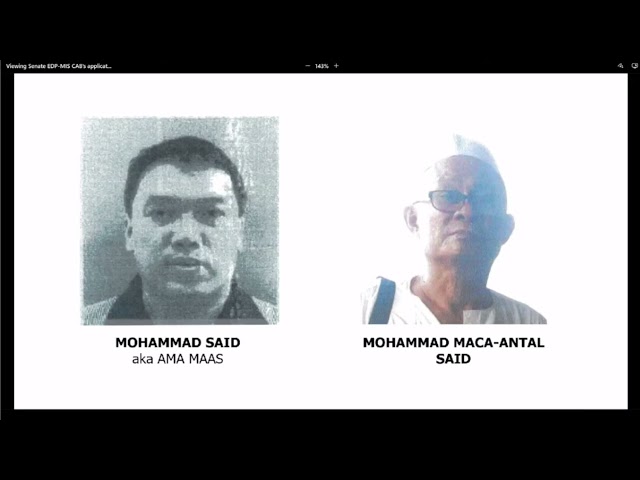 The Maranao was scheduled to leave for Kuala Lumpur when immigration authorities held him at the Ninoy Aquino International Airport (NAIA) Terminal 3.
Said's case, according to Padilla, brought to the fore the problem when there is a lack of information sharing among law enforcement agencies.
Said, who hails from Balo-i town, Lanao del Norte, was arrested and taken to Building 14 inside the New Bilibid Prison compound in Muntinlupa. The building serves as a temporary detention facility of the National Bureau of Investigation (NBI).
Padilla said he found it ridiculous that Said was arrested and mistaken to be the late Abu Sayyaf sub-commander Mohammad Said alias Ama Maas given that the NBI had issued a clearance declaring the Maranao to have "no derogatory record."
He presented mug shots of Said and Maas, which showed no similarities.
Worst, Padilla said, Maas turned out to have been killed in a fierce encounter with government troops in Sulu back in 2016.
"Maraming pa ring butas ang information sharing sa atin (There are still many loopholes in our information sharing)," Padilla said.
Padilla said there was a need for databases of law enforcement agencies to be interconnected to prevent cases of mistaken identity such as what happened to Said.
"Hindi na po ito katanggap-tanggap lalo na sa panahon na bumubuhos ang technology at innovation (This is no longer acceptable, especially in a time when technology and innovation are advancing rapidly)," said Padilla.
Lawyer Beverly Selim-Musni, secretary-general of the Union of People's Lawyers in Mindanao (UPLM), said the government should release Said immediately and compensate him for punitive damages.
"Imagine the horrors Said went through in jail for something he did not do," Musni told Rappler.
Musni said many people have had their human rights violated because law enforcement agencies have mishandled information or relied on outdated data. – Rappler.com